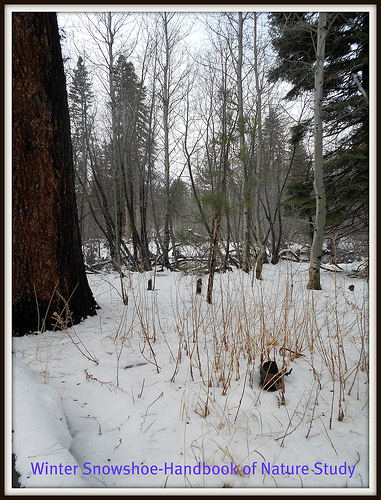 Tahoe National Forest – California
When I posted on Facebook yesterday that we were going to head out to snowshoe, the weather forecast said something like "partly cloudy, high of 52 degrees, and 10% chance of precipitation". Sounded good to me. Well no one told us that between our house and our hiking spot that there was going to be dense fog, drizzle, and the temperatures were falling into the 30's.
I knew Mr. B was anxious to test out his new snowshoes so I didn't want to disappoint him and we kept going up over the mountain. Once over the mountain it cleared up and we had lots of clouds but no rain.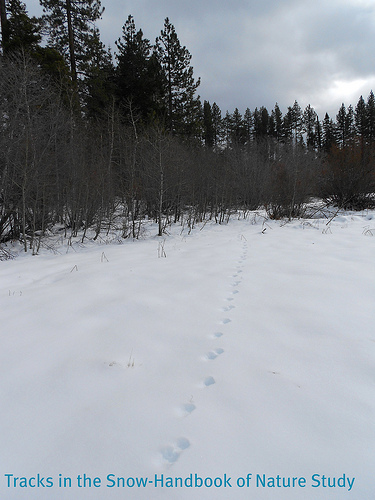 Needless to say, we kept our eyes on the sky, checking for signs we were going to get rained or snowed. We had the snow to ourselves, not counting the many animal tracks that were visible. So many tracks going so many directions…there must be a whole forest full of animals out there.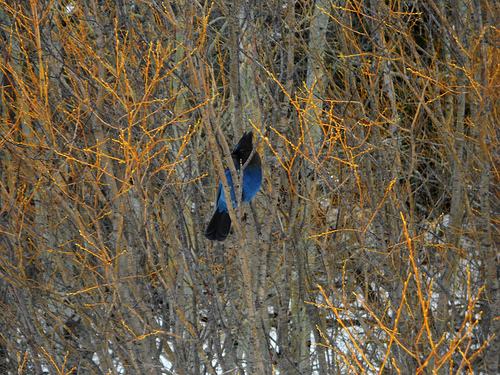 Isn't this a surprising sight of brilliant blue on this winter day? Steller's jays are common and this one was posing for my camera. I love the blue feathers on the nose. My field guide says that these jays are "inquisitive, intelligent, and noisy". Yep, that totally describes this bird.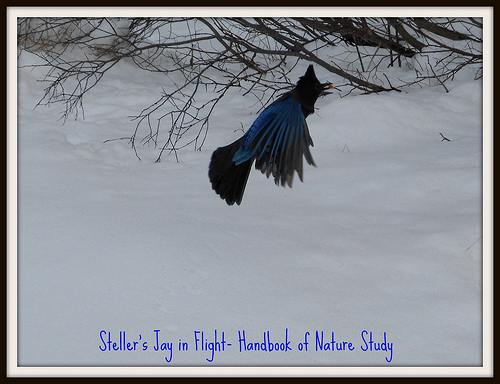 We couldn't resist seeing if we could lure the jay closer and Mr. B had a pocket full of pretzels. One little bit of pretzel and that Steller's jay came swooping down for a tasty treat, making his shook-shook-shook sound as he flew.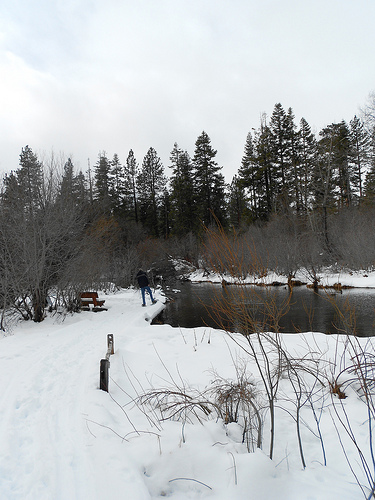 We had to go the long way around since the beavers have now completely dammed up the water in the creek and the resulting pond has spread over the normal trail. This is where we saw the salmon spawning last fall and the mama bear with cubs. No signs of them now, although it smells rather fishy around this bend in the creek from all the dead fish remains.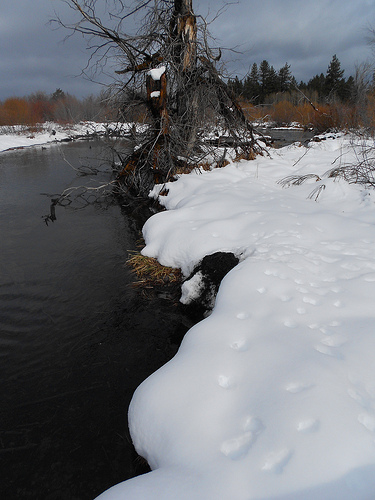 We hiked along the creek a little way and we noticed that there are places where the creek mud is piled up onto the banks. We could see lots of little animal tracks around the mud but I'm still not sure what kind of animal did this and what they were doing. Winter hikes can lead to lots of questions. You can see the muddy sludge…it is the black stuff there along the edge.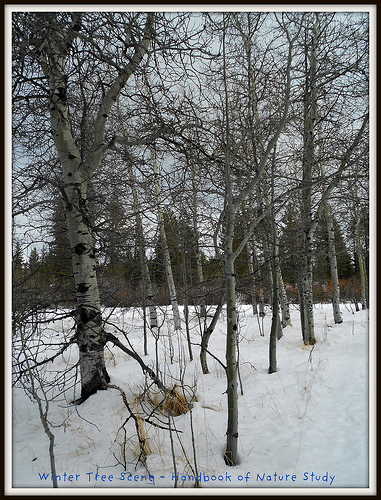 I never get tired of looking at the landscape here at Taylor Creek. The patterns of the tree trunks against the Sierra sky in the winter is amazing and beautiful. Some people get to look out their living room windows and view a similar scene and I wonder if they stop seeing the awesomeness of it. I come here a dozen times a year and I never tire of this place.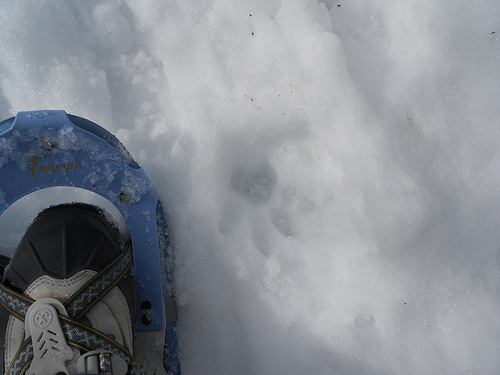 When you are on snowshoes, you can follow tracks as much as you want but I am always a little afraid of getting out into the forest too far….I have a terrible sense of direction. This area is easy to navigate because I can hear the highway in the distance and I generally know which direction I need to head to get back to the trailhead. Here is an example of a nice clear print in the snow.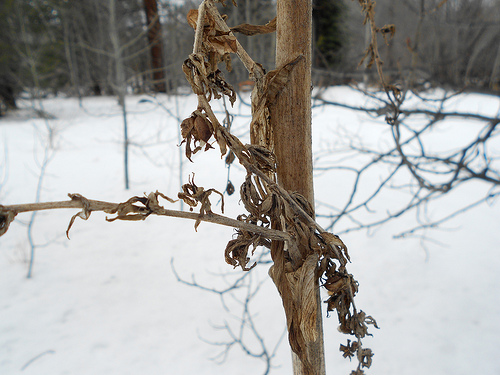 We did a little preliminary winter weed study while we were out traipsing around the woods. There were plenty of subjects even with snow on the ground. I just liked the way this one looked. I think it is a corn lily. Next week we plan on doing a whole winter weed study so we will revisit these images then.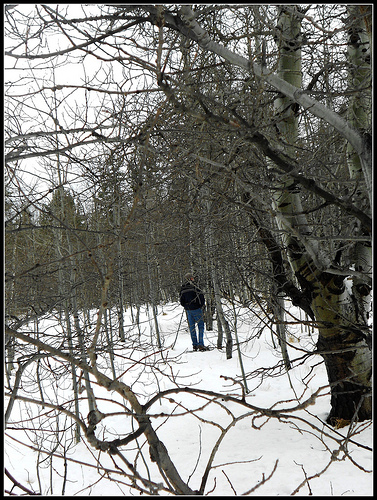 So our first real snowshoe of the year is over and we didn't get rained or snowed on. We were bundled up warmly so it was really a delight to be outdoors exploring just the two of us. Mr. B decided his snowshoes were perfect and now we will be able to explore the woods in winter as part of our Outdoor Hour Challenges.
You can read more about hiking in winter on my Squidoo page for tips on how to make it fun:
Winter Nature Walks