This was the study I was most interested in when I wrote the new More Nature Study ebook. It truly is something we have never studied before and I was interested to see what we would learn.
We chose three of our backyard trees to collect twigs from: sweet gum, white birch, and pear. Later we added a twig from our silver maple and a few branches from our forsythia bushes. All week I have been enjoying just looking at them in the vases…still not taking the time to do the study.
Well, the time finally came to actually do the formal study after we had done lots of casual observations. We pulled out the new ebook, printed off the notebook pages, gathered our tree field guide, and fired up the internet. I love doing nature study with older kids since they can ask and then answer many of their own questions with the tools we have at our disposal.
Here are some of our observations:
1. Mr. A cut the twigs with his knife so we could observe the shape of the pith inside. They were all round inside.
2. Each of the twigs had different shaped terminal buds, with completely different colors.
3. We have never noticed the leaf scars before and now we know what to look for.
4. The lenticels on each twig were very different. Now we can use this observation to identify a tree since we know what we are looking for.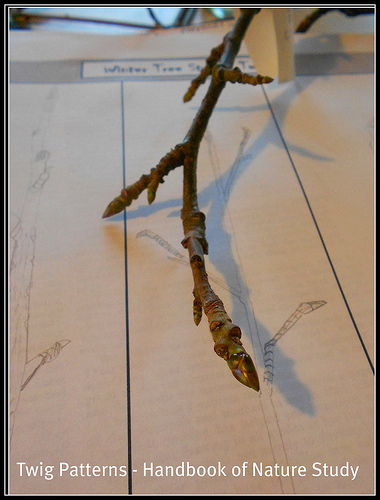 Stay Tuned for a Bud Study in the new Spring Ebook 3/5/12
This study has brought into focus once again the design of each living thing around us. Who would have thought that you could identify a tree by looking at its twigs and buds? I enjoyed getting to know how to use a new tool with the Winter Tree Finder guide. All of us are going to look at twigs with a new eye now and some new vocabulary as well. This study would be a perfect supplement to a high school biology course.
If you are looking for more winter tree study ideas, you can click over to Winter Series Challenge #2.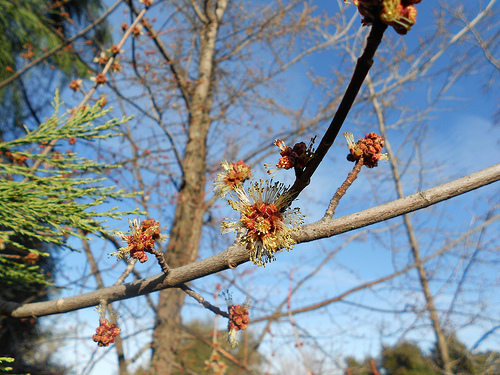 We were sitting outside in the warm afternoon sunshine and noticed that the silver maple has burst open its buds. We then noticed that there were probably a hundred bees buzzing in the top of the tree. Is it early for the bees to be so busy in the trees? I'm not sure. This is where a nature journal record is valuable. Stay tuned next week for a free printable to keep track of your seasonal "firsts".