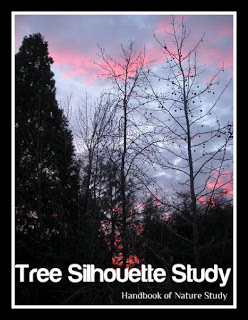 Winter Wednesday Week 4
Trees Part 1
1. Read chapter four in Discover Nature in Winter
. Even though the title of this chapter tells us that it is about birch trees, after you read the actual material you realize that it covers so much more in its pages. I do not live where birch trees are native but this chapter gave me lots of ways to observe any tree that I come across. Pay special attention to the sections on branch patterns, twig parts, seed containers, and tree silhouettes. This chapter alone could give you plenty of ideas for a complete season of winter nature study.

2. We are going to complete two of this chapter's activities:
Tree silhouettes on page 77
Seed containers on page 81
For those families that do not have the book to work from, here are some ideas for you to try with your family.
1. Pick a tree in your yard or on your street and view its branch patterns and silhouette.
2. Find a tree that has lost its leaves and sketch its shape in your nature journal. This activity can be done from a window if your weather is too cold or snowy.
3. Collect some seeds from trees that may still be left over from last season. Look for sweet gum, locust, yellow poplar, ash, mimosa, or sycamore.
4. Collect twigs from different trees and compare them.