To celebrate the first day of fall or autumnal equinox, we invite you on a fall leaf study in your homeschool! There are leaf nature studies to fill an entire week!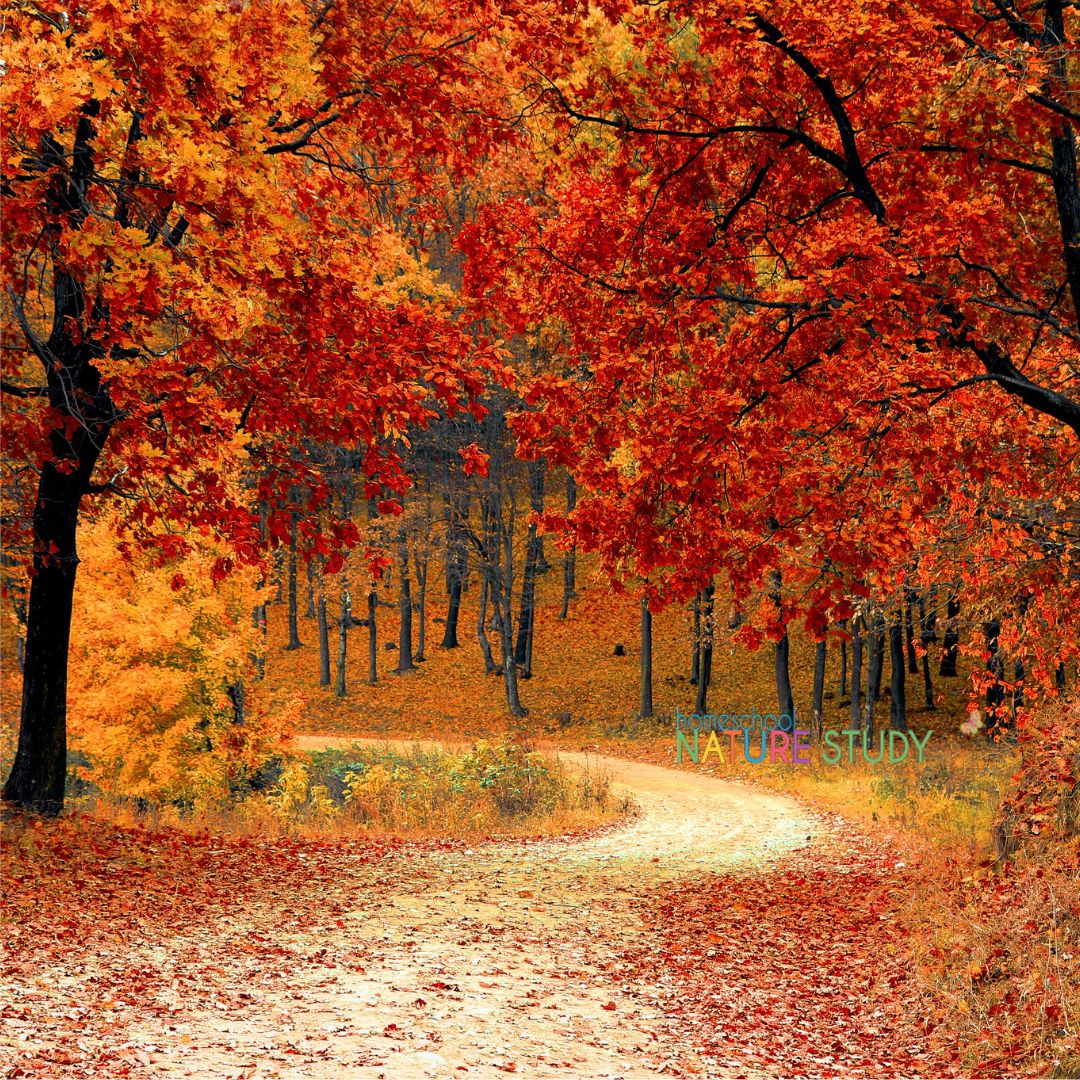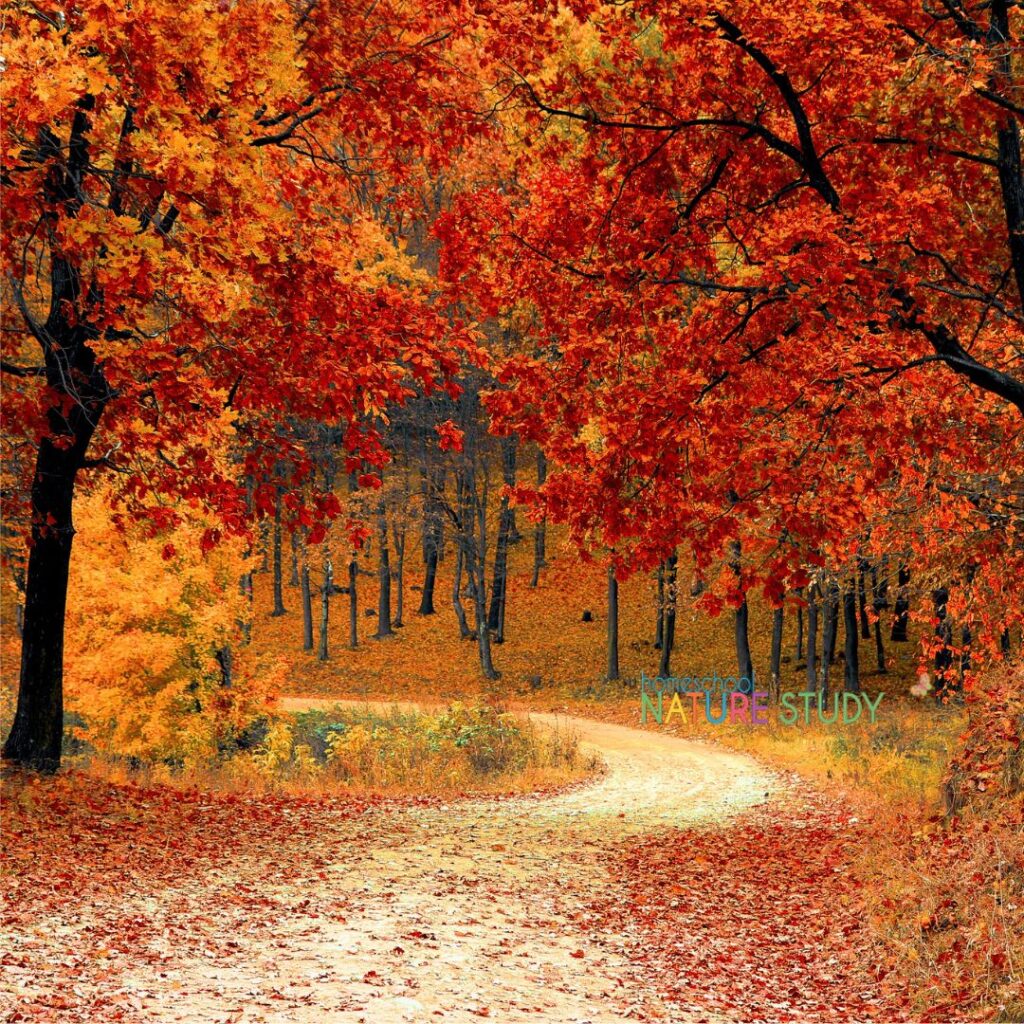 Celebrate The First Day of Fall
Here is a fun idea for the first day of fall and your fall leaf tour!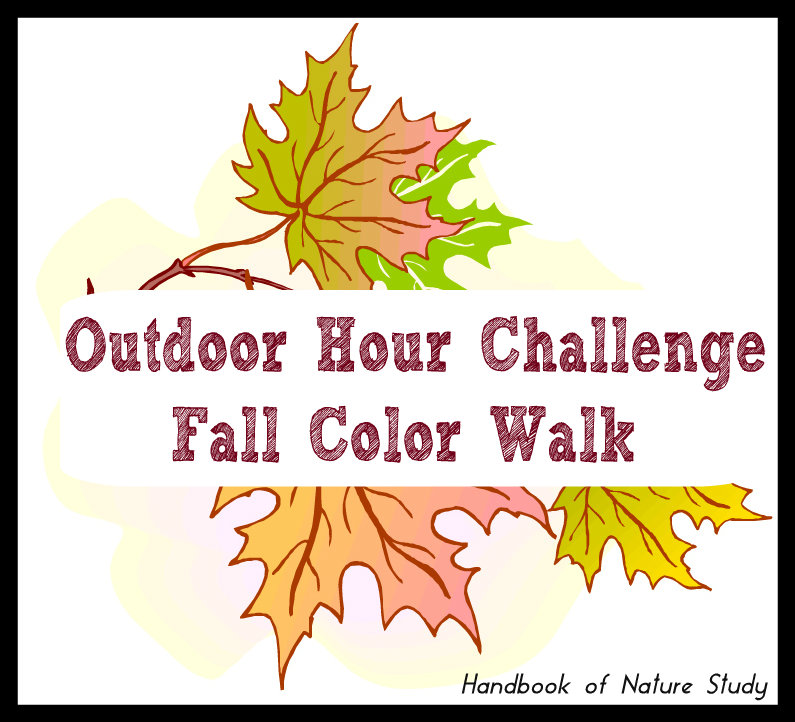 Homeschool Fall Leaf Study And Activities
This study is designed to be completed with what you have around you. As the leaves turn, head outside, notice fall colors and collect some different colored leaves.
Compare Leaves from Two Different Trees
Leaf shape and leaf margins.
Leaf arrangement on the stem.
Leaf color, texture, and size. (You can measure if you wish.)
Come back in from your walk and follow up with a journal page.
Take a Fall Color Walk For Your Nature Study
To continue your fall leaf tour, take a fall color walk! We also start to take more hikes now that the afternoons are a bit cooler. We have our favorite trails and try to get outside every day to see what we can find of interest.
Read in the Handbook of Nature Study page 14, "The Field Excursion". The reason I want you to read this section is so you have a better understanding of how to prepare you children for a short outdoor excursion with a purpose. Let them know ahead of time the reason you are going outdoors, have them gather their supplies, and then make the excursion outside to look for fall colors.
With our Printable Autumn Series Field Notebook included in membership, you can enjoy these studies and journal pages:
Seasonal tree study
Goldenrod
Oaks & acorns
Fall bird study
Squirrels
Mushrooms
Pumpkins
Field Notebook List
Fall Color Challenge Activity: Match Leaf Color to Your Art Supplies
A more detailed advanced study for upper level students is included in membership. Here is a peek at what you can enjoy as you continue your fall leaf tour.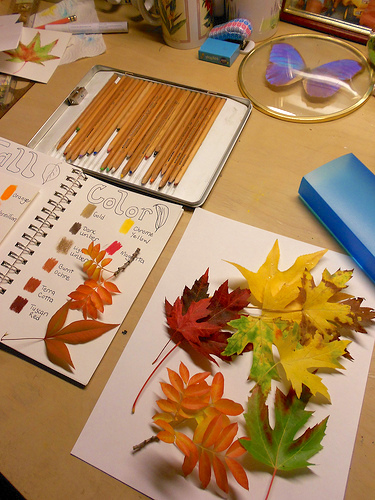 Collect a variety of colorful leaves and bring them inside. Have fun matching the colors of the leaves to your colored pencils, chalk pastels, crayons or other art supplies. You might want to sketch your leaves in your nature journal.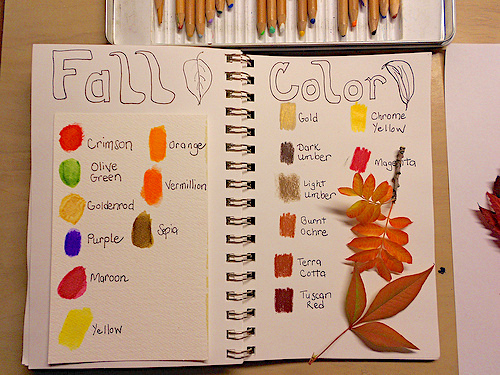 Fall Homeschool Nature Study Ideas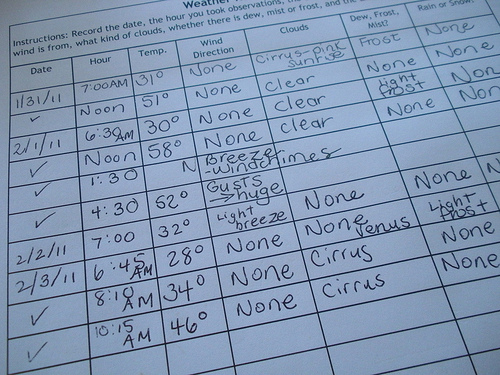 Track Weather in Your Homeschool
Autumn seems to be a season that many of us look forward to and in my part of the world we welcome the cooler temperatures and the crisp morning air. We begin to see a few days of wet weather and one activity that seems to make its way into my nature journal is to keep track of that cooler wet weather.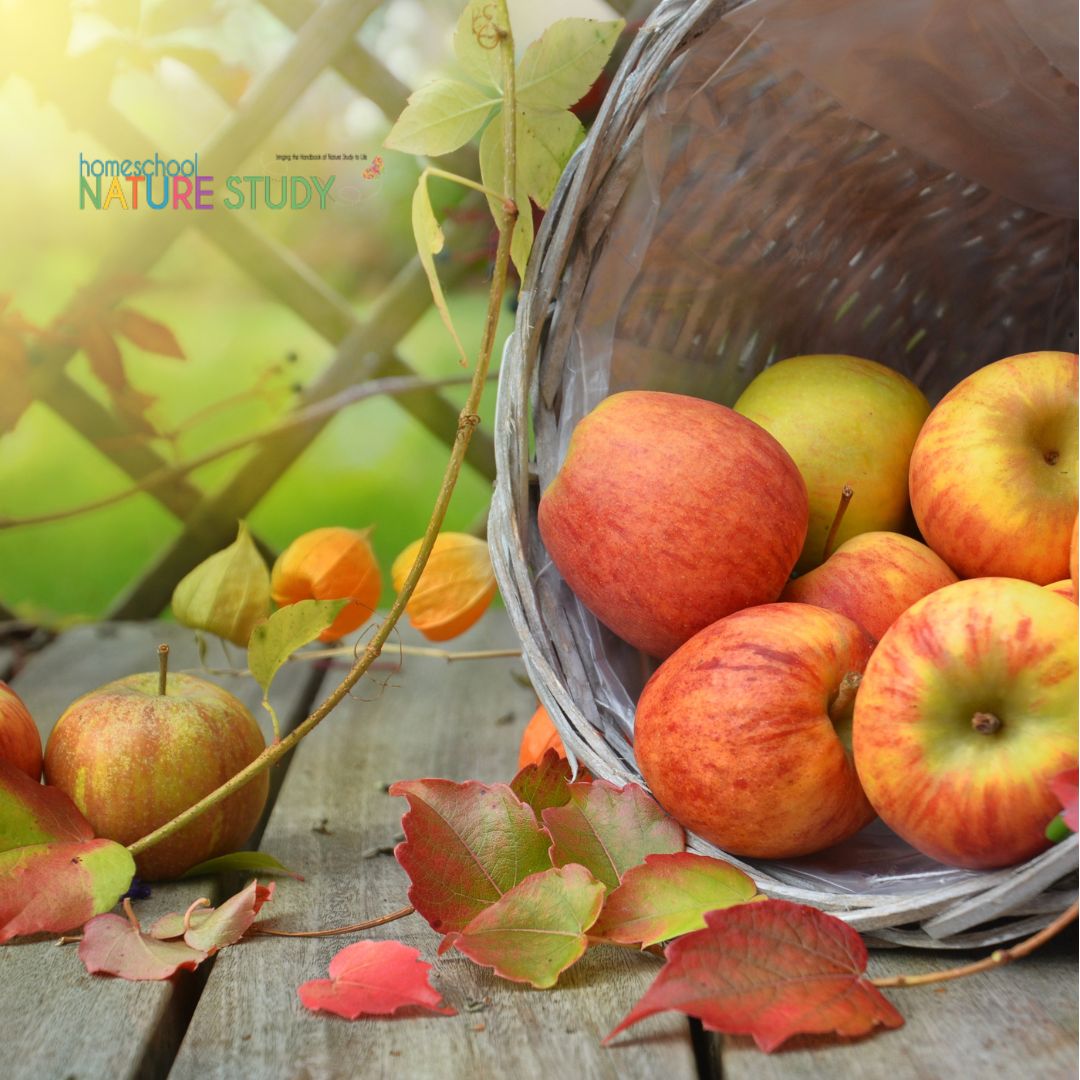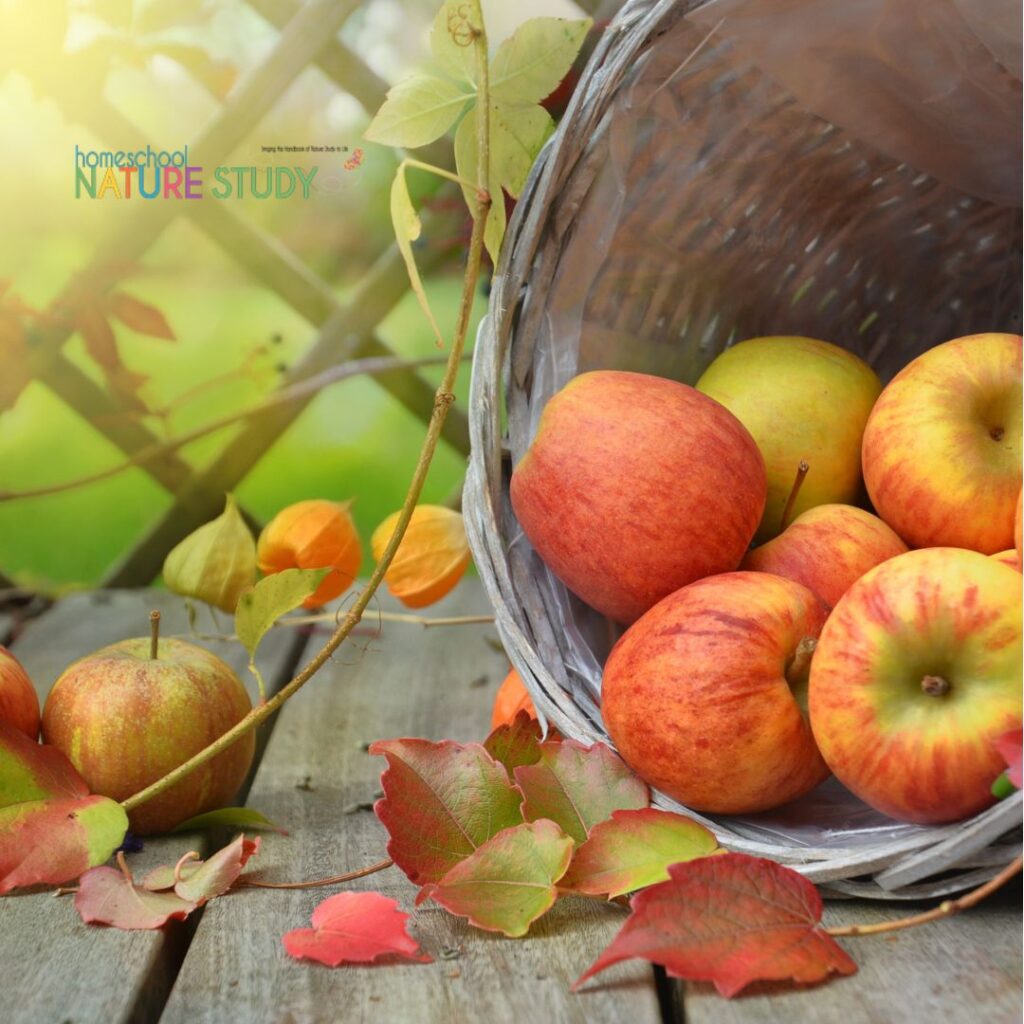 Simple Fall Homeschool Nature Study Ideas with Apples, Pumpkins and Pears
Our Homeschool Nature Study members enjoy these wonderful challenges!
Apple Challenge – Simple nature study featuring apples and the Handbook of Nature Study.
Pumpkins – Study your pumpkins and then eat them too!
Pear Challenge – Yummy nature study featuring pears and the Handbook of Nature Study with advanced study options too.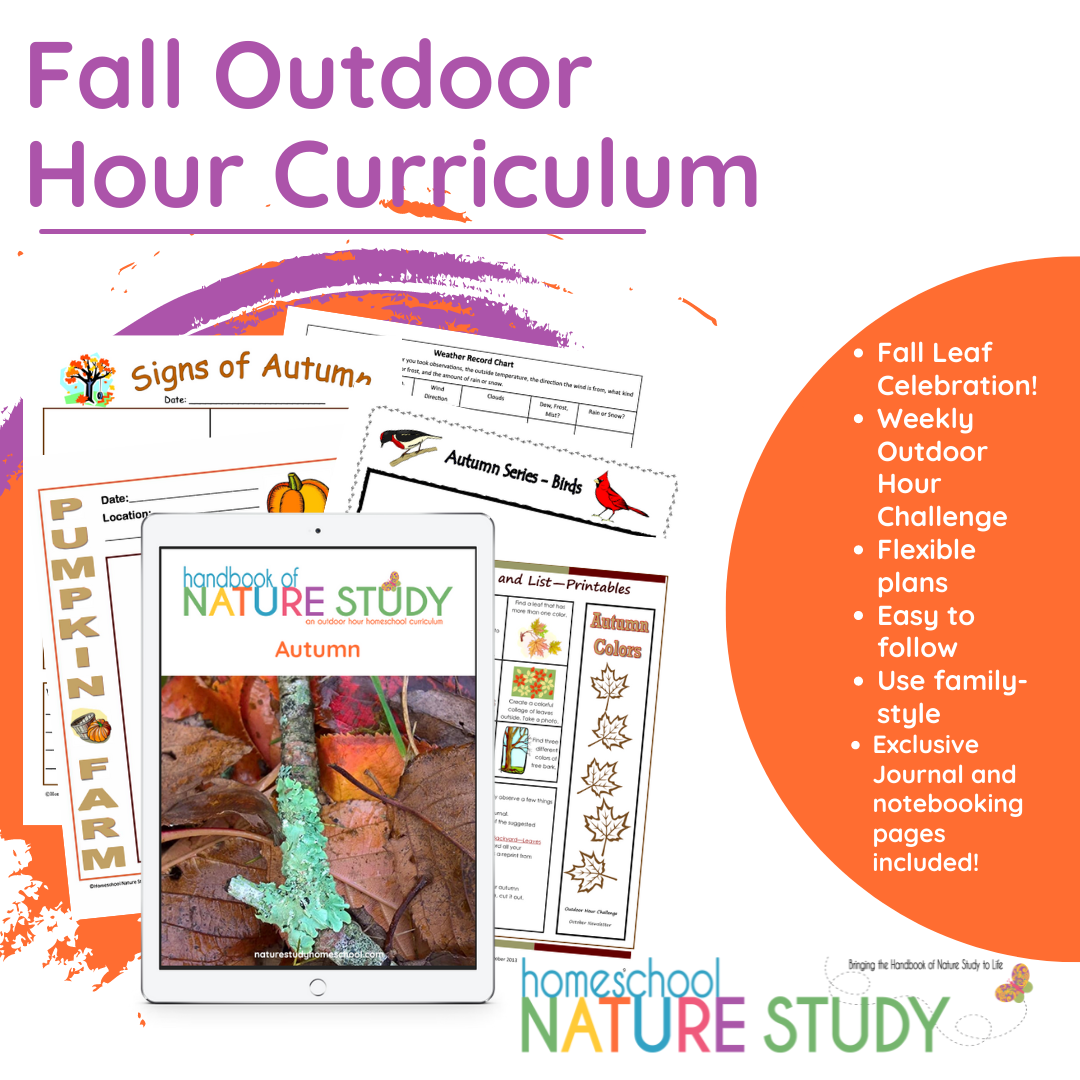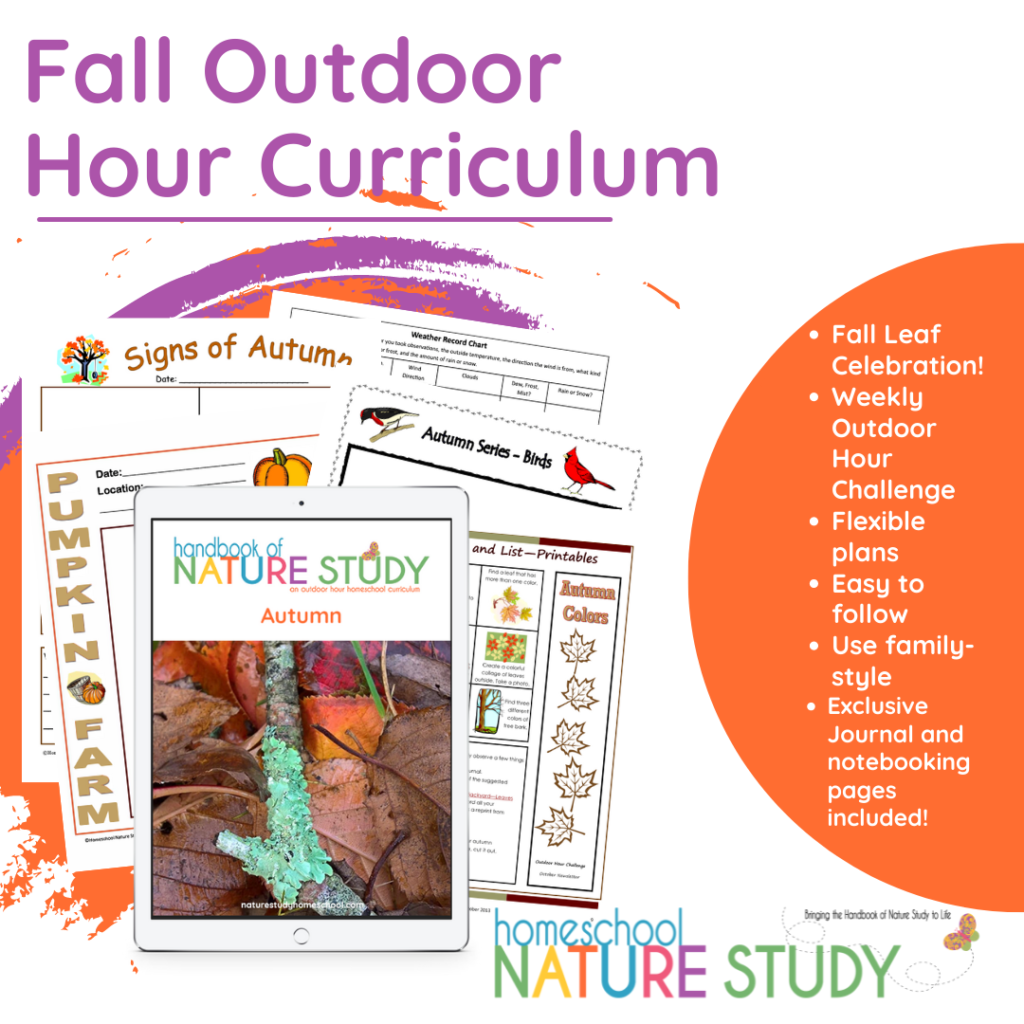 Autumn Series with the Handbook of Nature Study: Outdoor Hour Challenge Curriculum
There are so many fall favorites for you to explore over the next months!
Members also enjoy access to:
NEW, weekly Outdoor Hour Challenges to bring the Handbook of Nature Study to life in your homeschool!
the annual nature study plans
matching courses with materials and journaling pages
interactive calendar with daily nature study prompts
Nature Journaling course
and MUCH more!
More Fall Nature Study for Your Homeschool
Be inspired. Be encouraged. Get outdoors!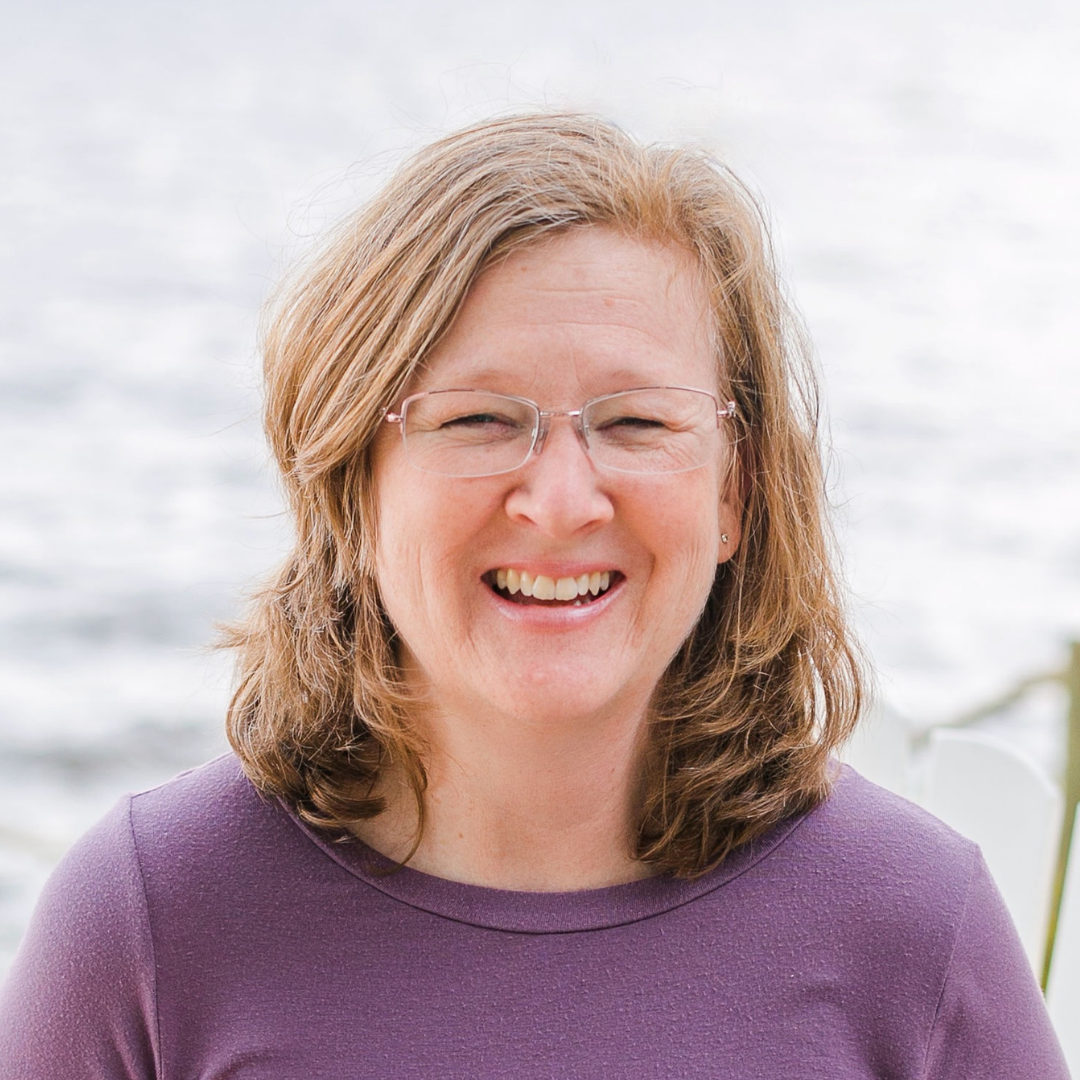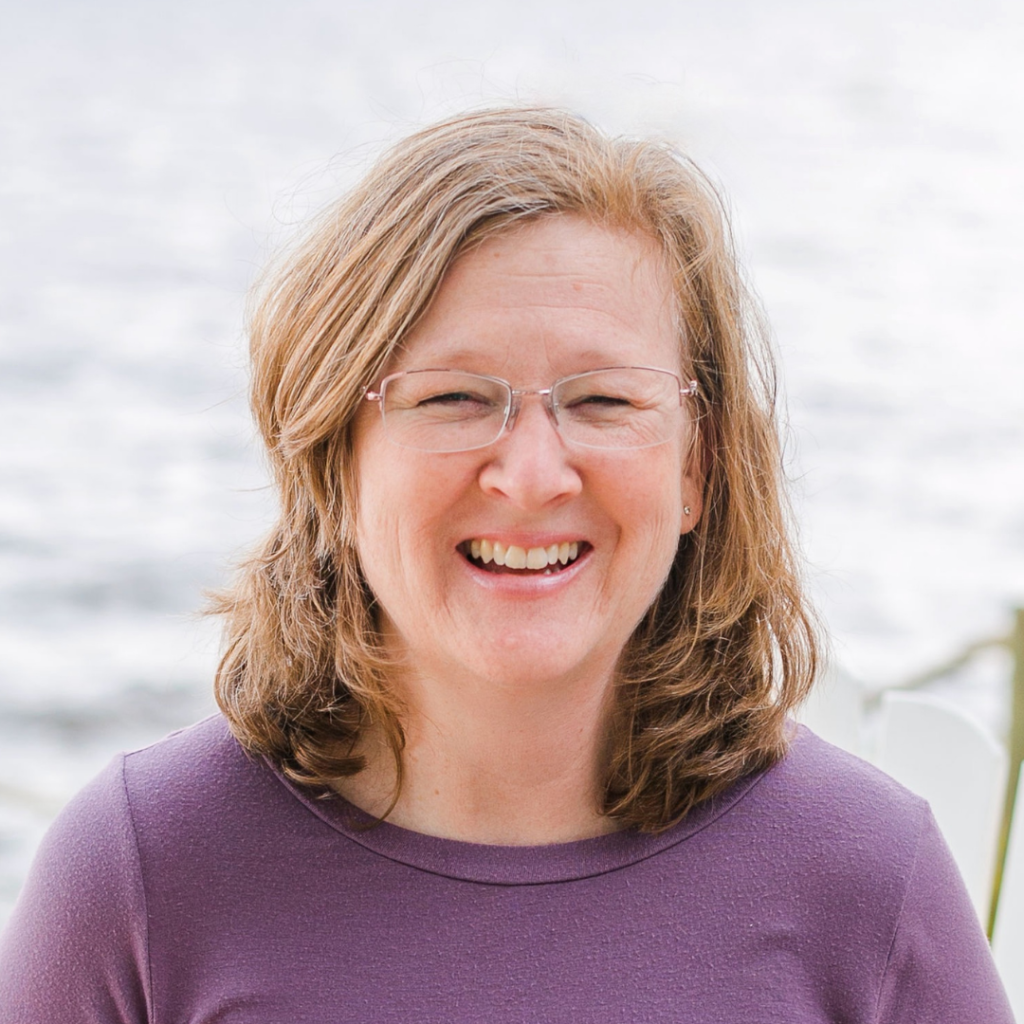 Tricia and her family fell in love with the Handbook of Nature Study and the accompanying Outdoor Hour Challenges early in their homeschooling. The simplicity and ease of the weekly outdoor hour challenges brought joy to their homeschool and opened their eyes to the world right out their own back door! She shares the art and heart of homeschooling at You ARE an ARTiST and Your Best Homeschool plus her favorite curricula at The Curriculum Choice.