Pond study is always a great summertime activity and that is one reason I chose ponds as the theme of the August Newsletter challenges. We spend one day a week at Grandpa's helping him with yard work and he has a small pond that is spring-fed and we enjoy investigating it when we visit.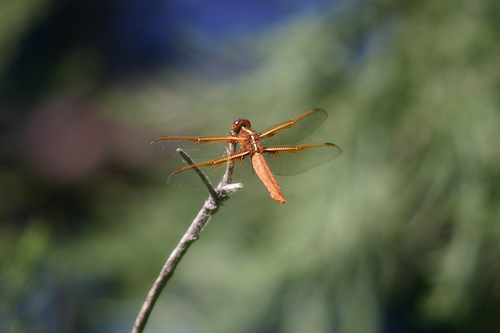 Dragonfly in our backyard earlier this summer
We started off our dragonfly study with the dragonflies that visit our backyard everyday during the summer months….some looking like little hummingbirds and others looking like helicopters. We sometimes even have a swarm of dragonflies all at once in our yard and then they disappear.
For the August Newsletter challenge to observe some dragonflies, we visited Grandpa's pond with the intention of expanding our dragonfly study. He has blue damselflies which are so pretty and before we knew any better, we called them dragonflies. There are some simple differences between dragonflies and damselflies.
Dragonflies land with their wings out and damselflies land with their wings in
Damselflies have wing pairs that match and dragonflies the wing pairs are dissimilar
Dragonfly eyes touch or nearly touch and damselflies have clearly separated eyes
We read in the Handbook of Nature Study about the dragonfly and made some notes on our nature notebook pages. Mr. B drew both the Bluet damselfly and the Red skimmer dragonfly and they will go side by side in his nature journal.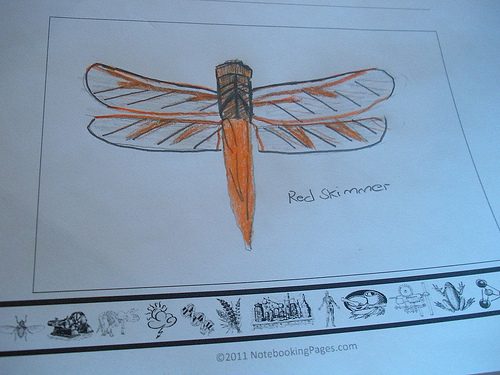 For more information on using the OHC to learn more about dragonflies, you can see OHC #28.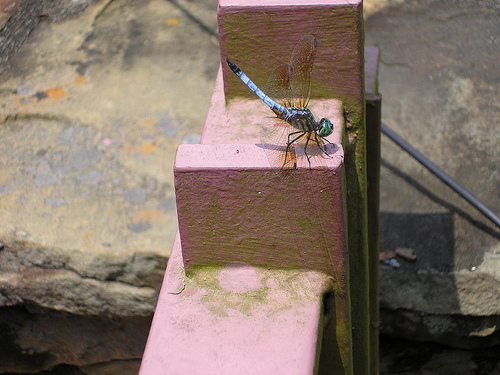 I cannot resist sharing the prettiest dragonfly I ever saw and was able to get a good image for my nature journal. This one we saw when we were in Atlanta, GA a number of years ago. I think he is magnificent!
Dragonfly Link to Lapbook Pieces on HomeschoolShare: Dragonfly Animal Study. If you have little ones you could print out the "What is the difference?", "Dragonfly Design", and "Dragonfly Diagram" pieces and include those in your nature journal. What could be easier?
I look forward to seeing some of your pond studies or any other nature studies you have been cooking up this month. Make sure to submit your entries to the Outdoor Hour Challenge Blog Carnival. The link is at the top of my blog and on my sidebar.