Up until last year I would not have know what this flower was called but we focused on it during the Summer Series of challenges last year. There is something wonderful about being able to name a flower or tree or bird, making it a part of your world. You can own it.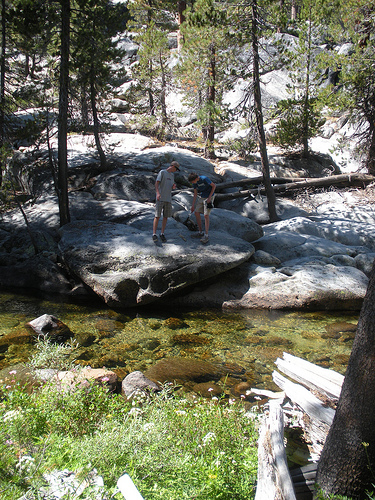 We took two hikes in Yosemite while camping this week, one new and one familiar. We drove up Tioga Road towards Tuolumne Meadows and stopped at Yosemite Creek. We hiked down the creek about two miles, enjoying the sound of water running over the rocks. This creek eventually filters down to fill Yosemite Falls…the iconic waterfall that so many come to see from all over the world. This time of year it is not much more than a small stream coming over the top but come next spring it will be a torrent.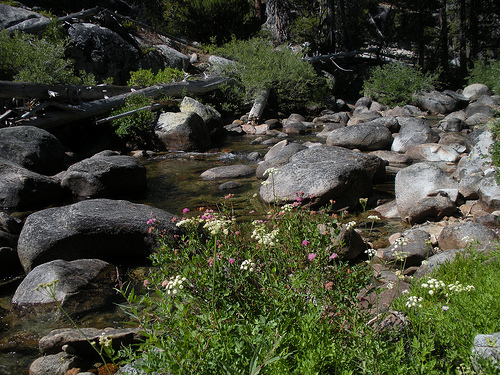 Here is another view of Yosemite Creek which right now is lined with wildflowers. We stopped and took a break sitting on rocks as we took in the sights and sounds of the wilderness. We only saw two other people hiking on this trail the whole afternoon we were out there. It is an amazing experience to have this spot of the wild all to yourself.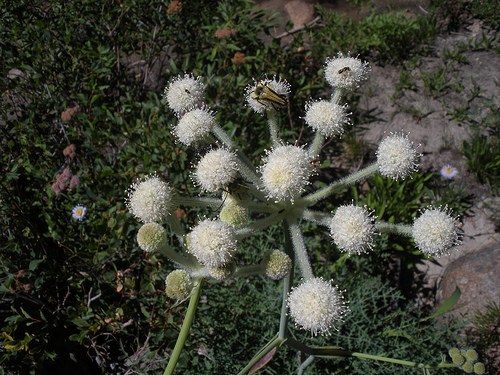 Well, unless you count the insects. These Ranger's buttons had a variety of insects enjoying the summer sunshine. We couldn't name these critters but it was interesting to watch them do their work.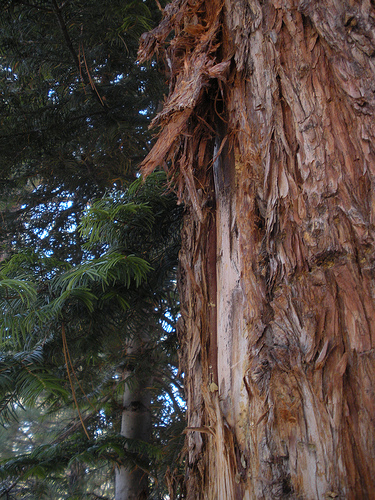 This trail was also home to quite a few trees that showed signs of bear scratchings. The bark on this cedar tree was roughed up by bear's claws.
I started calling these "bear curls" since they were where the bear had pulled the tree bark down making it twist into curls. Interesting? I think so.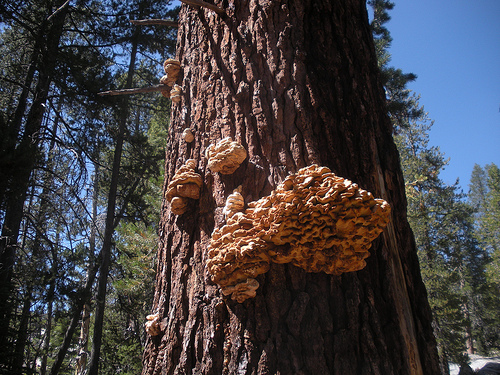 We also spotted this HUGE fungus on the side of another tree…really high up. Can you believe the size of it? Amazing to see!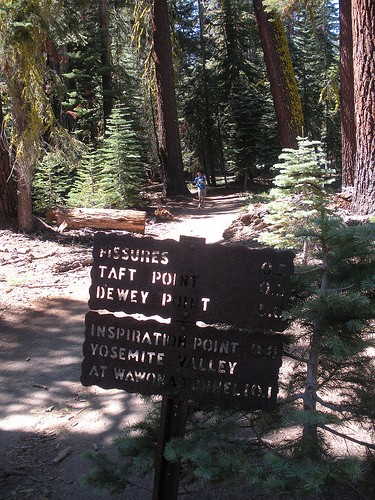 The second hike we took was to Taft Point which is off Glacier Point Road. It is a favorite hike for the boys since there are lots of boulders to climb and the view once you get to the point is incredible….and high.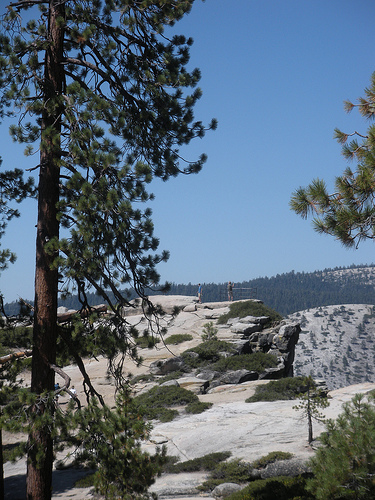 Here is a shot of the boys at the railing which is right at the edge of the cliffs….sorry no photos of the view to the valley or over across the valley to Yosemite Falls since my camera batteries were both dead. I broke my camera when we were at the Grand Tetons and I now have it duct taped shut but the battery door opens up and somehow the battery drains down very fast. I am in the market for a snew point and shoot.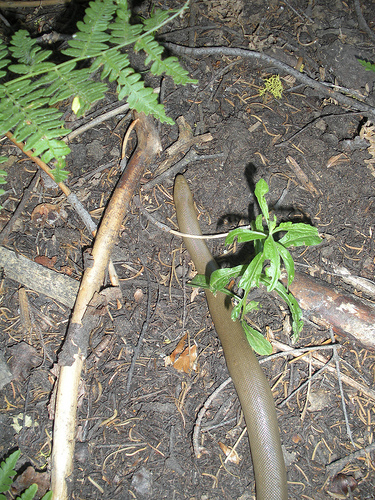 The hike was highlighted by a slithering Rubber boa crossing the trail right in front of us. He was about 24-30 inches long and not in a very big hurry. We were able to get a really good look at him. Funny thing is we were just talking about how we never see snakes while in Yosemite and then we saw this one….weird.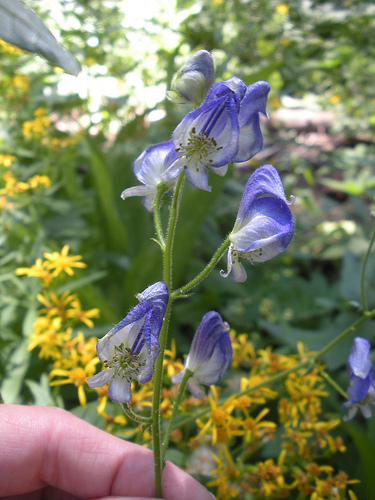 Okay, so if you are not into snakes, how about a pretty wildflower? This is Monkshood and I have only seen in two places at Yosemite so I was happy to catch it in bloom. The yellow in the background is Arrowleaf groundsel.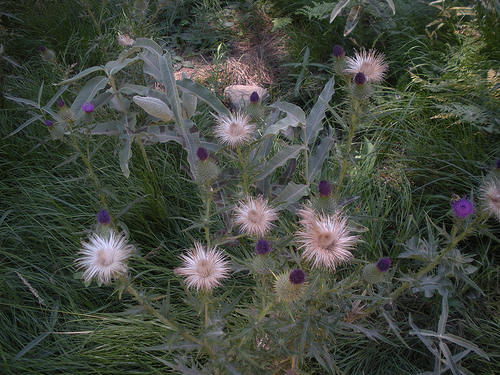 We spent some time in the Valley walking the paths under the trees and I was on the look out for some thistles in preparation for the up-coming thistle challenge. I was pleased to find both milkweed and thistles growing right together along the trail. The thistles are in a variety of stages of life…some blooming, some going to seeds, and some getting very dry.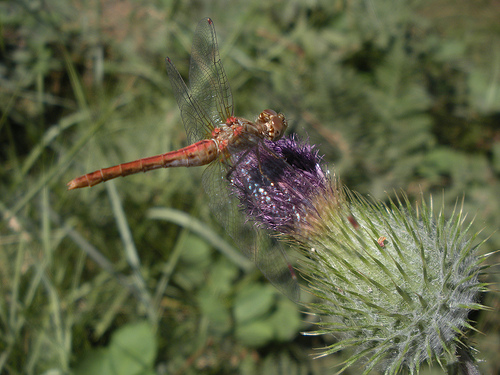 Guess who came along for us to observe? Mr. Dragonfly was enjoying the Bull thistles right along with us. So very pretty to look at!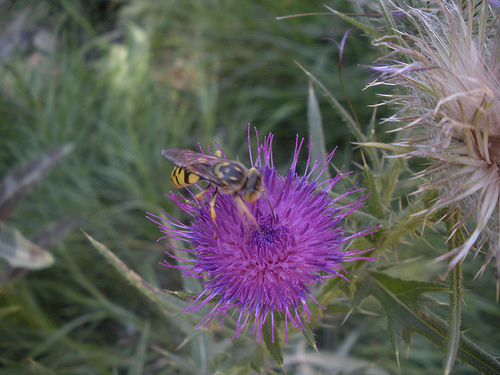 Here is another insect coming to feast on the thistles…this one was very buzzy and I took a quick photo and then got out of his way.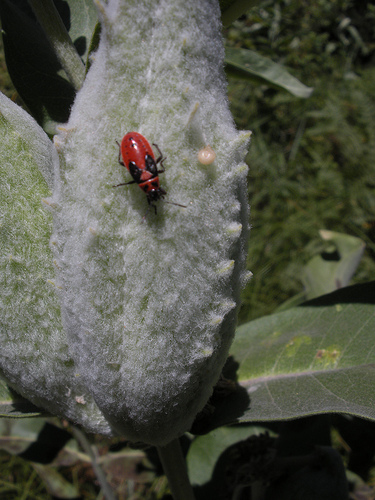 The Showy milkweed is all producing large seed pods and we found this milkweed beetle crawling on one of the pods. These pods are amazing to see and touch…just like velvet.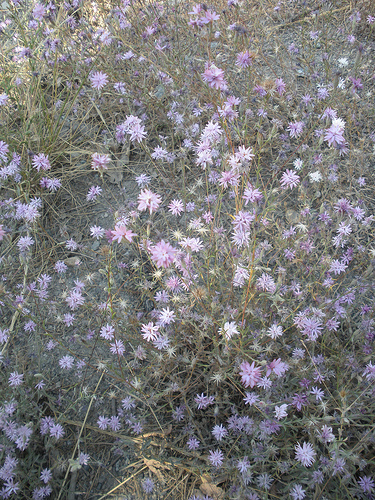 So this is my new wildflower for the trip. We identified this lovely lavender flower as Sierra lessingia. We read in our field guide that Mary Curry (of Curry Village) called it Summer Lavender and I would agree with her that because it grows in such large patches in the flat spots along roads and in the valley, it looks like clouds of lavender. I love learning something new and now I can name that pretty flower that grows so profusely this time of year in the Valley.
So there you have our hikes and wildflowers, bears and beetles, dragonflies and snakes. So many things to enjoy and learn about when you get the opportunity to get to know a place….