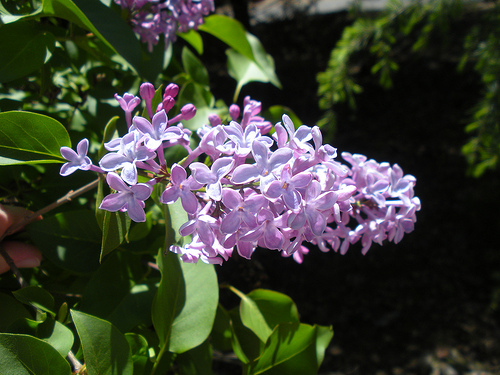 I think I forgot the sounds that come in open windows in the mornings and evenings. Winter requires the house to be shut up too much but with open windows I woke this morning to a an owl hooting in the neighbor's tree.
"I'm awake! You Too!" he was calling.
What a great sound and it makes me wonder what all I have been missing closed up in the house for the winter.
This evening I am hearing crickets for the first time and the call of the tree frogs from across the street. It makes me happy to think we have reached the point where we can have open windows and doors to bring a little of nature back into our house. The mosquitoes are buzzing tonight too….found one in my bedroom and had to give him a swat. Now that I could do without.
We are busy working on weeding the garden walkways and preparing beds for seeds. This is a joyful, hopeful time. Outdoor Hour Challenge #12 includes choosing and planting flower seeds and I thought our family might include that as part of our first challenge for the month of May. (If you purchased the Garden Flowers Ebook you will have that challenge and corresponding notebook pages to go along with it.) I will share our seeds in separate entry later this week.
In the meantime, I thought I could share a little of the edibles in our garden landscaping. We try to mix edible plants with our flowers so we can harvest a little homegrown yummy-ness when the time comes.  It also is such a treat to have a little handful of something each afternoon when we are outside…a couple of blueberries, a strawberry, or a grape popped in the mouth make even the fussiest of kids happier when they are helping to work in the garden.(You can read more of my tips for nature study and gardening with very young children HERE.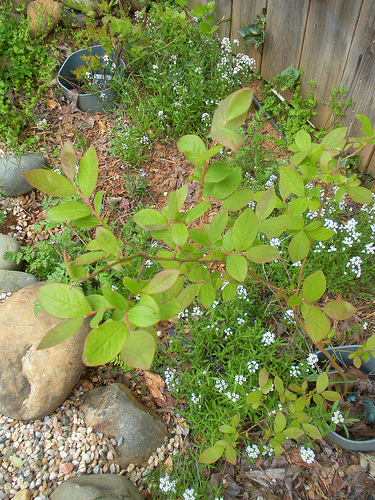 The blueberry bushes really are not all that happy looking. They are all covered in fresh green leaves but I am needing to read up on what a blueberry needs to really get established. I seem to remember something about how they like a pine needle mulch.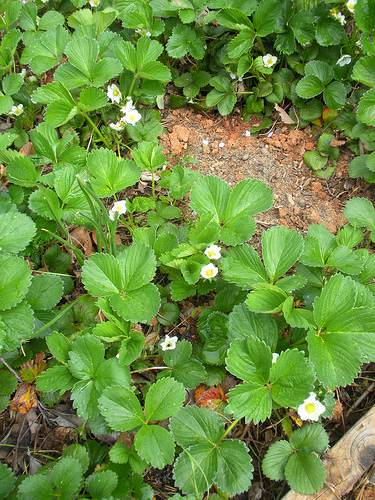 Mr. A's strawberries are looking incredible and there are dozens of blossoms and little baby strawberries filling the box. These are an easy crop to get started and we purchased ever-bearing and June bearing plants so we will have a longer harvest. (There is a challenge for strawberries if you are interested.)
We were very surprised to see so many blossoms on the pear tree this year. We had pruned it way back to keep it out of the neighbor's yard and this seems to have been agreeable to the tree. We might get a dozen pears this year….well, we can hope for that.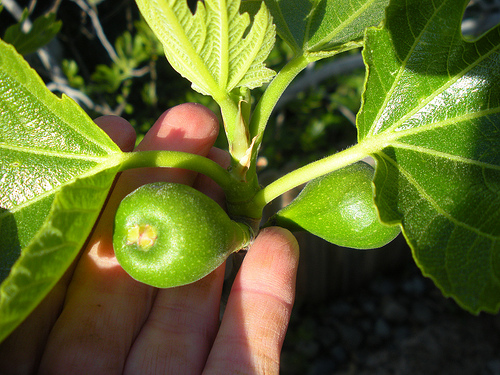 Figs….does anyone really like figs? This tree was here when we moved in 25 years ago and we have tried to cut it down several times, just to have it grow back more lush than ever. We have finally come to grips with it and we share the fruits with those in our lives who enjoy them. The birds like them too so I guess it is worth the mess.
Tomato in a pot to cover the ugly stump….sounds like a good idea and if it doesn't do well we can always move it. We also have seedless grapes planted there on the fence to shield the ugly propane tank from view when we are sitting on the back deck. They vines get so green and climb all over, producing little sweet bites to nibble when I am out in the back watering in the hot summer sun. (There is a challenge for tomatoes if you are interested.) Do you have a place for a tomato in a pot?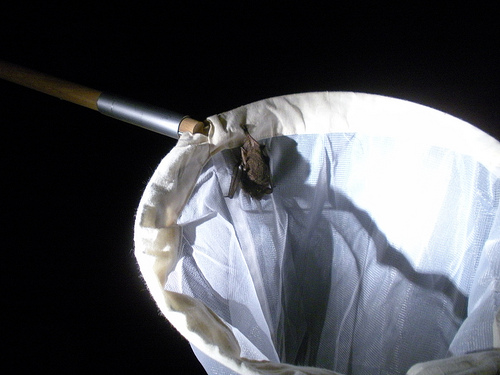 Another reminder to us: Keep the back door closed in the evenings. This bat made its way INTO the house last week. The cat may have brought it inside but we aren't entirely sure. We had a comedy act going on trying to get it to fly back outside. My boys ran and got the butterfly net and we were able to get him in the corner and inside the net. He really calmed down and just hung in the net long enough for us to get a good look at him. We released him outside and he fly away so gracefully. (There is a challenge for bats if you are interested.)
We are ready to start doing some nature study and the boys have been discussing what subjects we will study for the month as part of the new format of the Outdoor Hour Challenge. Don't forget you can pick from any of the topics: wildflowers, garden flowers, birds, and/or mammals. You can chose one from each category or stick with one topic and study four of them in a row. Please feel free to make the challenges work and build on interest you find with your children. Don't forget to submit your blog entries that you complete to the OHC Blog Carnival.
Enjoy your week!