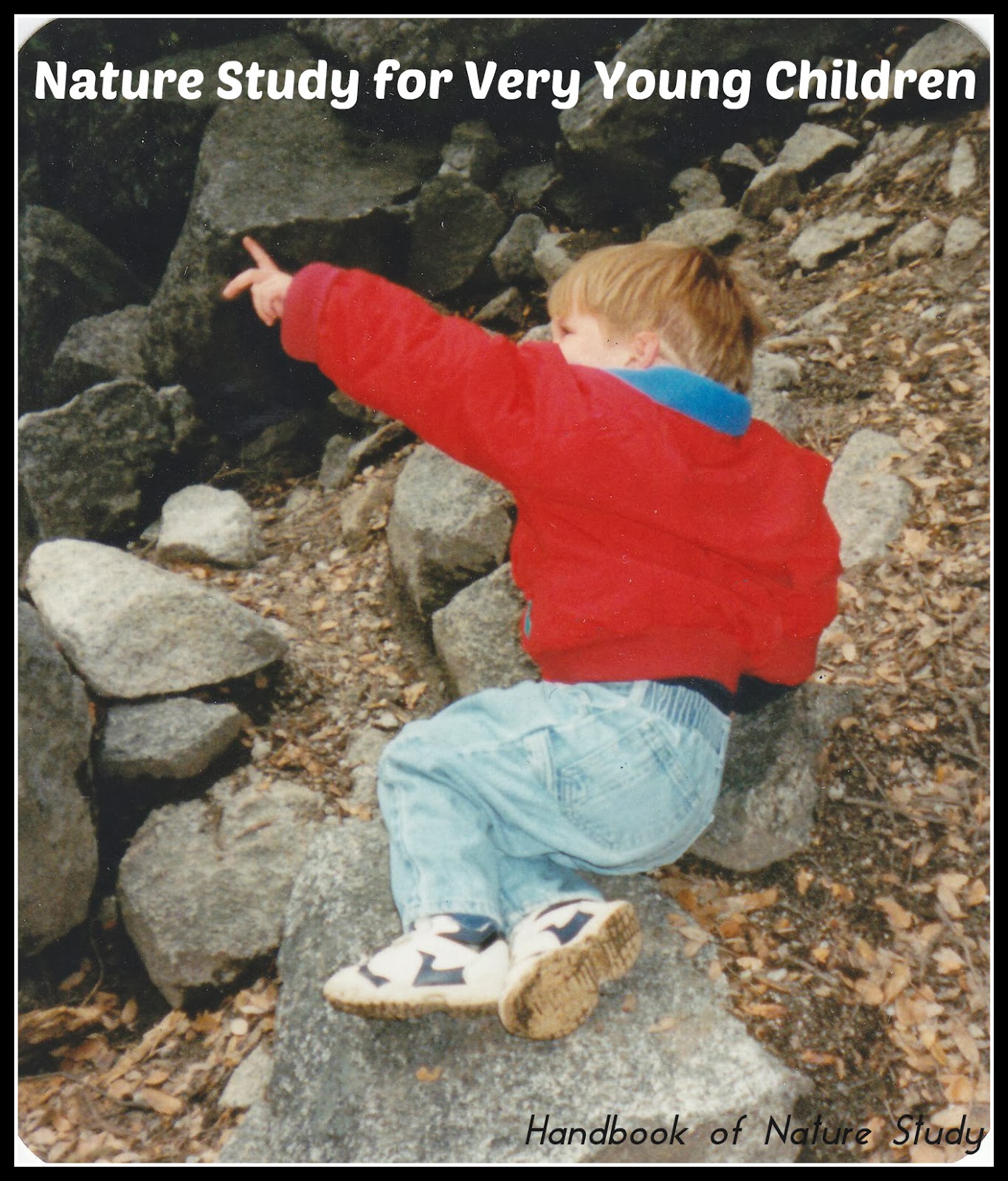 I had an email from Dana and she has a one year old. She was asking for some tips on how to get started with nature study with very little ones who are prone to putting things in their mouth….she lives in Tanzania, Africa and is worried about bugs and poisonous plants.
I have been thinking about her situation and decided that it isn't any different from those of us who live in other parts of the world. Having a young toddler and providing an opportunity for nature study is pretty much the same anywhere. When children are very young, it is only natural that they want to explore in a way that is meaningful to them and sometimes that means putting things in their mouth. Our job as parents is to provide a safe environment for them to explore. Just like you baby-proof your home to ensure your toddler can play and learn in a safe environment, you can baby-proof an outdoor area for your child as well. The space doesn't need to be large. It could be a blanket on the grass or sand, a patch of grass or weeds that is near where you hang laundry or tend a garden, even a spot on the patio with a few potted plants and natural items to explore.
"As for the baby, when he is put down, he will kick and crawl and grab at the grass, loving every minute of his freedom as he takes in nature in his own way. He should be dressed in something comfortable that can handle a bit of dirt and play." Charlotte Mason, Volume 1, page 45
Nature study at this age is something you will want to do together to spark interest and to start the process of learning to be a good observer.
"..the mother must not miss this opportunity of being outdoors to train the children to have seeing eyes, hearing ears and seeds of truth deposited into their minds to grow and blossom on their own in the secret chambers of their imaginations." Charlotte Mason, Volume 1, page 45
What does this mean in a practical way? Our yard has lots of things to explore so many times we would just walk around our own backyard together. There were rocks to turn over and look at what was hiding underneath…..ants and spiders and crickets. There were plants to smell like roses, thyme, and lavender. There were trees to touch and leaves to gather. It is fun to have a few items that they can take on their walks like nets, buckets, pouches, binoculars, or magnifying lenses. We kept our outdoor tools in a crate outside the back door.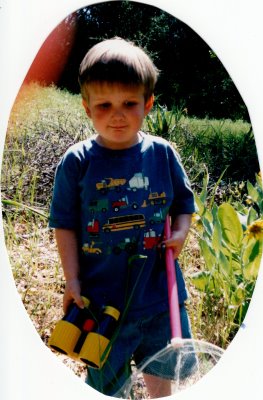 We always had a vegetable garden so the little ones would accompany us outside to water, weed, and harvest. I tried to make sure that there were things growing that they liked to eat so they could harvest and eat the veggies right out in the garden….peas and beans were some of their favorites. They almost always had their own "garden" where they were free to dig and explore under my supervision. Most little ones have no fear worms and spiders so it is the perfect time to nurture their love for those sorts of things.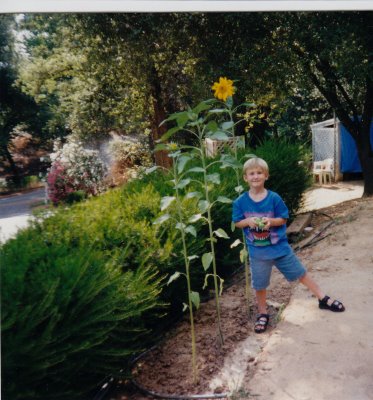 Digging in the dirt is great therapy for children and adults as well. The fragrance of damp soil and fresh earth leave imprints on our minds that last into the winter season. As we would weed, I would point out the plant parts like roots and stem. Even if all you have is a pot or two on your porch or deck, this will provide a great start to learning more about the plant world.
Once you decide you want to venture out of the yard, the stroller is a great way to get the little ones out but still let them be a part of our nature time. You can point things out to get them started but soon they will be looking for clouds and birds on their own. Be flexible. I have one child that would rather push the stroller than sit and ride so I would tell him that he had to keep a hand on the stroller as we walked along at his pace. This kept him from running too far ahead and I could interact with him as interesting things caught our eye. This gave him a little sense of freedom but I could be in close supervision.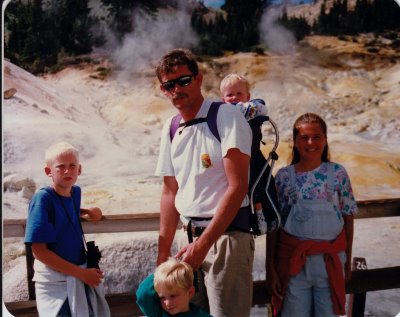 Have you ever smelled the sulfur/rotten egg smell of a mud pot? This photo was taken in Lassen National Park and the looks on their faces tells you that it is not a pleasant smelling place….except for maybe Amanda and she has always been a smiley girl no matter what.
From a very early age, we included the little ones along on our family hikes. The baby backpack was our best friend and the boys both loved riding along on dad's back as we hiked. We trained them to ride in the backpack and then gradually shifted them to walking on their own.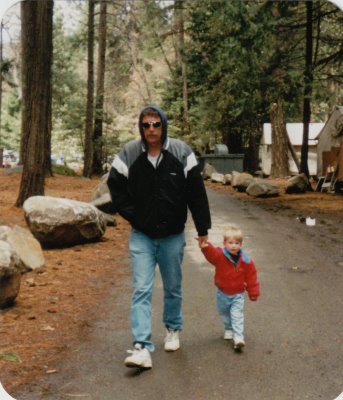 From the age of three, we geared our hikes to allow the littlest ones to hike as much as possible on their own. This meant a slower pace and a shorter distance but it was very enjoyable to see the trail from their eyes and to follow their lead from time to time.
"Adults should realize that the most valuable thing children can learn is what they discover themselves about the world they live in. Once they experience first-hand the wonder of nature, they will want to make nature observation a life-long habit." Charlotte Mason, Volume 1, page 61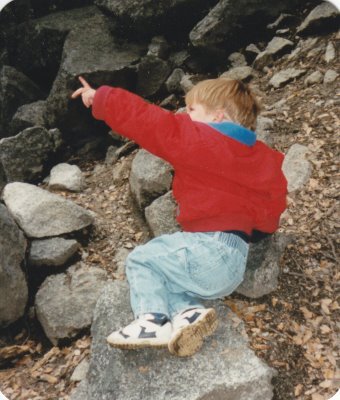 Nature study at an early age is about exposure and a growing awareness of what is surrounding you at all times. Your enthusiasm is so crucial to capturing your child's interest. Think about what interests you about the outdoors and then come up with a way to involve your children.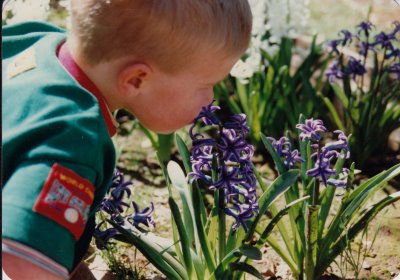 Here are some ideas that I have used over the years:
One of our favorite daily activities when the boys were very small was to let them use a small watering can to water our deck plants each morning. We would observe the flowers and play in the water a little but they began to have an appreciate for growing things. Growing marigolds in a pot is something we did a lot when the boys were little.
The boys also have always loved helping to fill the birdfeeders. This would get us outdoors and talking about the different visitors we had that ate the seeds. Scooping seed was a favorite toddler activity as well.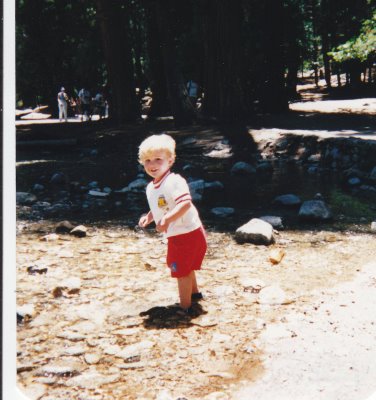 Collecting things to bring home and organize is a great toddler activity. I have one son that always had a pocket full of acorns every time he went outside. We collected them in a coffee can each day and he enjoyed spilling them out on the deck to count and sort through on his own.
Rocks, feathers, sticks, and shells can all be kept on a nature table. Many times these natural items were mixed in with their imaginative play. Block cities had acorn people and Hotwheel cars rode over stick bridges.This was another way to have them enjoy their time outdoors.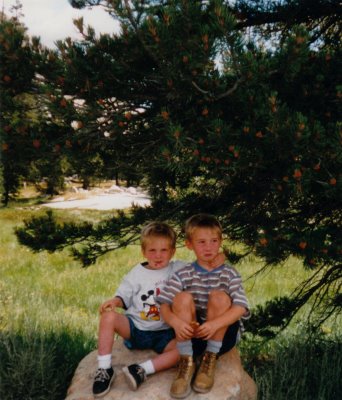 Two very dirty little boys having the time of their lives on a hike.
Indoor props could come outdoors to be played with in their dirt cities. I had a tub with a few things like plastic animals, toy cars, spoons, cups, scraps of fabric, and anything else that could serve as accessories to their imaginative outdoor play. They would add in leaves, cones, seeds, and other bits to make pretend villages and cities. On hot days we would include water in our play in the form of a bucket or tub.
Start to look at the outdoors as an extension of your indoor life….a really big play room. Include your little ones along with your outdoor activities. The simple act of taking a daily walk together will provide more than enough fuel to start the nature study engine. Take it slowly and enjoy seeing the world through your little one's eyes.
Note to readers: All the photos in this entry are of my kids when they were very, very much younger than they are now. This was a great photo scanning project and it brought back so many nature related memories. Don't waste time…get started with nature study as soon as you can with your little ones because it is a great way to build your family and your relationships.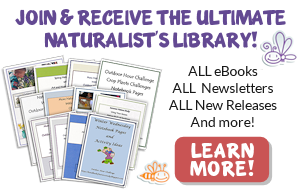 Use the discount code NATURE5 when you checkout and receive $5 0ff an Ultimate Naturalist membership!