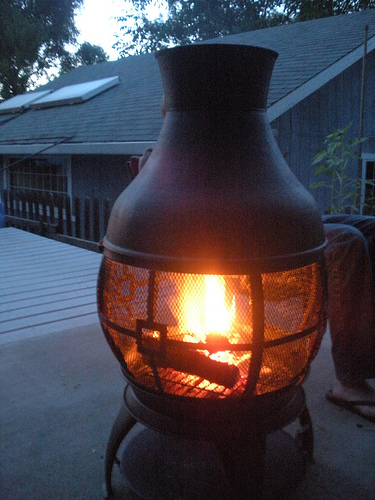 Summer evenings outdoors….with our chiminea.
We have been working on our July Newsletter Nighttime Critter Challenge all month. I wanted to post a little of what we are observing and learning to give you an idea of how you can pick a few things from your area to study in the evening hours.  I will update our list after the end of the month with any new finds.
Our most predominant nighttime critters of interest are the Brown bats that come every single night to fly in our backyard. I wrote about them back in May as part of mammal study.  For the July newsletter challenge for Nighttime Critters, I decided to share a few of our other nighttime visitors of interest. This study was sort of on-going because when the weather is hot, we tend to drag sleeping bags out to the back deck to sleep in the cool night air. We all lay awake and listen and watch as the nighttime settles in around us.
Shooting stars, satellites zipping across the sky, the moon, the swaying trees in the breeze, and the night sounds all entertain us as we wait for sleep to come.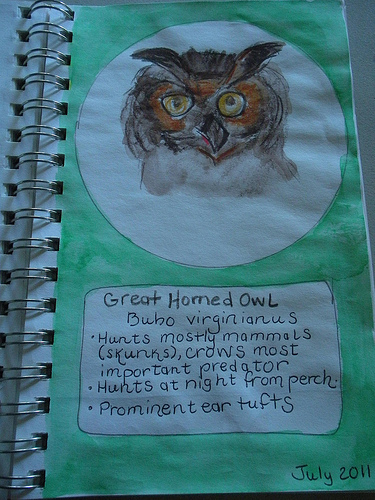 Fill In The Circle and Fill In With Color Example – Poor owl sketch…he has such a crooked beak.
One of the things that we have discovered sleeping outside on hot summer nights is that we have quite a few great horned owls in our neighborhood. We can hear them calling back and forth right after the sun goes down and then again at around 5 AM. Here is a link to AllAboutBirds.org and if you click the sound button, you will hear the two types of sounds we hear from our owls: Great Horned Owls. We have yet to actually see them but they are out there…no doubt about it.
We also are serenaded by crickets when the temperatures get just right. It is amazing how you don't hear any crickets and then all of a sudden it is as if someone turned on a cricket soundtrack and they all chirp at the same time. The lesson in the Handbook of Nature Study gives a great illustration showing the parts of the cricket and an excellent explanation of how he "sings". (Lesson 82)
 "The wing covers are much shorter than the abdomen and beneath them are vestiges of wings, which are never used. The male has larger wing covers than the female, and they are veined in a peculiar scroll pattern. This veining seems to be a framework for the purpose of making a sounding board of the wing membrane, by stretching it out as a drumhead is stretched." Handbook of Nature Study.
Turn in your copy of the Handbook of Nature Study to read much more in the lesson explaining this interesting creature.There is such a simple explanation of the mechanics of the crickets chirping that it is perfect for sharing with younger children. The crickets and the frogs compete in our neighborhood for the winner of the "background" noise. It seems as if one or the other is singing their little hearts out.
We smell skunks quite a few nights a week. Sleeping outside we hear rustling in the garden and I think it is the skunk. I know they dig around the base of the birdfeeder outside our window but over the years I have decided that if he leaves me alone, I will leave him alone. Here is another entry where I talk about our nighttime visitors.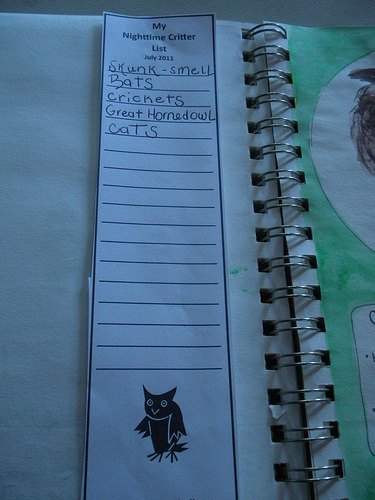 List from the July Newsletter. I cut it out and taped it inside my nature journal.
One last nighttime critter we have had around the neighborhood is the raccoon. Our neighbor has been sharing how they keep forgetting to bring in the dog's food dish at night and the raccoon has decided that it makes a easy snack taken just outside their patio door. We have had our share of raccoons in the yard over the years but we haven't seen any lately. Here is an entry sharing one raccoon experience: Raccoon Visitor.
 
Well that gives you a taste of what we have around here in the evenings. I just thought of something else I need to put on my list….moths.
I look forward to reading about your nighttime critters. Don't forget to post your entry and then submit it to the Outdoor Hour Challenge Blog Carnival before 7/30/11 for a chance in the July Newsletter giveaway!
Barb-Harmony Art Mom