Want to know what I love about walking a familiar trail? I love knowing where things grow, the landmarks to notice, the way you can tell that something is different. Usually this is the changing of the season, seeing the plants grow, blossom, and then die down in the fall. Sometimes it is a man-made change and it is shocking!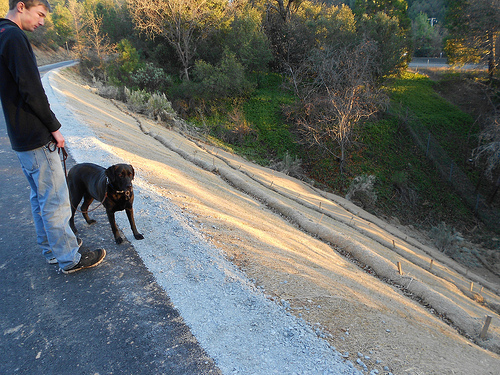 This is where our star thistles, Queen Anne's lace, and sweet peas grow in mass every spring and summer. We haven't been on this section of the trail in a few months and were were surprised to see that they had cleared it off, inserted a culvert and pipe, and then recovered it with this material. We are wondering what they reseeded it with. I can guarantee it is not star thistle, Queen Anne's Lace, and sweet peas.
I dug up a photo from a previous season.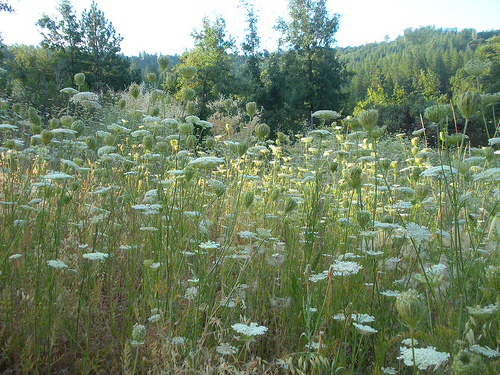 Our family used this spot as a landmark. I could say to the boys as they ran on ahead, "Stop at the thistle spot." Now we shall have to see what grows and make a new landmark. I know I will miss my Queen Anne's lace.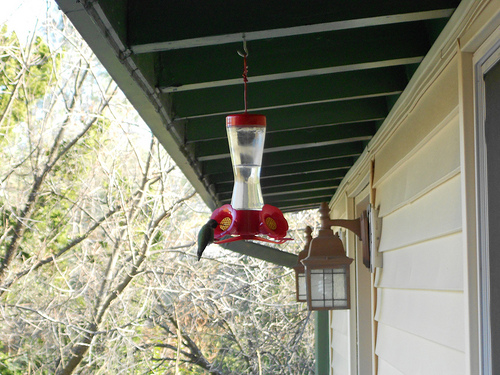 Another change we see is in our bird feeder attendees. This year we are seeing Anna's hummingbirds everyday in our feeder. They are coming and going all day long. Several of you have noted the hummingbirds on my monthly bird list. This species (Calypte anna) is an iridescent green and gray below…the male has an iridescent red head and throat. If you catch a glimpse of them in the sunshine, you are amazed at their dazzling color. They stay all winter even in the sub-freezing temperatures. I go out to check their feeder each day to make sure it isn't frozen.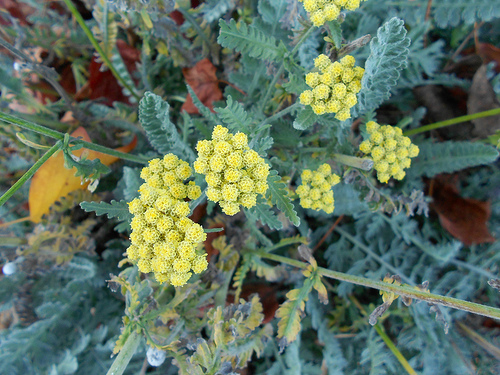 We took a walk around our yard last week as part of the Preparation for Winter-Plants challenge. This challenge had us looking for ways that plants get ready to survive the cold winter temperatures. We noticed that several of our plants are putting out a new bloom. This Moonshine yarrow is very pretty..especially up close.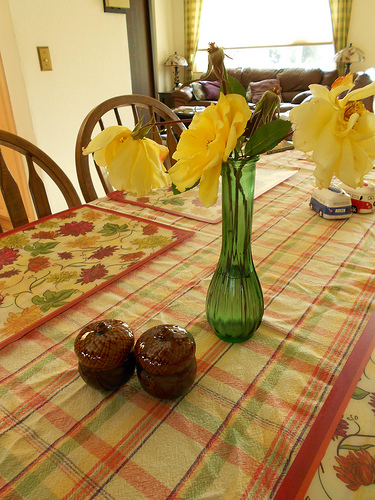 One plant that is surprising us is our yellow rose. It is still blooming…not the prettiest of blooms but still treating us to some rose-goodness for the kitchen table. For all you Redwall
readers out there, we have named this the Winter of the Rose.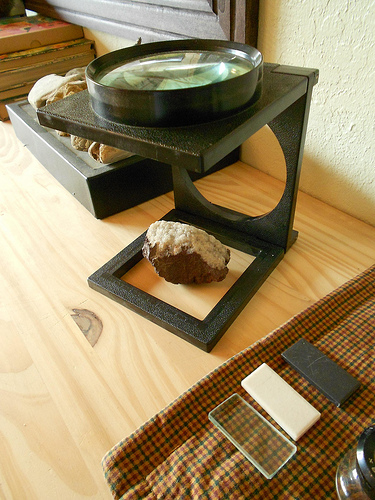 As part of my research and preparation for the new More Nature Study #2 ebook, we are having fun studying rocks up close with our magnifying lens. I set up a spot on our nature table with some interesting rocks and I noticed that just about everyone has stopped by to take a peek. (Quartz will be a topic in the new ebook.)We have lots of examples of quartz in our rock collection so pulling them out and putting them in one place has brought them back out of the shoeboxes and into the spotlight.
We are headed into another week of dry sunny days so we will be outdoors walking quite a bit. I know at some point the rain and snow will come but for now we are breathing deep the warm (50's) afternoons together. Hope you get the chance to be outdoors this week.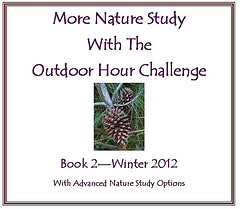 Scheduled Publish Date: 12/28/11
By popular demand, here is the link to the SE Folding Magnifier, Glass Lens 2 1/2″ Dia., Power 5X

we have in the photo above.