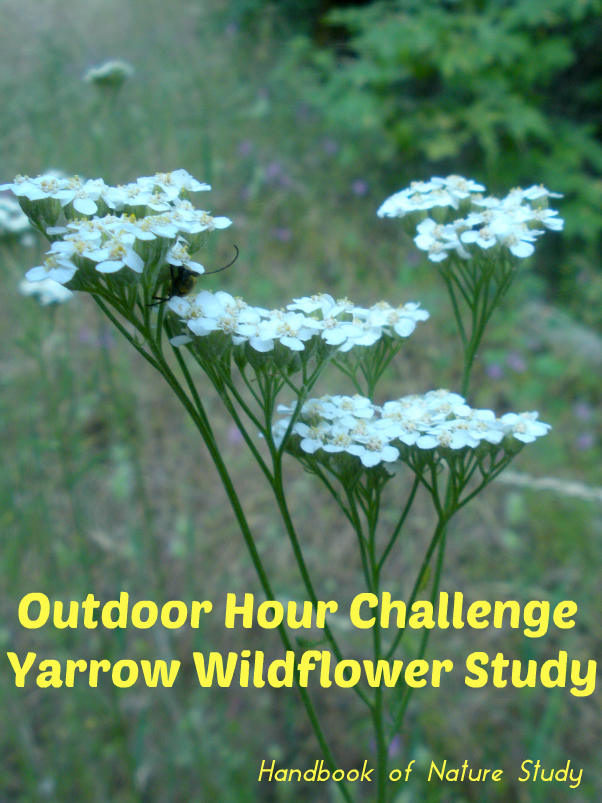 Outdoor Hour Challenge
Yarrow Wildflower Study
Inside Preparation:
Yarrow is a plant that most of us will regularly see alongside our hiking and walking trails. In addition, many garden nurseries have cultivated varieties of the yarrow plants if you are not successful in finding one in a more natural setting.
¨ Common Yarrow (Achillea millefolium )You may wish to check the range of this particular plant on USDA.
¨ You may wish to view and download this fact sheet about the common yarrow: USDA Yarrow.
¨ The yarrow plant is the host plant for the Painted Lady butterfly so make sure to look for this pretty insect when you find some yarrow.
¨ Bloom time is usually April to September. Yarrow grows in full sun or part shade in dry habitats.
¨ Aster Family: check out this page with an informative video.
Outdoor Hour Time:
¨ Yarrow is found just about everywhere in the United States. Look for it in dry sunny spots starting in April. We see it alongside most of our hiking trails and is easy to spot because it is usually about 3 feet tall. If you find a patch to observe in person, use the observation suggestions on the following page to make a careful study of this beautiful flower.
Follow-Up Activity:
Note: Ebook users can find custom notebook pages to use for the yarrow flower and the aster family.
¨ Create a notebook page for the yarrow.
¨ Start an aster family notebook page. Keep a running list over time of the flowers you observe and/or study in this plant family.
¨ Advanced study: Learn the medicinal uses of yarrow. Here is a link to use: Herb Wisdom.
The Yarrow Plant Attracts the following Butterflies:

Banded Hairstreak,  Lorquin Admiral,  West Coast Lady,
How do you get the new Wildflower Nature Study ebook?
Members of the Ultimate Naturalist and Journey levels have access to the new ebook in their library. You need to click the "Members Area" button at the top of the website, sign into your account, and the ebook is there to download and save for your family to use when desired. If you don't have a membership yet, I am offering a $5 off discount code that will be good towards your Ultimate Naturalist membership.
Save