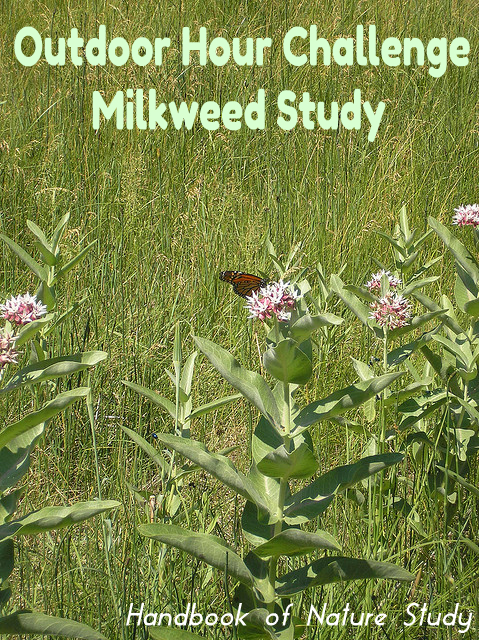 More Nature Study 
Challenge #1 Milkweed (or any other autumn blooming plant)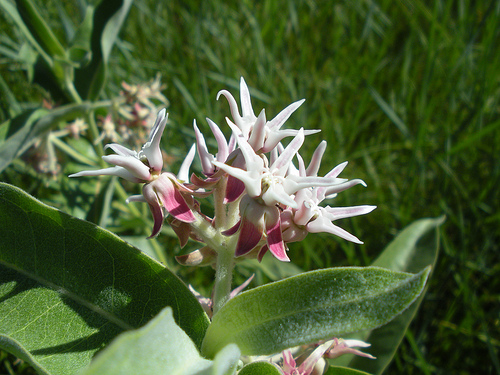 Showy Milkweed in Bloom Earlier In The Summer
Inside Preparation Work:
Read in the Handbook of Nature Study pages 491-493 (Lesson 128) on the milkweed plant. Glean some ideas from Lesson 128 for your milkweed observations. This plant is still in bloom in many areas of the country but even if it is past bloom, the seed pods should be present and a wonderful nature study lesson all on their own. Lesson 128 in the Handbook of Nature Study gives some interesting suggestions for observations.
If you have a field guide for wildflowers, you may wish to look up milkweed in the index to learn more about your local milkweed.
Outdoor Hour Time:
As part of your Outdoor Hour this week, look for milkweed to observe.
Make observations of the flowers, the leaves, and/or the seed pod. If it is appropriate, break off a leaf or cut a stem to see the rubbery "milk". Did you see any insects on or near your milkweed?
If you don't find milkweed, check for other fall blossoming wildflowers to observe like: Jewel Weed (Lesson 134), Late blooming Goldenrod (Lesson 132), or Asters (Lesson 133).
Follow-Up Activity:
Give the opportunity for discussion of the Outdoor Hour time and the details of your milkweed or wildflowers nature study and then follow-up with a nature journal entry, a notebook page, or a coloring page (ebook users) to finish your nature study for the week. Note: If you downloaded the September 2011 Outdoor Hour Challenge Newsletter, you have a custom notebook page to use along with any weed study.
Advanced follow-up: Compare the seeds of the milkweed, the dandelion, and/or the cattail.
Advanced follow-up (Ebook users only): See the Upper Level notebook page for suggestions for additional research. Use the blank notebook page to record your information.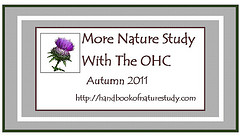 This challenge is part of the More Nature Study – Autumn series. All of the challenges are gathered into one ebook with notebooking pages (regular and for advanced students) and additional resources. You can gain access to this ebook by purchasing an Ultimate Naturalist membership here on the Handbook of Nature Study. See the Join Us page by clicking the link at the top of the website for more information about what comes with your Ultimate membership.