Enjoy a fun summer nature study photo challenge plus first day of summer ideas! I don't know about you but I'm so very ready for the summer season! The most noticeable change is the amount of daylight. The sun is up early and it lingers in the evenings.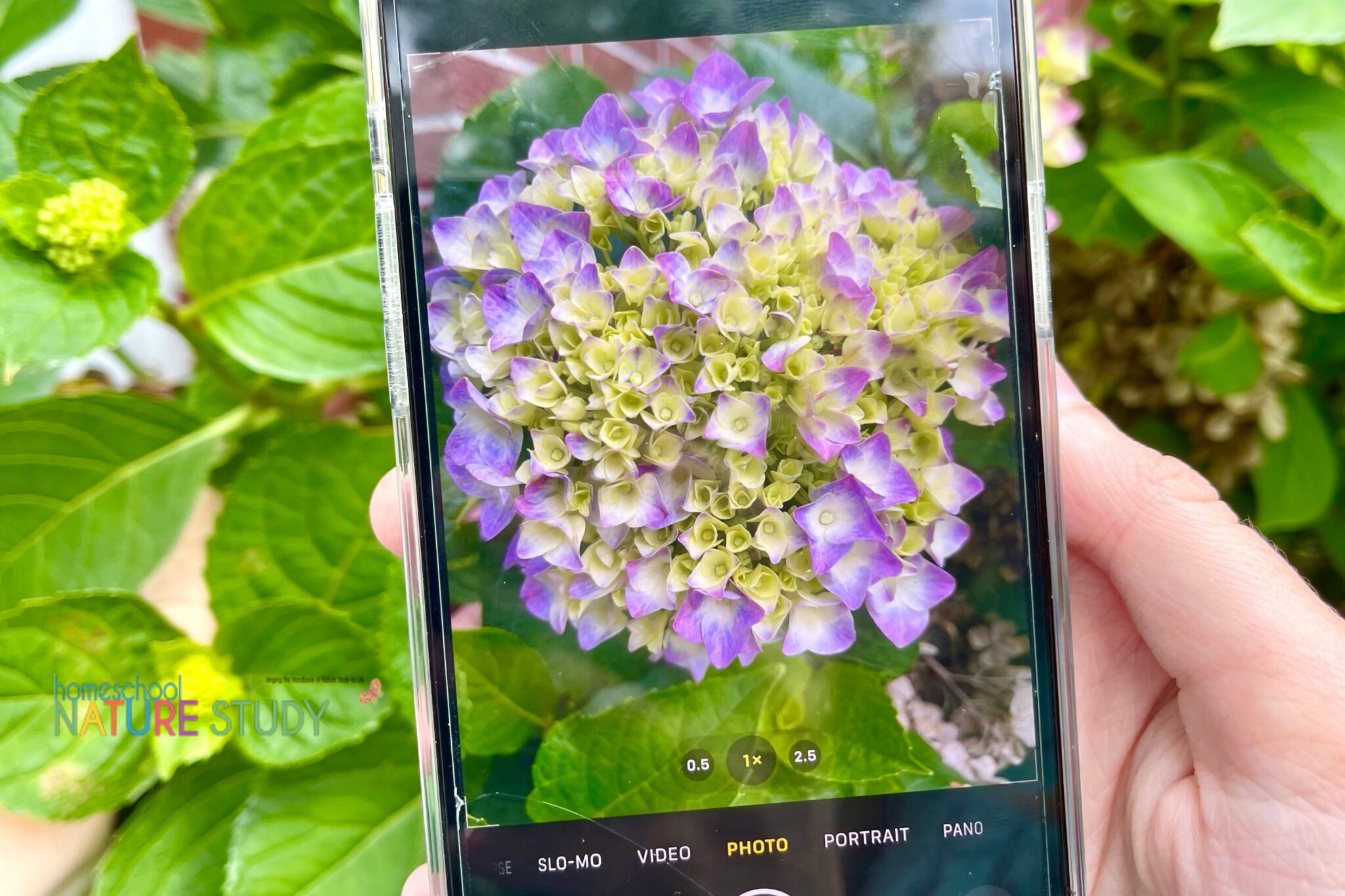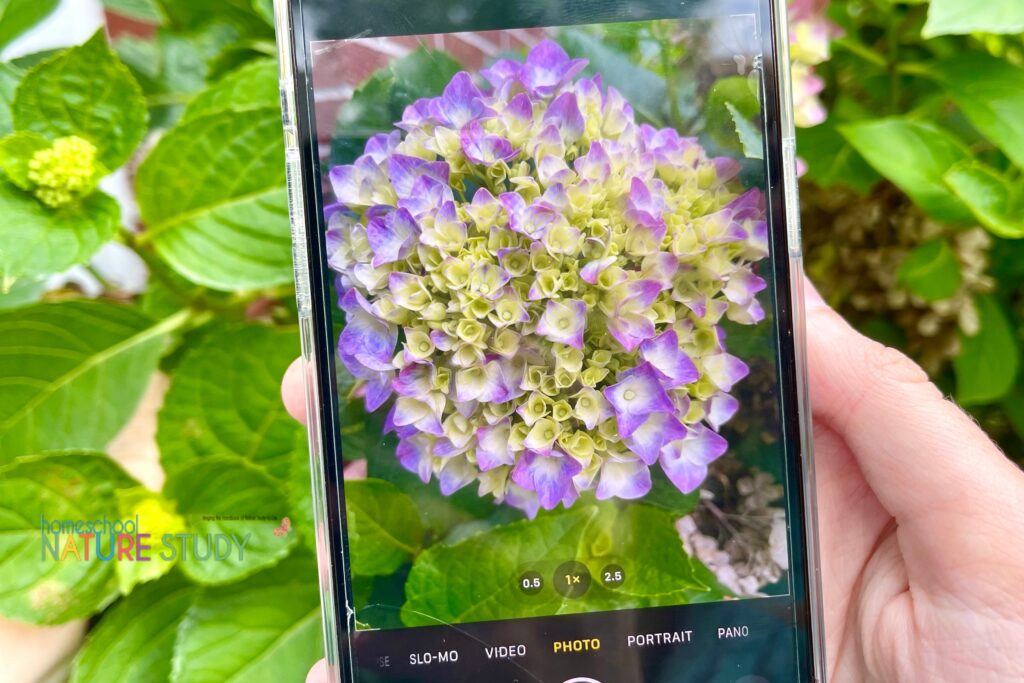 Nature study can be easy and fun when you have access to the Outdoor Hour Challenges! Pick the topics that interest your family the most and then get started with the activities, videos, and follow up notebook pages.
While you're just starting your summer nature study planning, please consider an Outdoor Hour Challenge. Maybe observe your weather and plan to make a special day of activity on June 21st as we all usher in the summer season.
Terrific Ideas for Your First Day of Summer Nature Study Activities
Here are some ideas to get you started on your summer fun!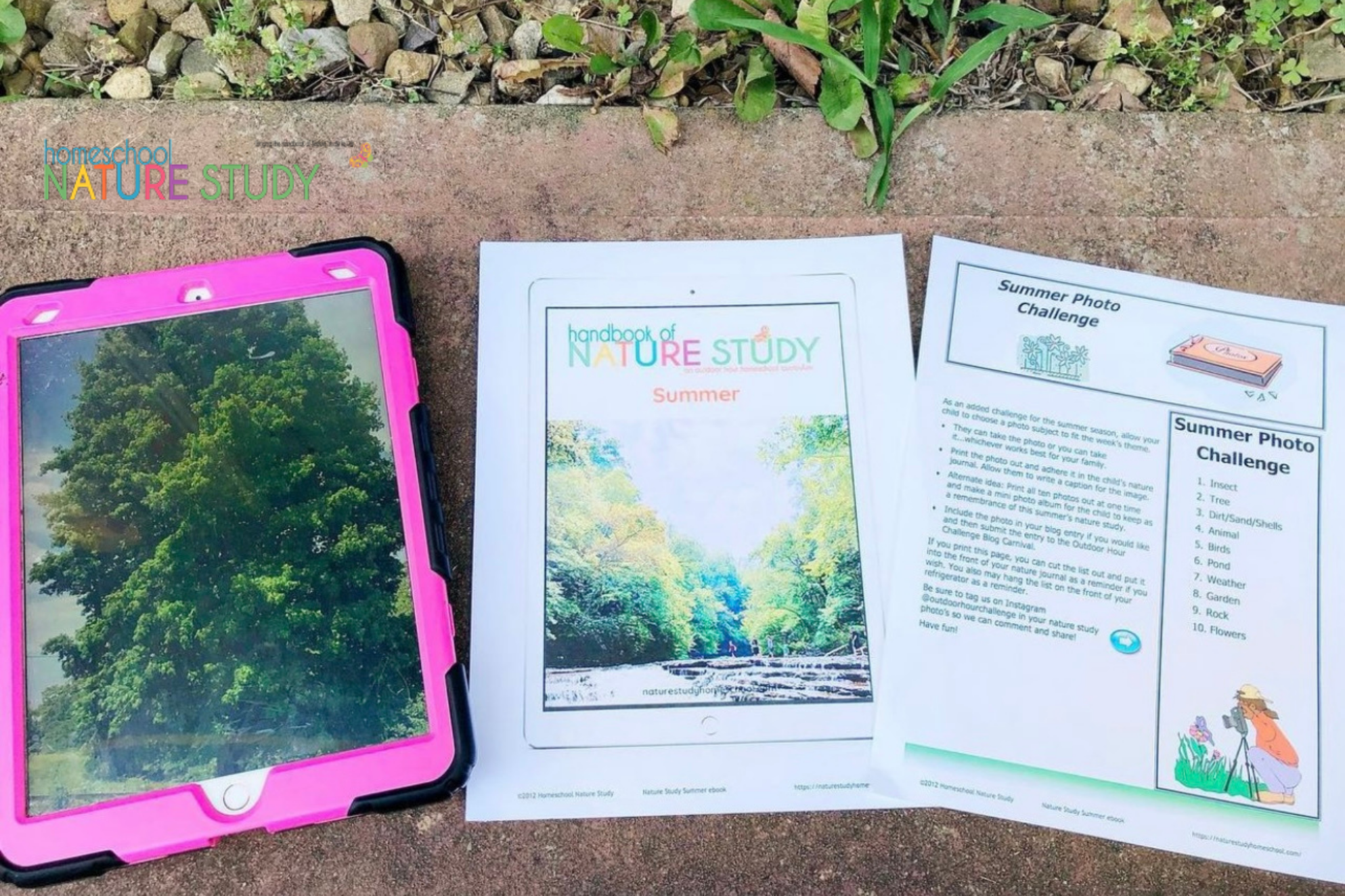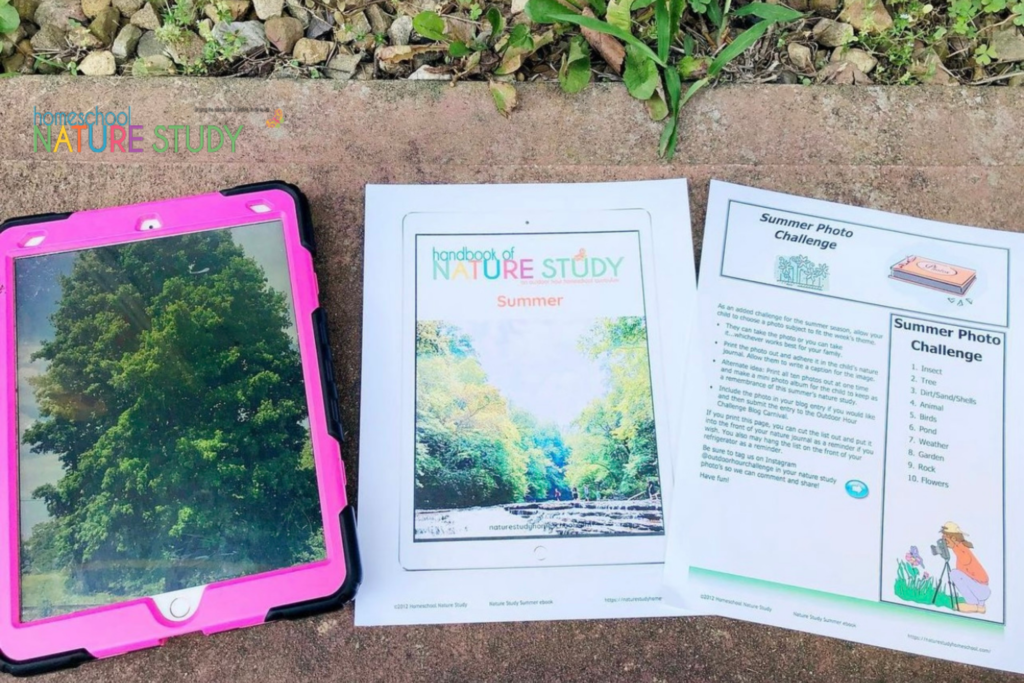 Summer Nature Study Photo Challenge for Your Homeschool
Join us for a FUN summer nature study photo challenge! You can complete the challenges in any order you would like. You can take the photos or your children can take the photos. This is a fun, relaxed activity that I hope brings some joy to your outdoor time.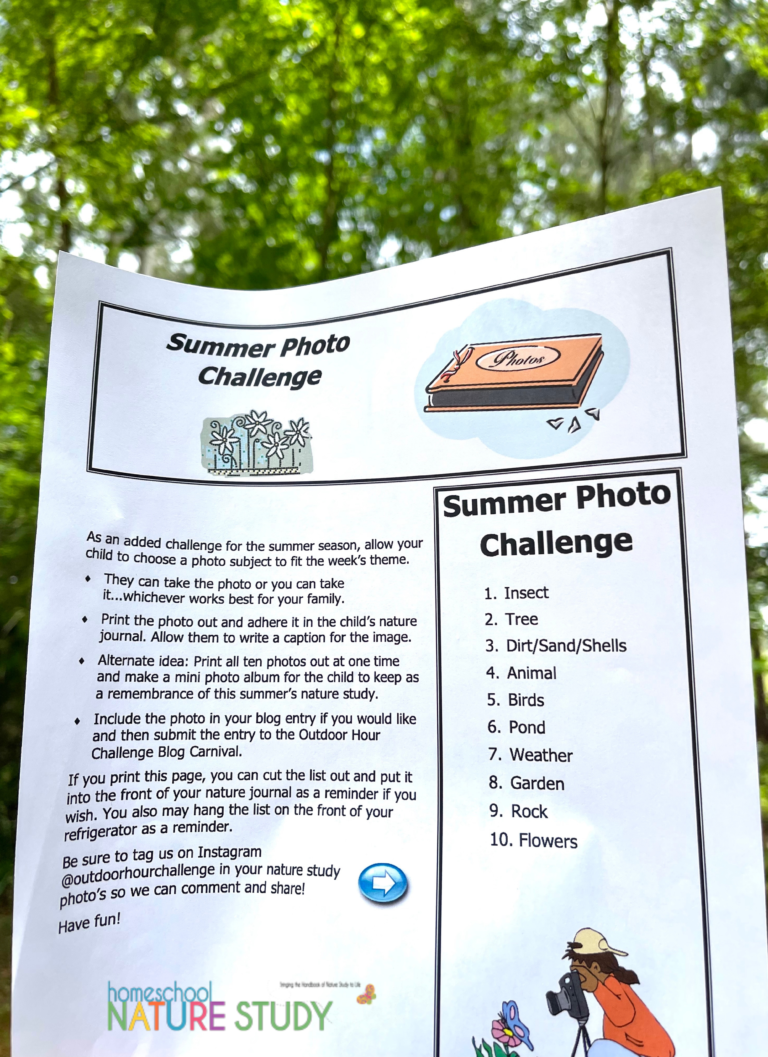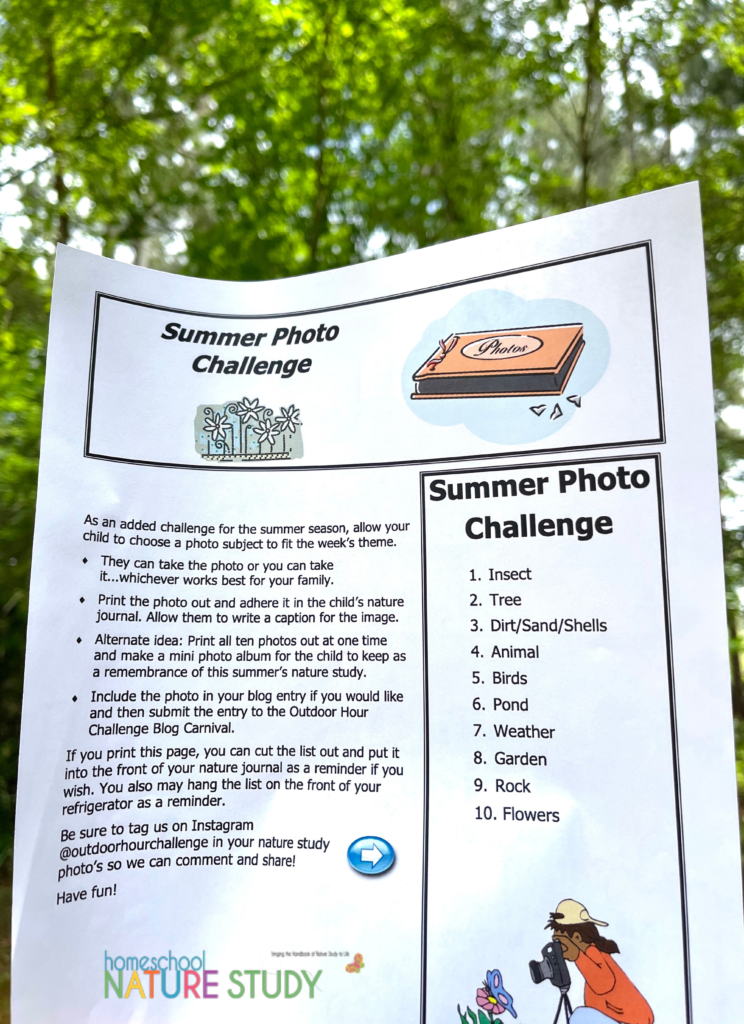 This printable Summer Nature Study Photo Challenge is available in the Summer Handbook of Nature Study Curriculum in Homeschool Nature Study Membership. You can enjoy this and an entire summer's worth of nature study Outdoor Hour Challenges plus a calendar filled with daily nature study prompts in membership.
First Day of Summer Photo Walk
Take a camera or a phone camera outdoors and find some special First Day of Summer subjects. Take a photo, print out a few and safely tuck them into your nature journal. You can combine this with the Summer Photo Challenge.
First Day of Summer Flower Field Trip
Take a trip to your local garden nursery and let your child pick a plant to add to your backyard garden or patio container garden. After you plant your flower, sketch it into your nature journal along with the name of the flower and the date you planted it.
You can combine this activity with any of the printable journal pages in our free Getting Started Guide or those in Homeschool Nature Study membership.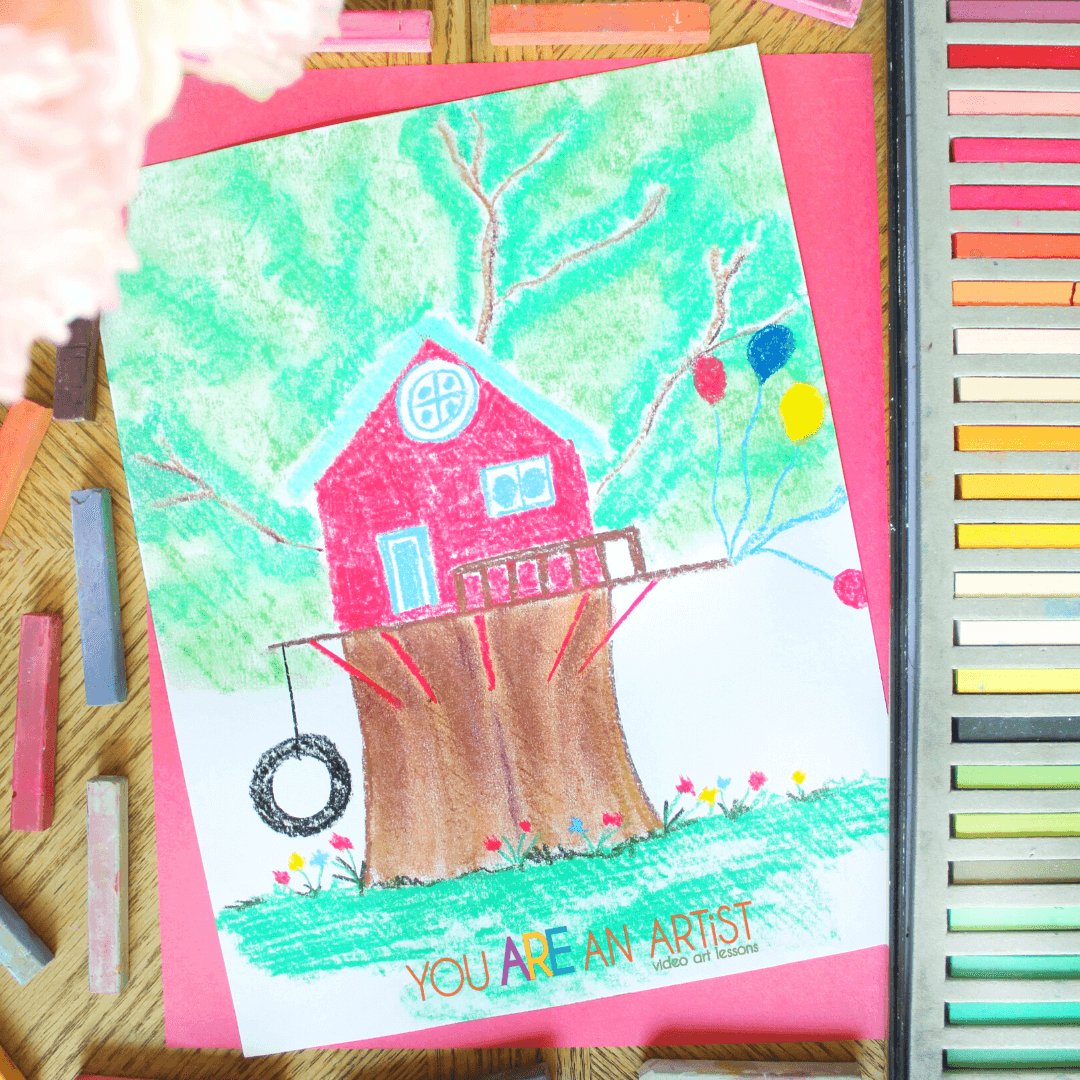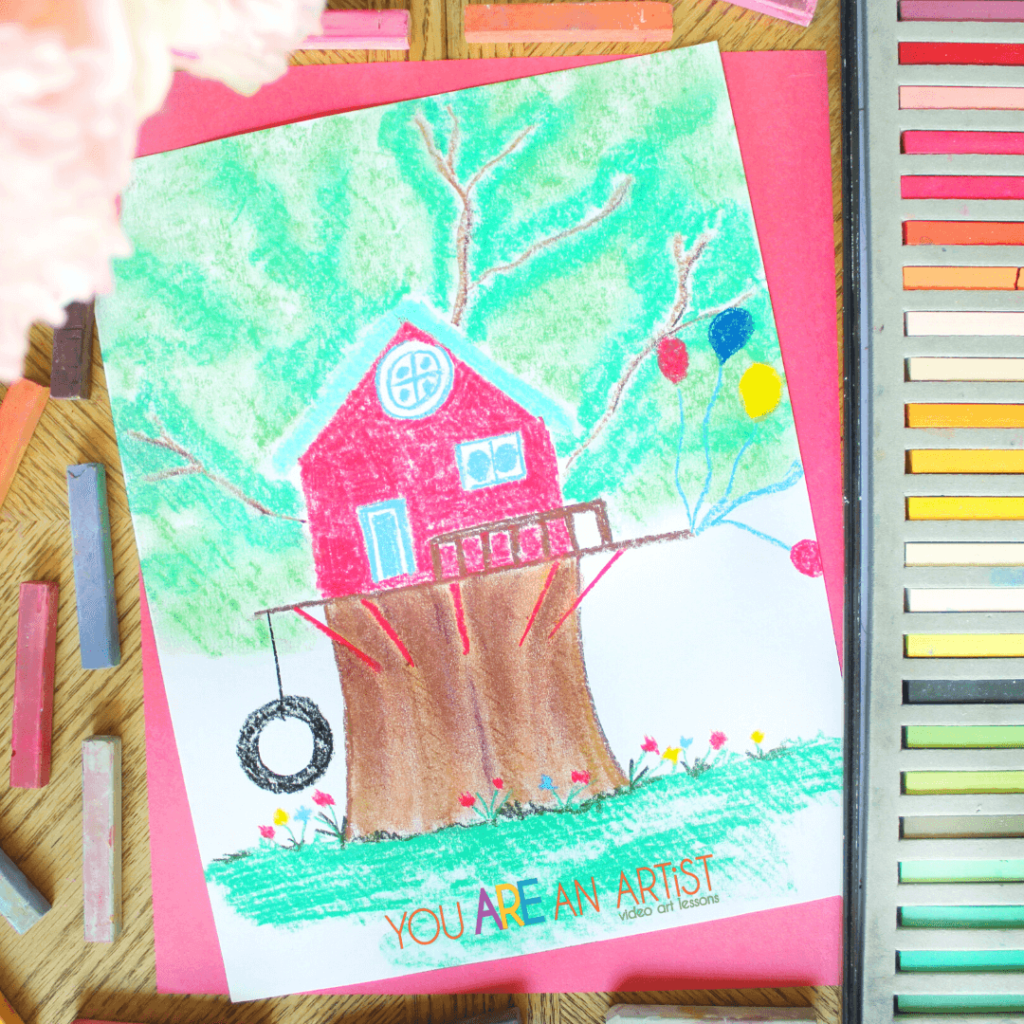 Summer Nature Study with Art
Enjoy a free Summer Treehouse art lesson – just imagine all you could observe outdoors in nature in your very own treehouse that you design and sketch! Find the lesson towards the bottom of the post.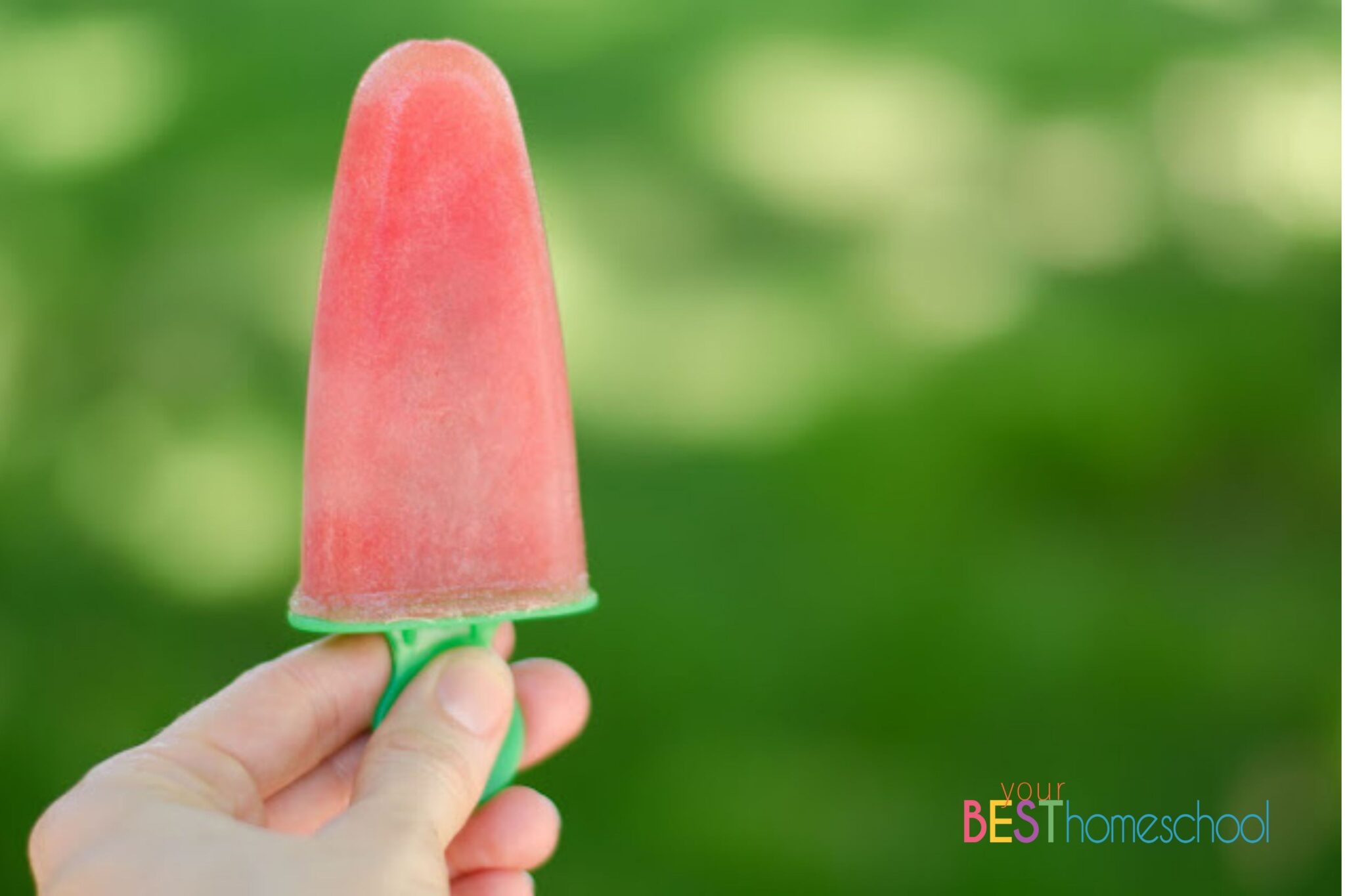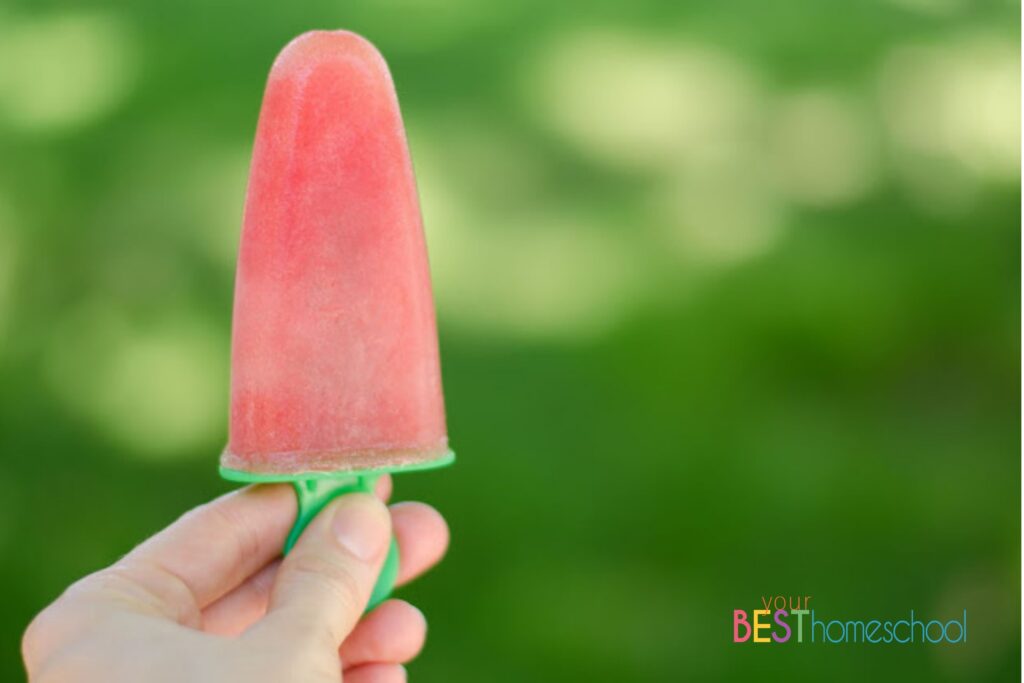 Summer Watermelon Recipe
Watermelon Popsicles Recipe – are you a huge watermelon fan too?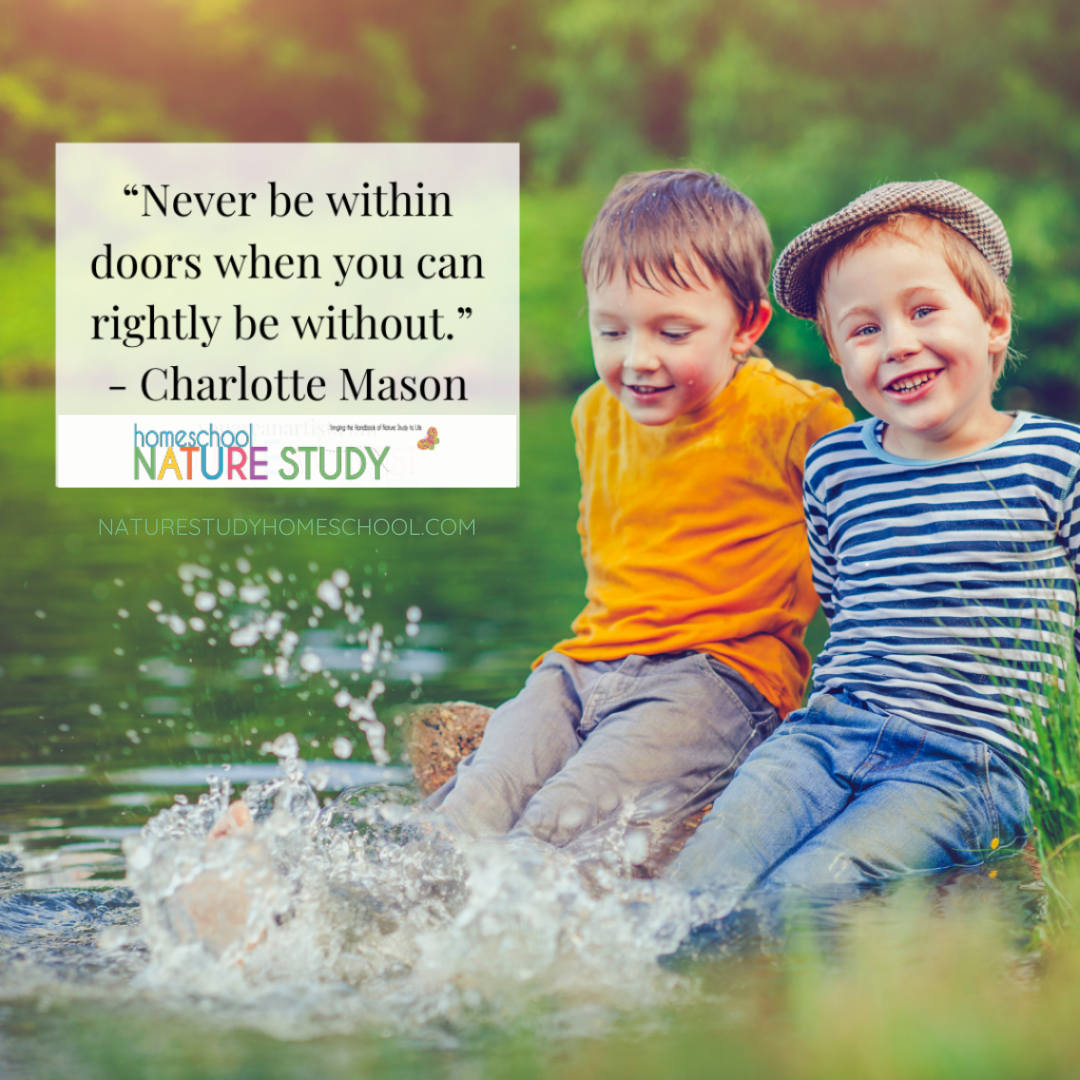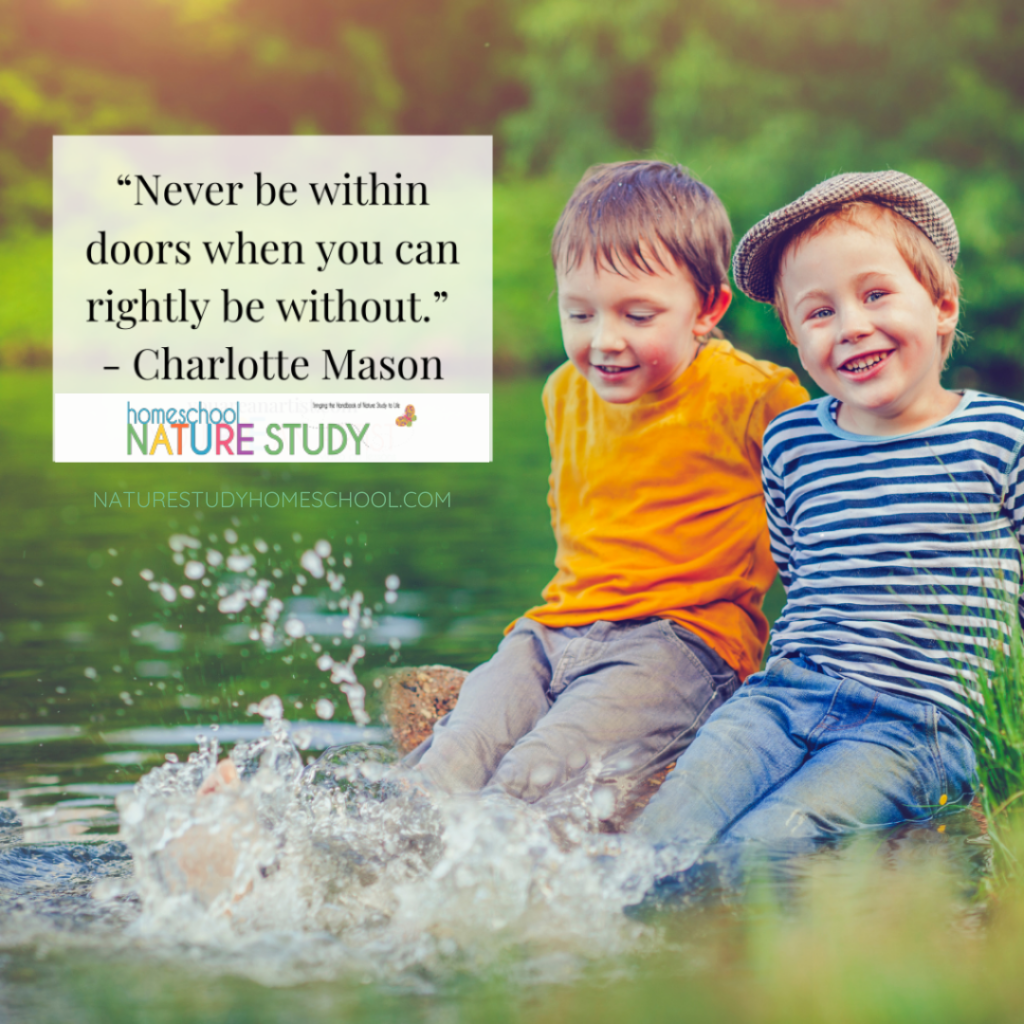 First Day of Summer Notebook Page
After a nature walk, preferably under a shade tree, complete the First Day of Summer notebook page in Homeschool Nature Study membership – for your nature journal.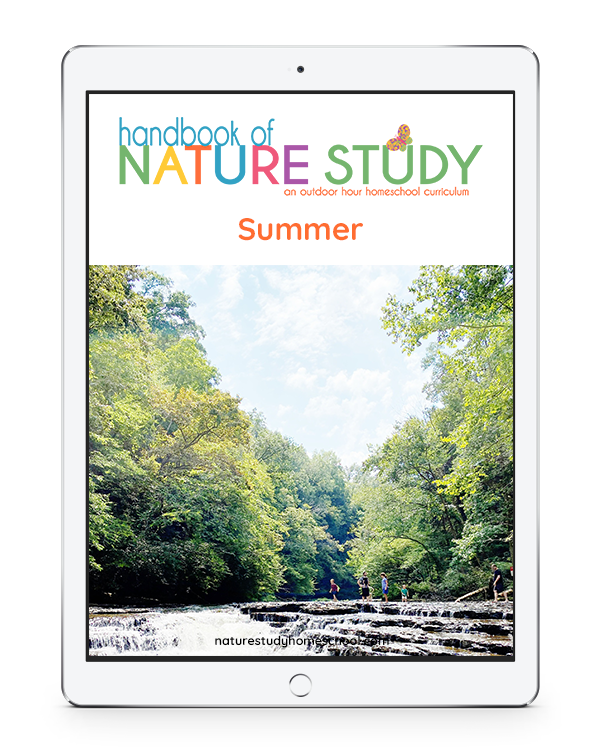 You might also like:
Share Your Summer Photos!
Be sure to tag us on Instagram @outdoorhourchallenge #outdoorhourchallenge so we can comment and share your photos!
Are you as excited about summer as I am?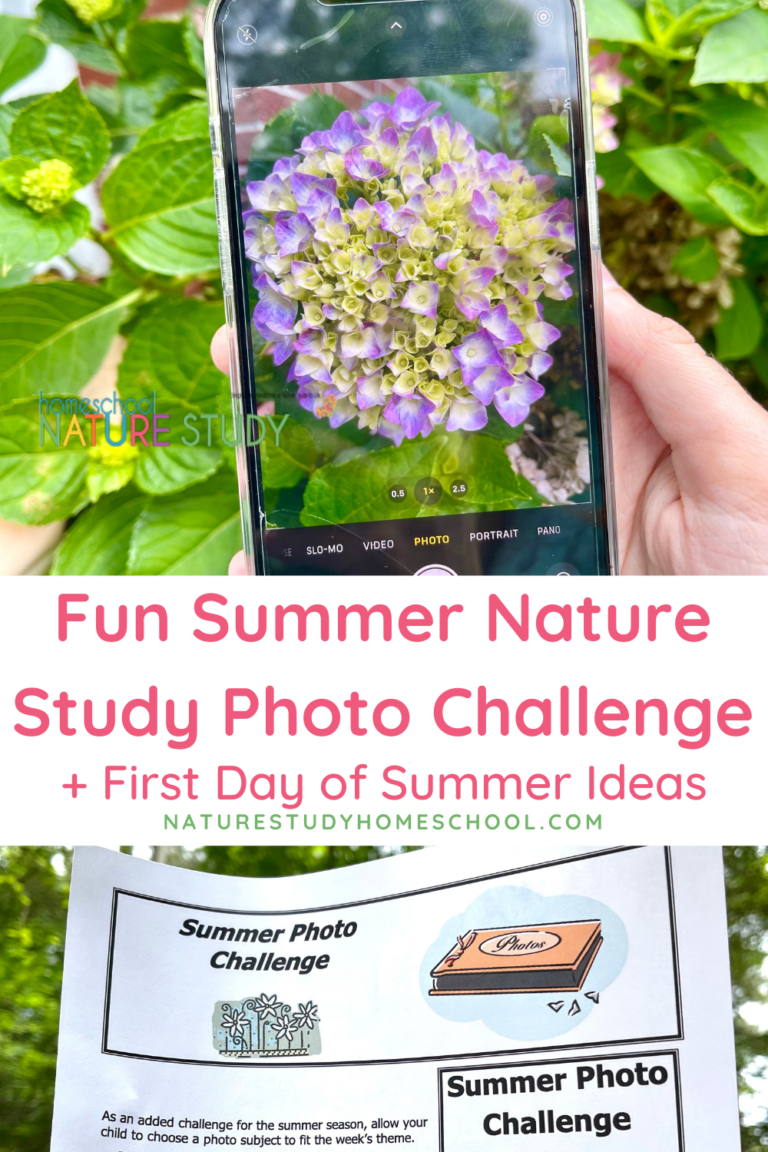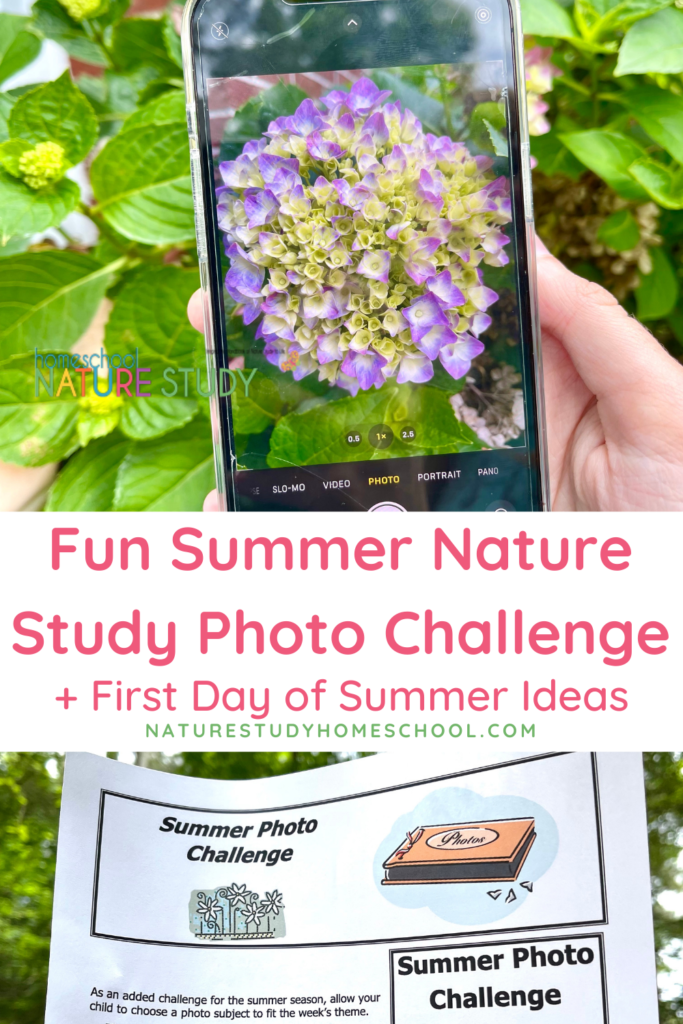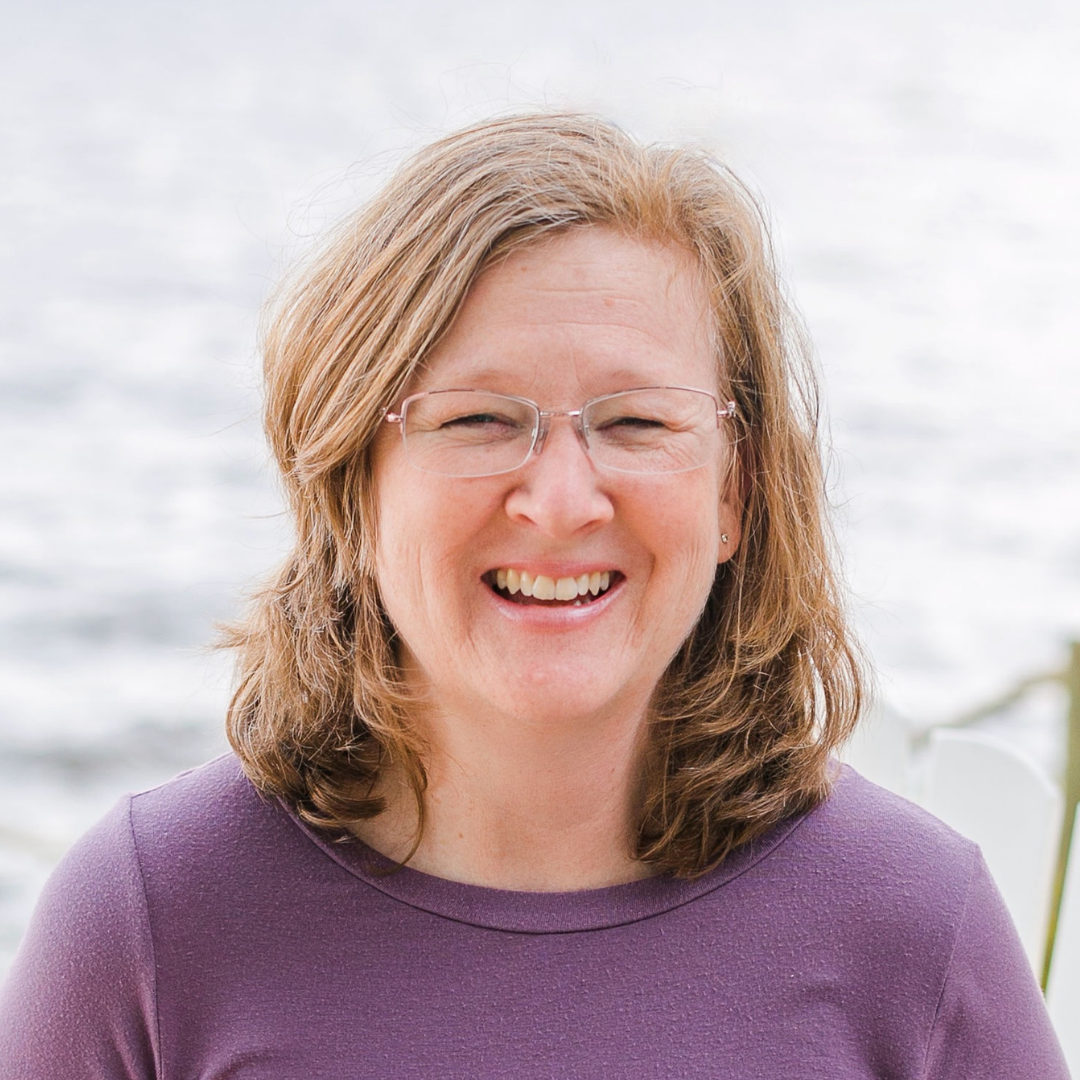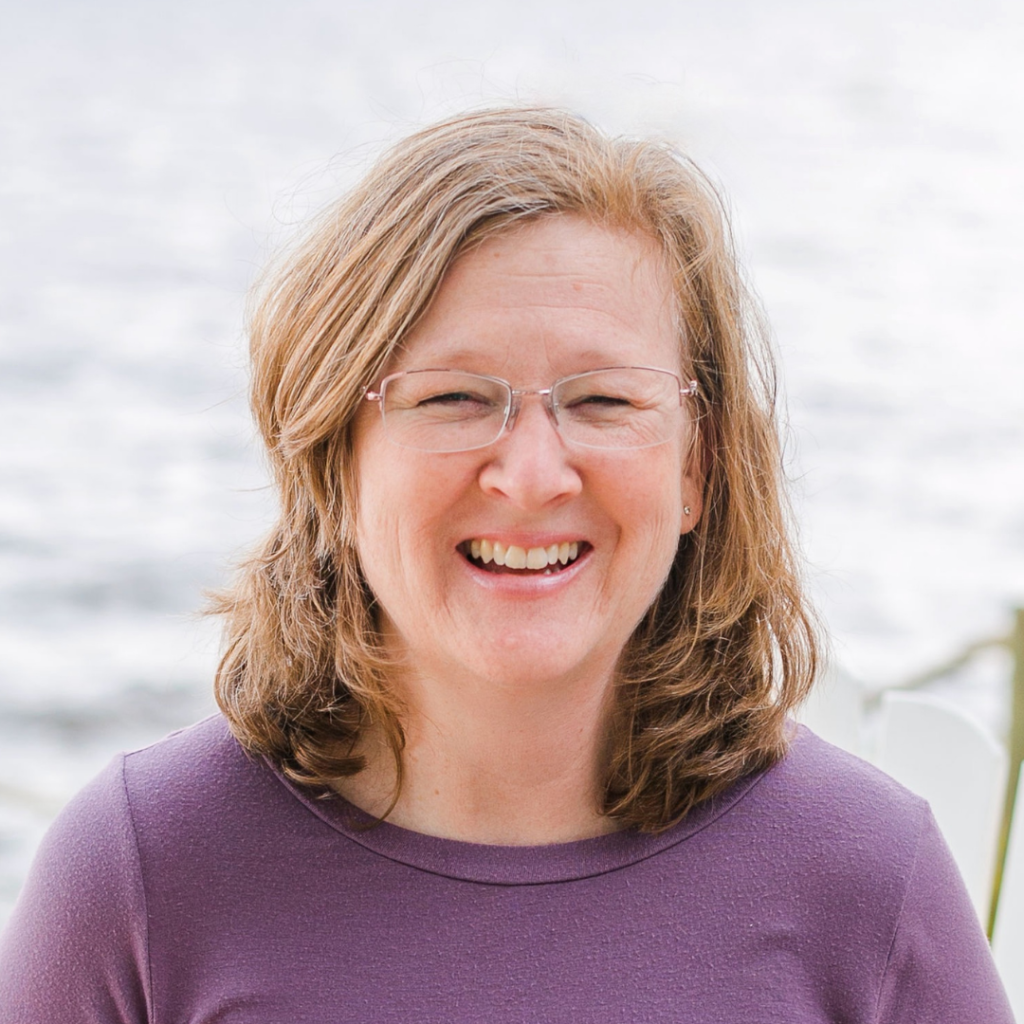 Tricia and her family fell in love with the Handbook of Nature Study and the accompanying Outdoor Hour Challenges early in their homeschooling. The simplicity and ease of the weekly outdoor hour challenges brought joy to their homeschool and opened their eyes to the world right out their own back door! She shares the art and heart of homeschooling at You ARE an ARTiST and Your Best Homeschool plus her favorite curricula at The Curriculum Choice.