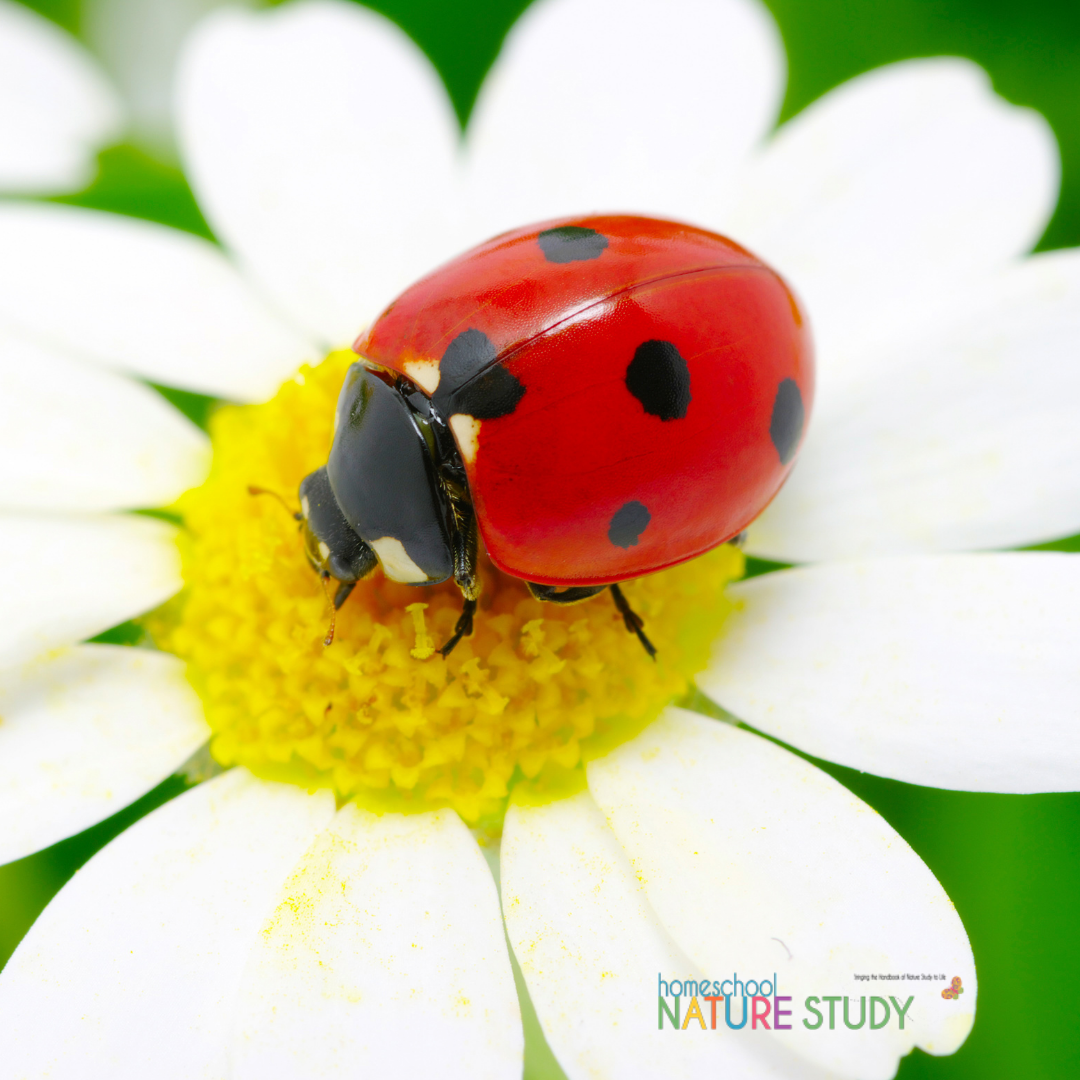 It's time for a ladybug homeschool nature study! We love ladybugs in our garden. It is as simple as that. They always make me smile when I see them crawling around in the grass or on the rose bushes. Maybe it is the nostalgia of childhood memories that flood in when I see ladybugs….you know, singing *that* song.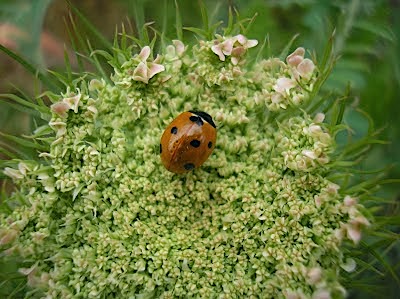 A Ladybug Nature Study For Your Homeschool
Anyway, here are some thoughts from the Handbook of Nature Study that I enjoyed:

"The ladybird is a beetle. Its young are very different from the adult in appearance, and feed upon plant lice."

From the Handbook of Nature Study, page 366
"These little beetles are very common in autumn and may be brought to the schoolroom and passed around in vials for the children to observe. Their larvae may be found on almost any plant infested with plant lice. Plant and all may be brought into the school room and the actions of the larvae noted by the pupils during recess."
"From our standpoint the ladybird is of great value, for during the larval as well as adult stages, all species except one feed upon those insects which we are glad to be rid of."

From page 365:
"The ladybird is a clever little creature, even if it does look like a pill, and if you disturb it, it will fold up its legs and drop as if dead, playing possum in a most deceptive manner."

I don't usually have to go far during the summer to find a ladybug or some aphids. The boys will point out that I have a ladybug in my hair or there will be one hiding among the weeds on the edges of the garden box. They just seem to go hand in hand with summer gardening.
I found a ladybug larva and a ladybug in my garden. This is an example of how taking the time to focus on something different in your own yard leads to a lot of really great information and then satisfaction.

I took this photo the other day in the garden and I posted it here on my blog. Someone identified it as a ladybug larva. (Thanks Margie!) I checked it out and they were right. The amazing part about it to me is that it is so big compared to the adult ladybug.
Studying Ladybug Larva
I looked it up in the Handbook of Nature Study and sure enough there is an illustration on page 364 that really shows the differences between the larva, the pupa, and the adult.
"…for they do not in the least resemble her; they are neither rolypoly nor shiny, bur are long and segmented and velvety, with six queer, short legs that look and act as if they were whittled out of wood; they seem only efficient for clinging around a stem….the absorbing business of the larva is to crawl around on plants and chew up the foolish aphids or the scale insects."

Handbook of Nature Study page 365

Here is another photo I took the other day and I sort of thought it was a ladybug but it wasn't quite the same as I had seen before.
Now, go look for some ladybugs!
Ladybug Art for Nature Study and Exploration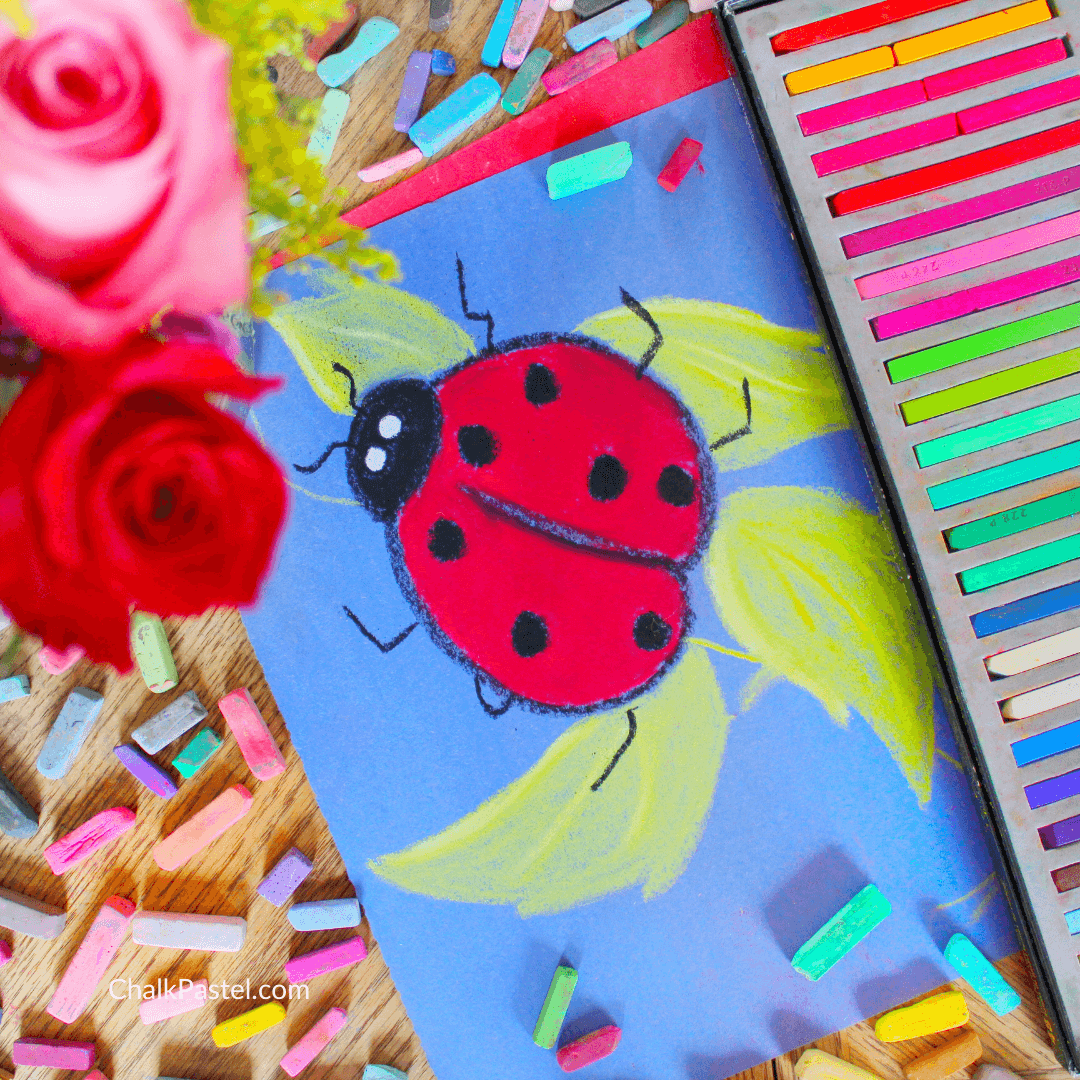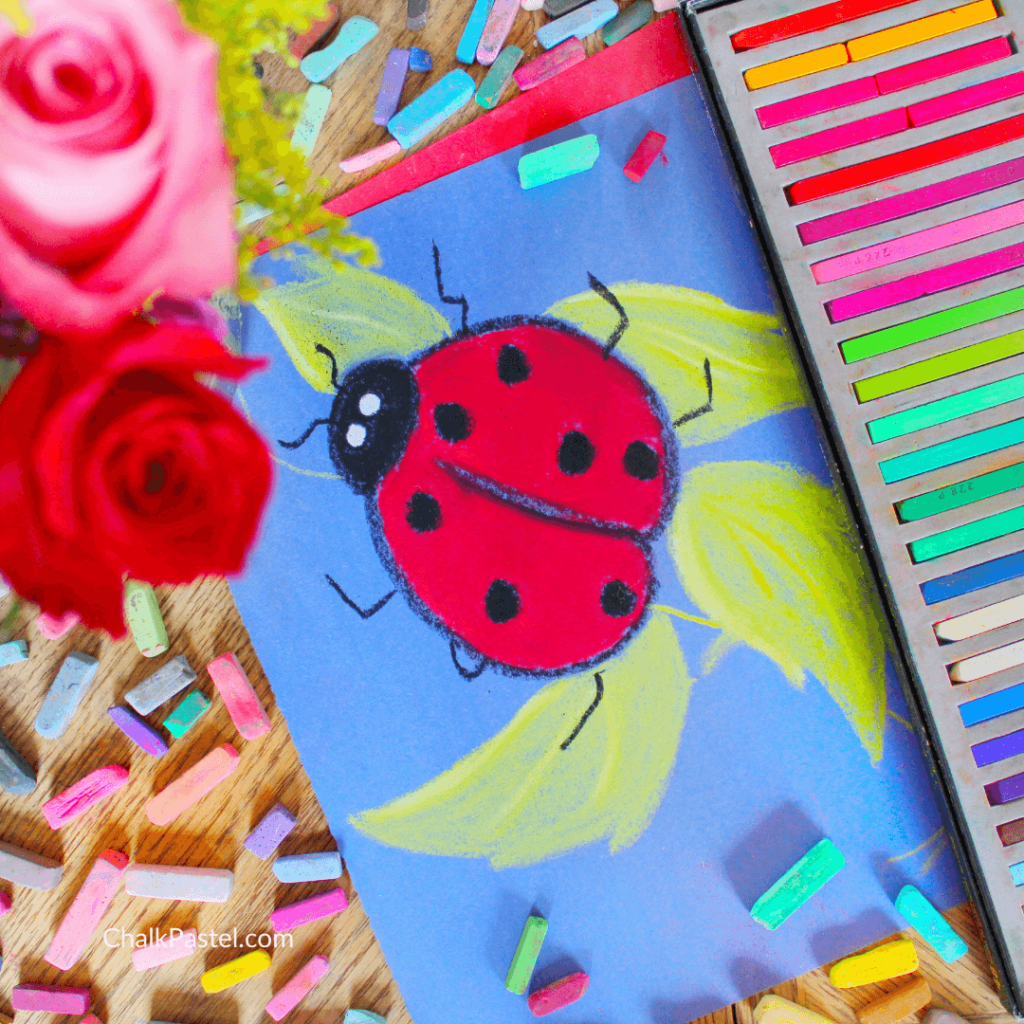 Enjoy a Spring Homeschool Nature Study with Art!
Free Getting Started in Homeschool Nature Study Guide
Did you enjoy this ladybug homeschool nature study? Join us for our Outdoor Hour Challenges bringing The Handbook of Nature Study to Life in Your Homeschool! Download your copy here.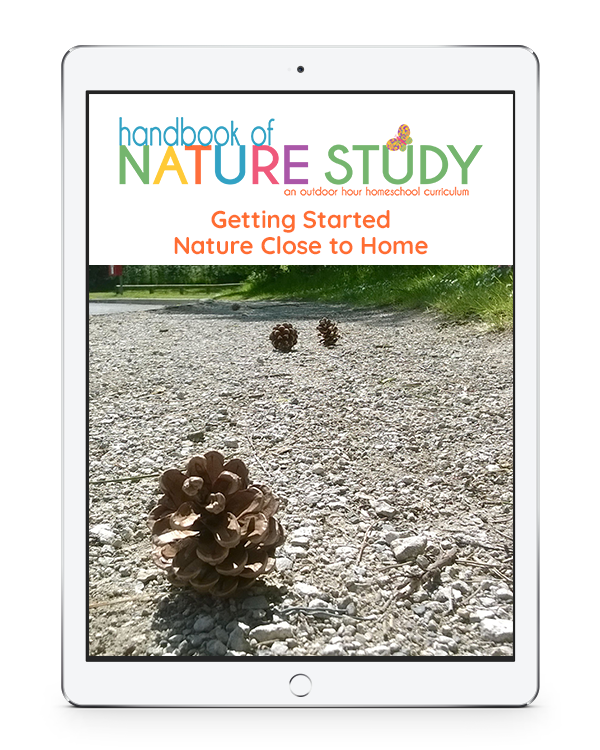 If you enjoyed this homeschool nature study, we invite you to join Homeschool Nature Study membership for year round nature study!
published by Barb, May 2008 and updated by Tricia April 2022