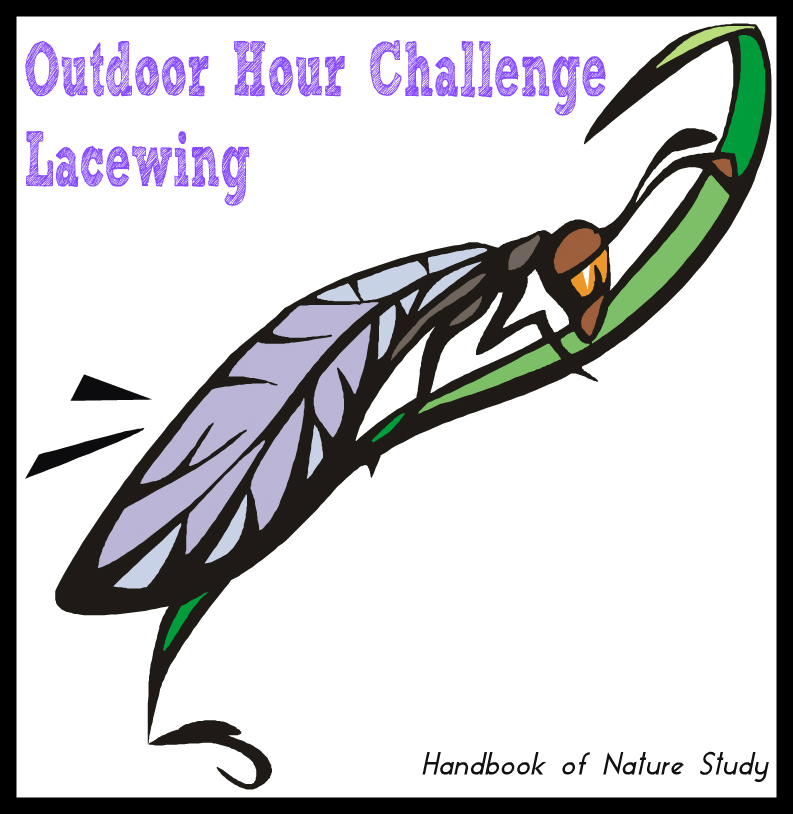 Outdoor Hour Challenge
Lacewing Insect Study
Inside Preparation Work:
Read pages 356-358(Lesson #86) in the Handbook of Nature Study.  You may wish to also read about aphids as part of this study which is Lesson #84 in the Handbook of Nature Study.
View this Youtube video: Green lacewing.
Lacewing Life Cycle: Read about and then draw the life cycle of the green lacewing in your nature journal. This will help you prepare for your insect hunt when you go outdoors. The images at this link are clickable and will enlarge for you to see better. This link has amazing images: Green Lacewing.
Advanced study: Learn about the beneficial aspects of having lacewings in your garden: Youtube-Lacewings. Here is a printable information sheet about lacewings: Beneficial Insects-Lacewings.
Outdoor Hour Time:
One way to attract these insects is to leave your porch light on and watch for visitors. Lacewings are slow flyers so it may be possible to catch one with your hands if you do it carefully. Place the insect in a viewing jar. If you observe a lacewing, use the ideas from the Handbook of Nature Study to take a closer look.
Go on an insect hunt! Use the ideas from the Insect Study Grid found in the ebook or in the September 2012 Newsletter to create some excitement about your nature study this week. Print out the grid and take it with you! Mark off the squares as you complete them. This can also be a more long term project, finishing the grid during subsequent nature walks.
Follow-Up Activity:
Create a nature journal entry for the lacewing or any other insect you found interesting this week. Keep it simple: sketch, date, caption. There is a notebook page in the ebook for you to use.
Advanced study: Conduct additional research on the insect order– neuroptera. Use a field guide and complete two additional nature journal entries for insects in this order found in your local area. You can use this notebook page for your information.
Advanced study: If you are interested in learning to draw insects like a true naturalist, you will want to watch this YouTube Video: John Muir Laws  – Drawing Insects.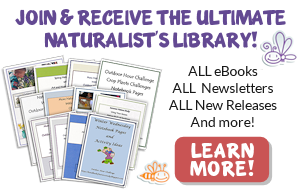 If you want to purchase the Summer Nature Study Continues ebook so you can follow along with all the notebooking pages, coloring pages, and subject images, you can join the Ultimate or Journey Membership Levels. See the Join Us page for complete information. Also, you can view the Summer Nature Study Continues – New Ebook announcement page for more details.