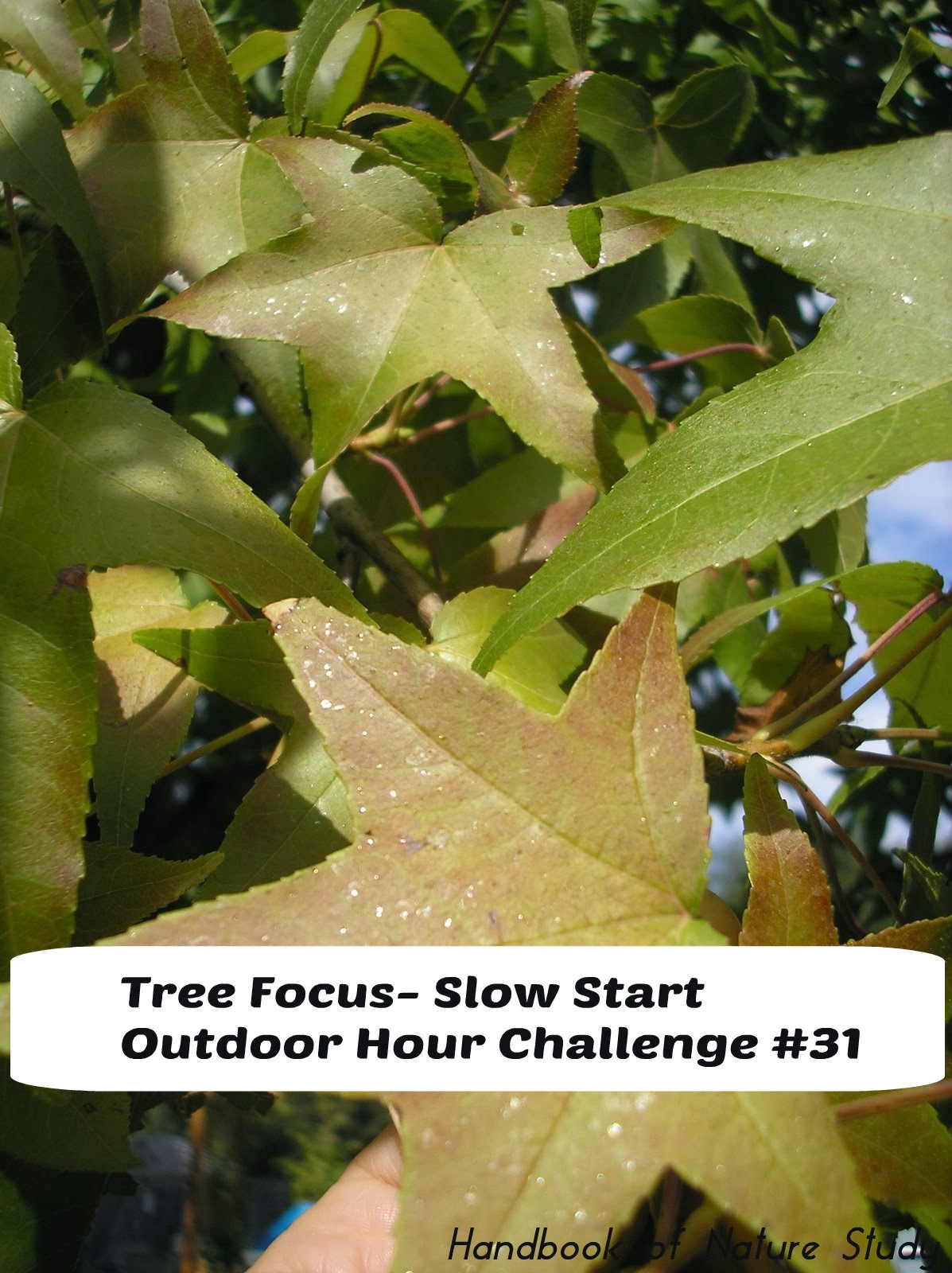 Our start on our study of trees was sort of slow. The boys have been spending all their free time with our new puppy and I guess the only way to entice them to a nature walk is to bring the dog along.

We have a number of trees that are starting to get their autumn color and my son brought to my attention that the sweet gum trees are making the rocks underneath them shiny.

Note the leaves that have already fallen from the tree.

The leaves are getting shiny too.
Here's what it says on Wikipedia:
"The gum resin, also known as liquid amber or copalm balsam, yielded by this tree has no special medicinal virtues, being inferior in therapeutic properties to many others of its class. It is a kind of native balsam, or resin, like turpentine. It may be clear, reddish or yellow, with a pleasant smell like ambergris."

This is my garden companion….she is watching a bird on the lawn with great intent in this photo. (Ignore the weeds in the photo…they were left there in the name of challenge #30 or at least I keep telling myself that is the reason.) She does her own kind of tree study and is an expert tree climber.
We took a few hours to go up to a local apple orchard. We all enjoy the apple harvest time of year and all of its yummy treats, both the kind you eat and the kind you can see, smell, and feel.
The trees were loaded with apples.
Now for the kind of treats we look forward to all year. Apple doughnuts. No explanation needed
except for maybe the fact that we each enjoy a different kind…with nuts, or crumbs, or glazed, or plain, or cinnamon sugar.


I think there is no better way to learn about a tree than to eat the fruits of its boughs.