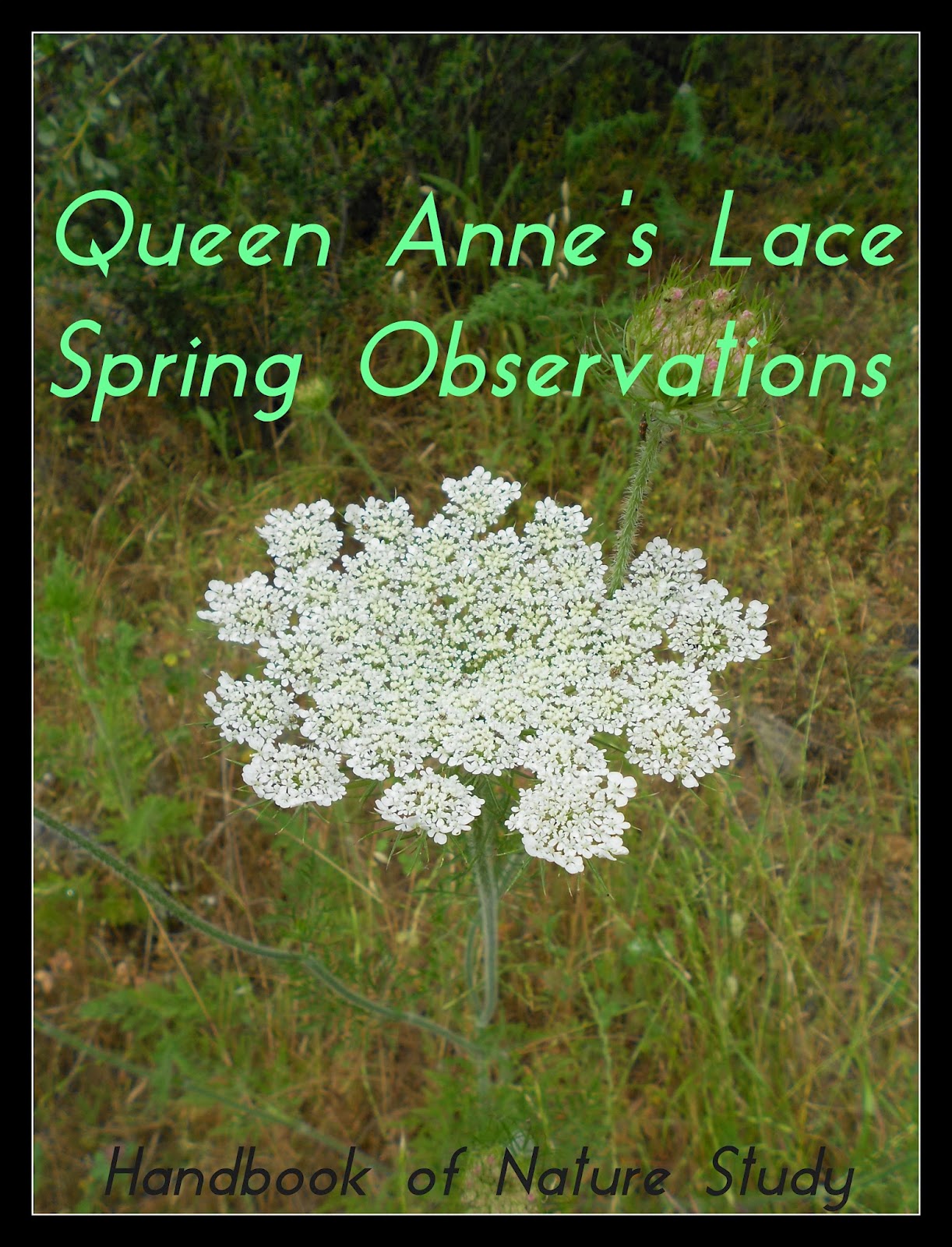 Last year we studied dandelions as part of the spring series but this year I wanted to make sure that we are all on the look-out for our Queen Anne's Lace. This is a plant that we started observing last summer and then continued through autumn and then winter.
Here are the links to those challenges:
Summer Study: Queen Anne's Lace 
Autumn Study: Queen Anne's Lace
Winter Study: Queen Anne's Lace (free bonus notebook page)
Inside Preparation Work:
If you studied Queen Anne's Lace in the past, you may wish to pull out the completed notebook pages to remind yourself of the appearance and location of your Queen Anne's Lace.
Read pages 542-545 in the Handbook of Nature Study (Lesson 148). Glean some new points about this interesting plant that is considered a weed by many people.
Remind yourself what Queen Anne's Lace looks like by using the accompanying notebook page or the Handbook of Nature Study. More information can be found here: eNature or the USDA.
Outdoor Hour Time:
For this challenge go back to your Queen Anne's Lace patch and make some springtime observations. If this is your first season of observing Queen Anne's Lace, you may need to wait until the flowers bloom before finding your own patch. Still take your 15 minutes outdoors and find any wildflower that you can observe in your yard or neighborhood.
Follow-Up Activity:
Spend a few minutes talking about your outdoor time. Did you see some Queen Anne's Lace? Did your child have any questions about things that they found interesting during your outdoor time? Use this time to complete a nature journal entry or you can use the Spring Queen Anne's Lace Notebook Page available HERE.
Planning Ahead!
Here is a link to a Squidoo page that shows exactly how to color your Queen Anne's Lace with food coloring. I love this idea and we will be doing this over the summer. You may wish to add it to your seasonal activities: Queen Anne' Lace
You may also be interested in my Spring Nature Study Ebooks!