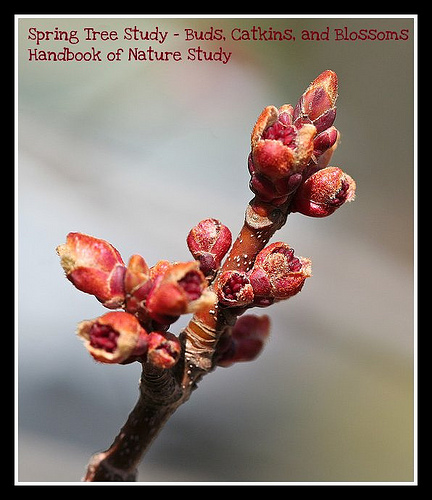 More Nature Study Book #3
Spring Tree Study – Buds, Catkins, and Blossoms
This challenge is aimed at getting you outdoors and looking at trees early in the spring. What should you be looking for? Try looking for buds, catkins, or blossoms. The challenge is not specifically about willow trees but the willow is covered in-depth in the Handbook of Nature Study and contains information you can apply to other trees. Since everyone has varying conditions, adapt this study to your local trees and their current stage of growth.
In the winter we looked at twigs. If you have a twig you have been watching, make sure to wrap up your study this week with a journal entry and final drawing.
Inside Preparation Work:
Read pages 651-654 of the Handbook of Nature Study (Lesson 179 on the Willow) and pages 648-650 (Lesson 178 on the Horse Chestnut). Read for information about the twigs, buds, and pussies.
View this page on catkins and note what to look for during your outdoor time. Explain that the "tassels" of the oak and "pussies" of the pussy willow are really flowers. Catkins appear before the leaves. There can be male and female catkins. Ebook users: Use the illustrations in the ebook to learn about the different ways buds can look and be arranged on the twig.
Interest arousing YouTube videos: Horse-Chestnut Bud and Birch Buds. Fascinating.
Outdoor Hour Time:
Go outside and look at the buds, catkins, or blossoms on trees in your yard or neighborhood. Ebook Users: See chart in the ebook for blooming times for common trees.
 Gather some twigs with buds, catkins, and/or blossoms to bring inside for observation. Place each twig in a jar with water and label with the tree name if possible. Note: Catkins and blossoms contain pollen.
Advanced Study: Watercolor a spring blossom if you have one to observe in person.
View this video on YouTube which shows birds feeding on willows.
Follow-Up Activity:
Use your senses to observe your buds, catkins, and/or blossoms. (touch, sight, smell). Make a record in your nature journal including a sketch. Make sure to record the length of your bud and as many details as possible including color. Ebook Users: Optional coloring pages: Horse Chestnut and Pussy Willow.
Watch your buds over time and see what happens. Record how long it takes for the buds to open. Place a piece of white paper under the jars with catkins and observe what happens over the next few days. Record your observations in your nature journal or on a notebook page.
Examine your bud to determine what type it is using a hand lens.
Advanced study:
Extend your study to include information about the tree your bud came from using a field guide or the internet.
 If you haven't dissected a bud yet, use a bud you collected as part of this challenge. Each bud is different so take your time to remove the scales and layers as you go. View this image to see how you can record your work in your nature journal.
Sketch your catkin and research how the catkin functions as part of tree reproduction. Use this link to learn more about classifying buds: Buds. This one is an excellent visual guide: okPlantid.
You may be interested in previous spring tree studies: Year-Long Tree and Spring Tree.
Elizabeth shared this link with me and it is a perfect citizen science project to go along with this challenge. Project Budburst. Free printable journal pages you could use with this challenge too!
You can read about our Spring Buds, Catkins, and Blossoms study:
Buds and Catkins – Our Spring Nature Study