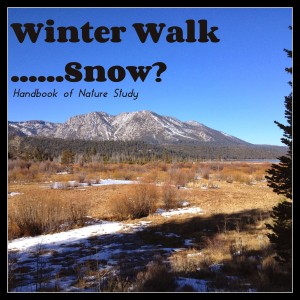 Our winter continues to be warmer than normal…even record-breaking temperatures. As much as I love the warm afternoons and sunshine, I am concerned for the drying up reservoirs and the very dry forest conditions. I know I have no power to bring on the rain and snow so I am trying to make the best of it.
This week's Winter Snow challenge was a big challenge indeed. We did find a bit of snow up the mountain from our house but not a whole lot. We opted to complete the Winter Nature Walk- Scavenger Hunt activity from Hearts and Trees.

I took an image of the page with my phone and we used that during our hike to remember the things we were looking for as we went.
Here are our results:
An evergreen
Buds on a tree
We decided this duck weed was more interesting than moss.
Trees that have lost all their leaves – aspens
a bird – Steller's Jay
We didn't find any berries but this rose hip was certainly colorful.
Something with thorns
Pinecones – The squirrels had lunch on the picnic table!
Feather
One last image from our hike at Taylor Creek. The beavers have been clear cutting a lot of the trees along the water. They have quite a few trees that are ready to fall as well. The dam is getting huge! Amazing creatures with incredible strength.
We are still waiting for some real snow here and I will keep the snow study in the back of my mind for a future time. I hope some of you were more successful with this challenge or you took advantage of the scavenger hunt instead.