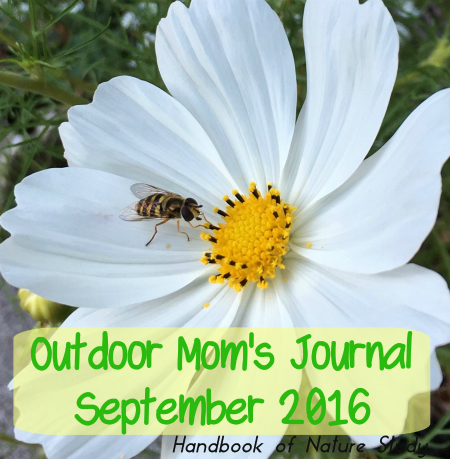 This Outdoor Mom had a fantastic end of the summer! This post features our second Oregon trip of the year and lots of kayaking adventures. Technically, the Oregon trip was at the very end of August but after my August Outdoor Mom's post so I want to include it here because it was a fantastic trip.  I will be dedicating a complete post in October to the many Oregon State Parks we visited on this latest trip. It was a perfect trip!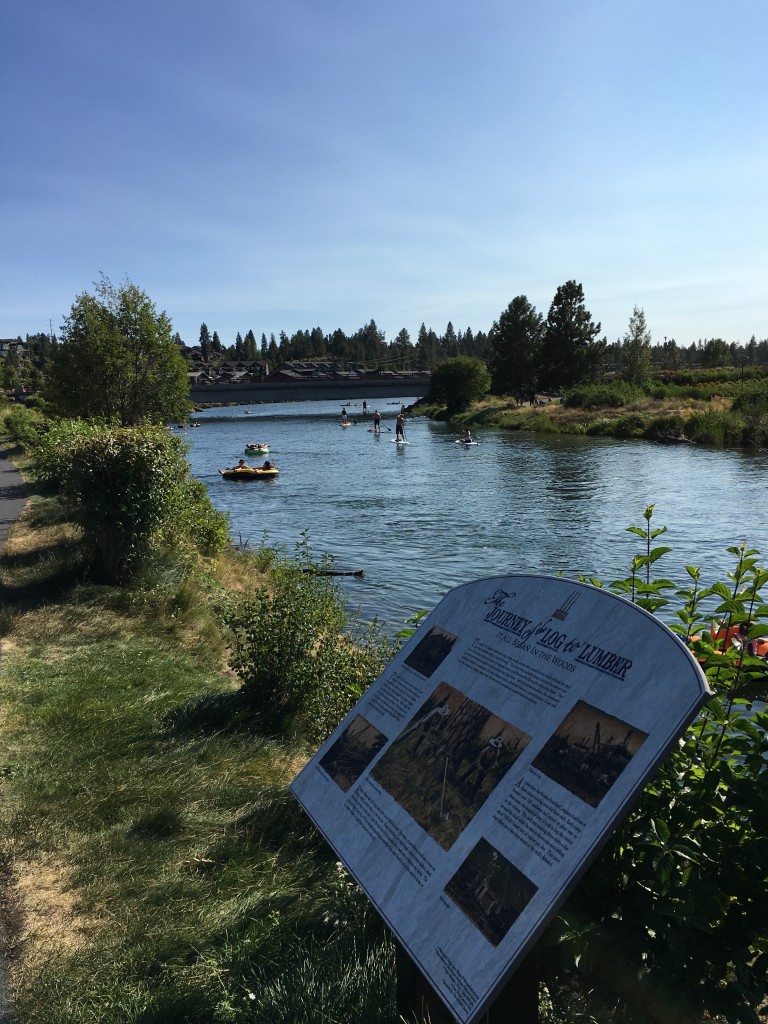 We spent four days in the Bend/La Pine, Oregon area. It was a heat wave for them and most of the lakes and rivers were super busy with so many people swimming, using stand up paddleboards, rafts, and kayaks. I was really glad we had our kayak and we made the most of the time out on the water. We are in the middle of training our Labrador to ride along with us and she is quickly getting the hang of jumping in and enjoying the ride. The image above was taken in the Old Mill District of Bend, Oregon along the Deschutes River. It was a perfect night for a walk along the banks of the river and for sitting at an outdoor patio for dinner. We read in a brochure that Bend, Oregon is the most dog friendly town in the U.S. We believe it!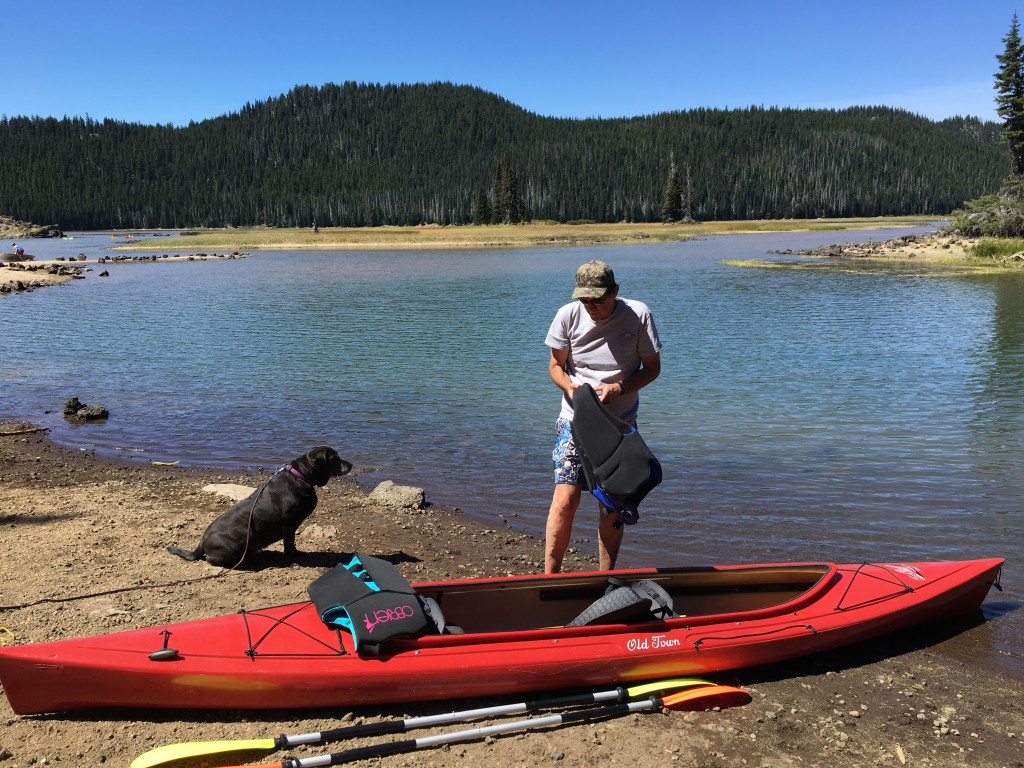 I think this is first photo I have shared where you can see our awesome tandem kayak (Old Town Loon 160T). We LOVE it! Both my husband and I are tall and there is enough room for our legs and the 70 pound Labrador. The image above shows us launching at Sparks Lake on the Cascade Lakes National Scenic Byway. It is a large shallow lake within view of many of the area's signature mountains: Mt. Bachelor, South Sister, Broken Top.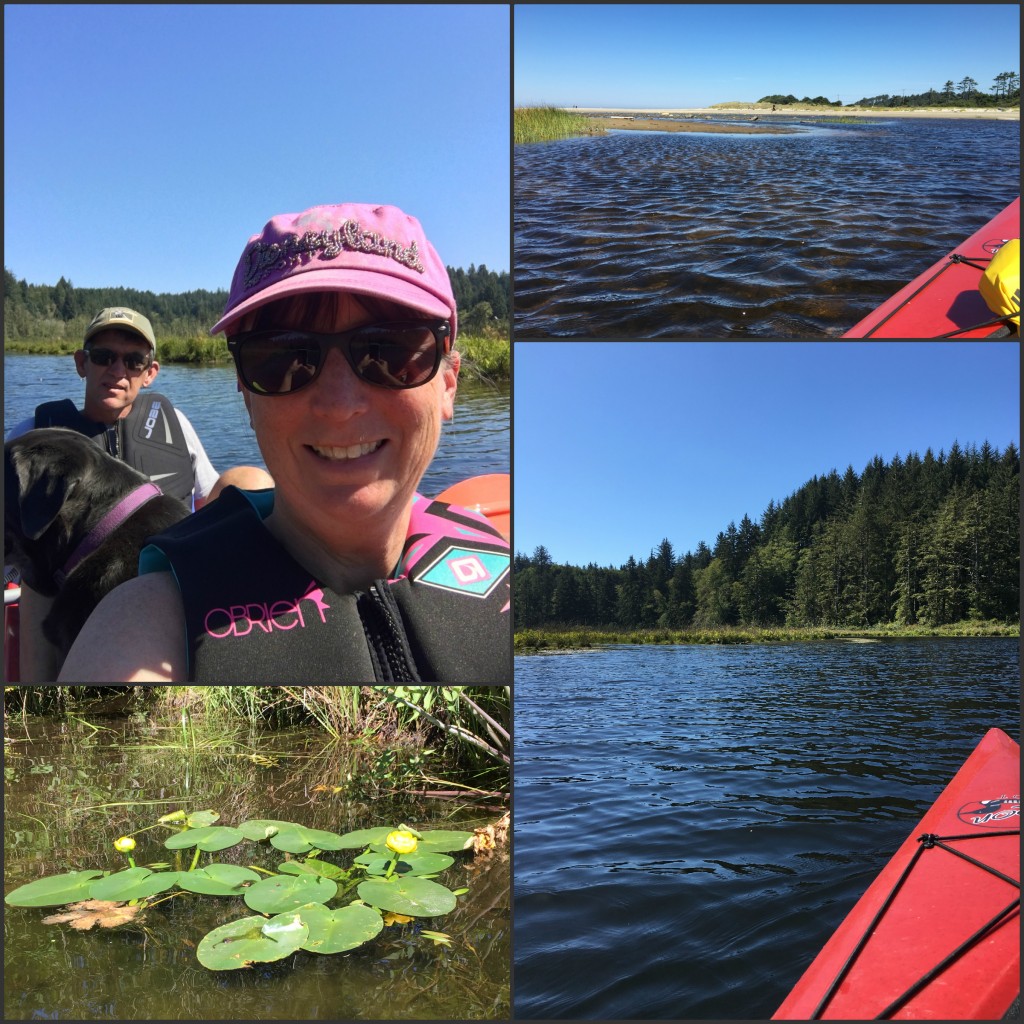 This collage of images is from our stay in Newport, Oregon. We found an amazing spot to kayak just south of town at Beaver Creek (Brian Booth State Park). First we paddled up the creek and saw some interesting birds: Belted kingfisher, Great Blue Heron, Turkey vulture, and several different ducks. Then we paddled back down the creek and all the way to the ocean! What a day!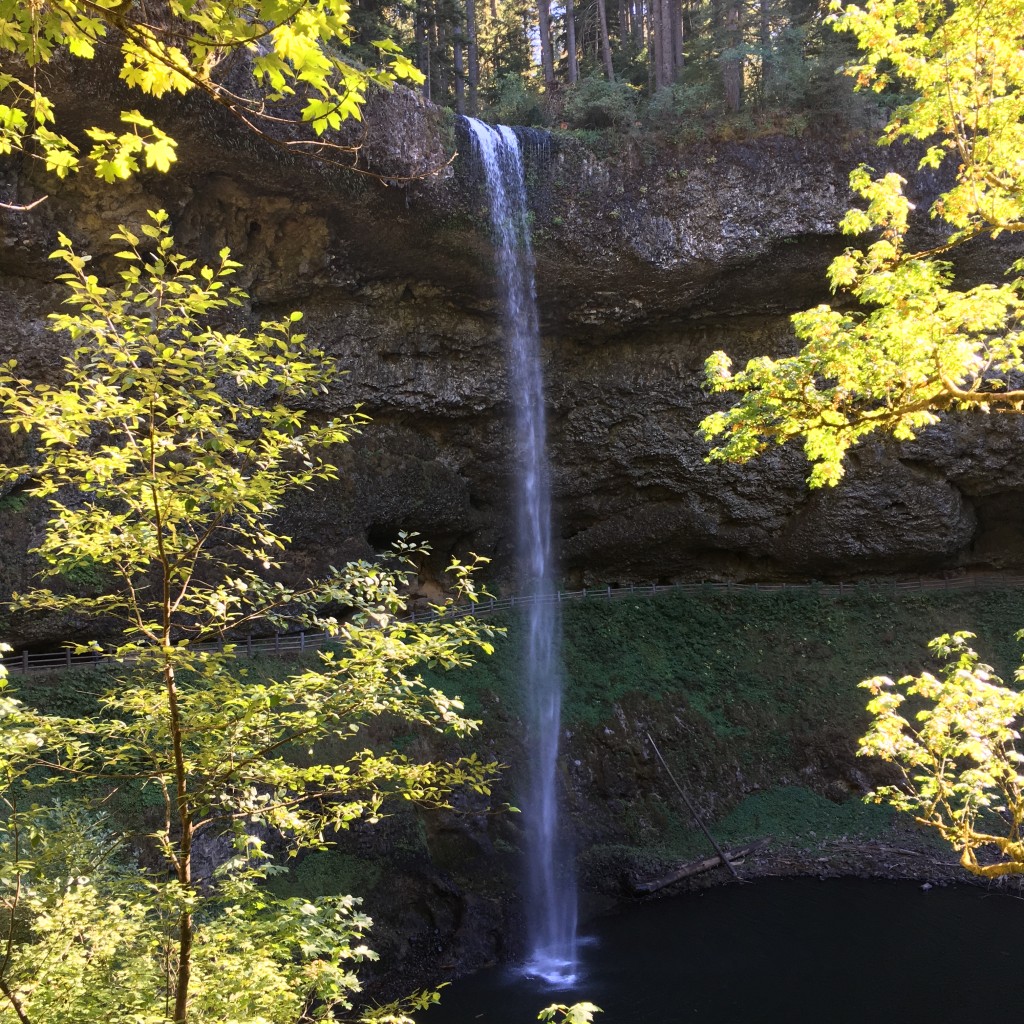 This is the South Falls at Silver Falls State Park near Salem, Oregon. We had three days of hiking in this amazing place! There are actually TEN waterfalls that you can hike in a loop. This one was our favorite because you could actually hike behind the waterfall…look at the image carefully and you can see the trail. You can be sure I will be sharing more about this destination in my October Oregon State Parks entry.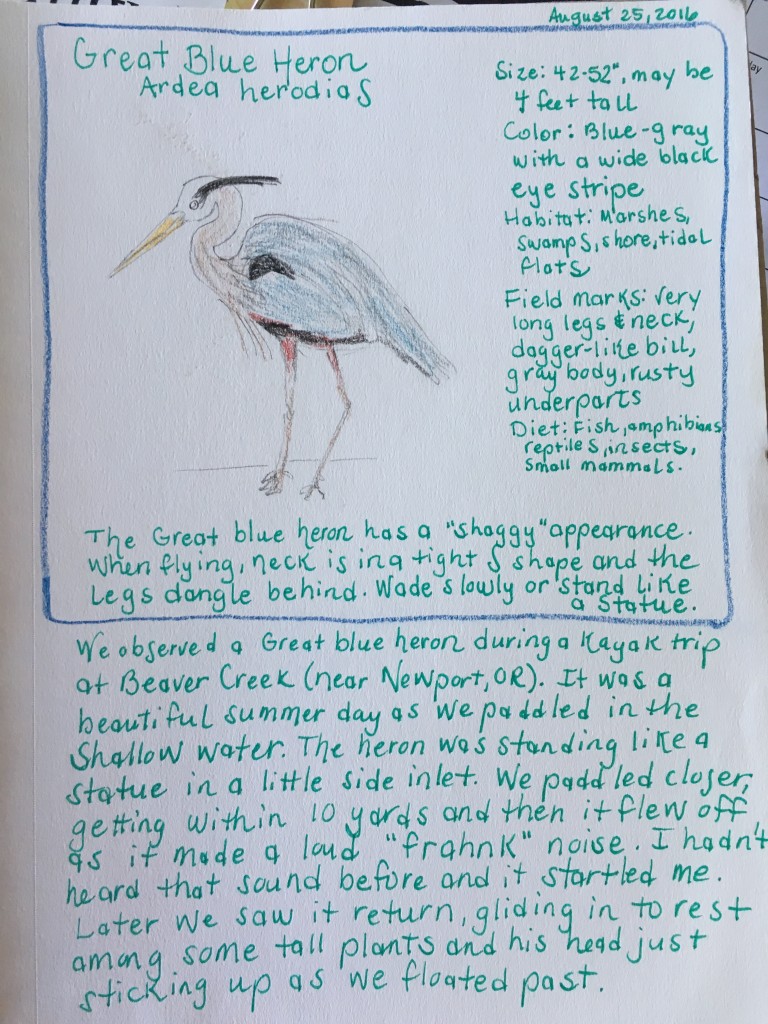 I did fit in some nature journaling on this trip. I learned some interesting things about the heron and I actually heard the loud sound it made as we paddled too close to one and it flew off. Loud! It surprised me. I will be sharing a bit more about my nature journals in an up-coming post.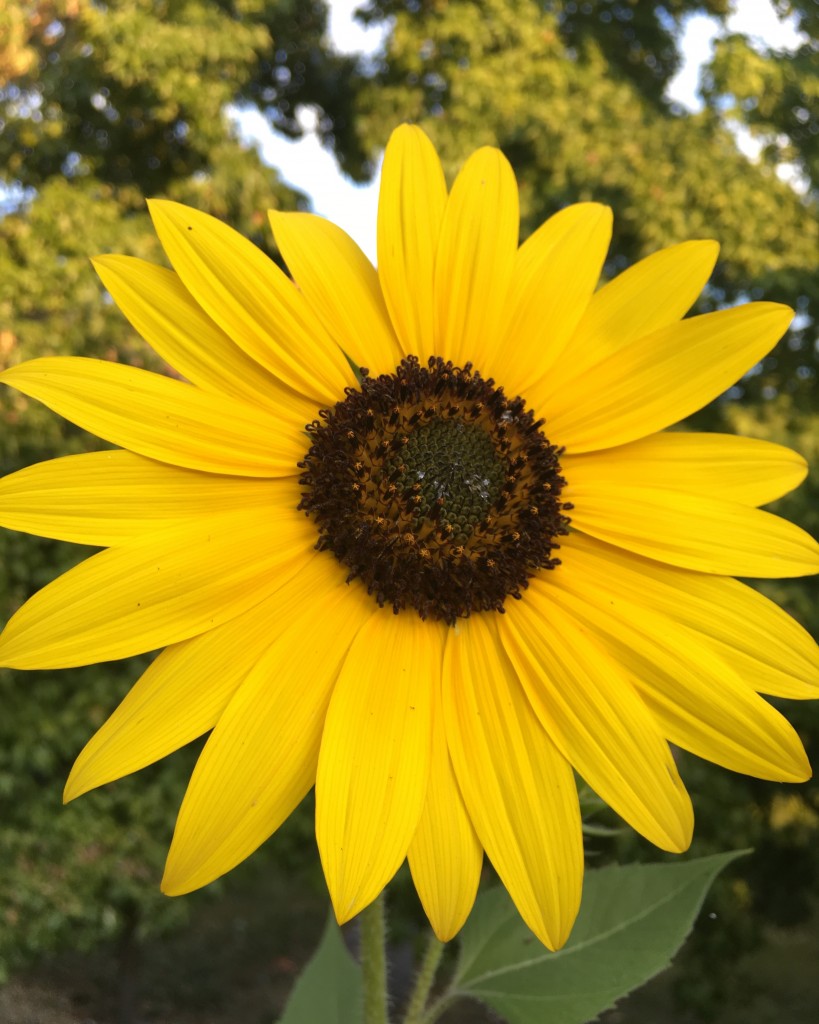 A little closer to home, my sunflowers bloomed! I looked out the window one morning and discovered this beauty. I love the sunflower time of the year and look forward to it each summer. This is one of the sunflowers from Renees Garden Seeds. So perfectly perfect.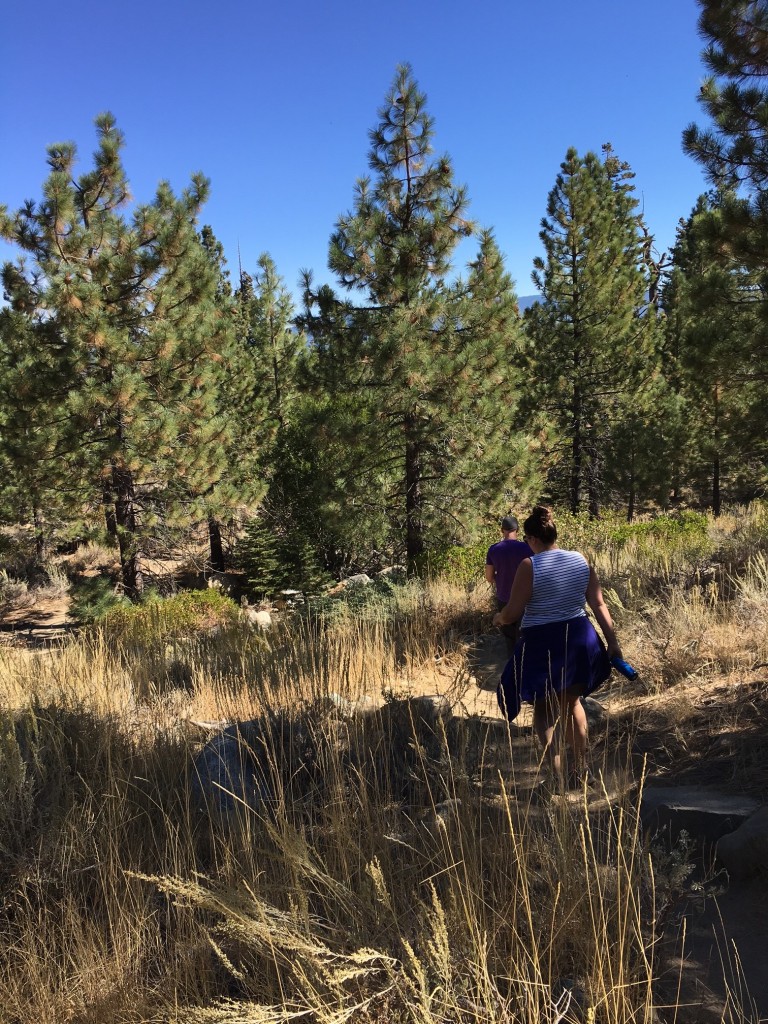 We did some hiking closer to home when my two New Yorkers were home for a visit. We camped at Fallen Leaf Lake near Lake Tahoe in California. It was perfect weather and the hiking was filled with wonderful autumn air and sunshine.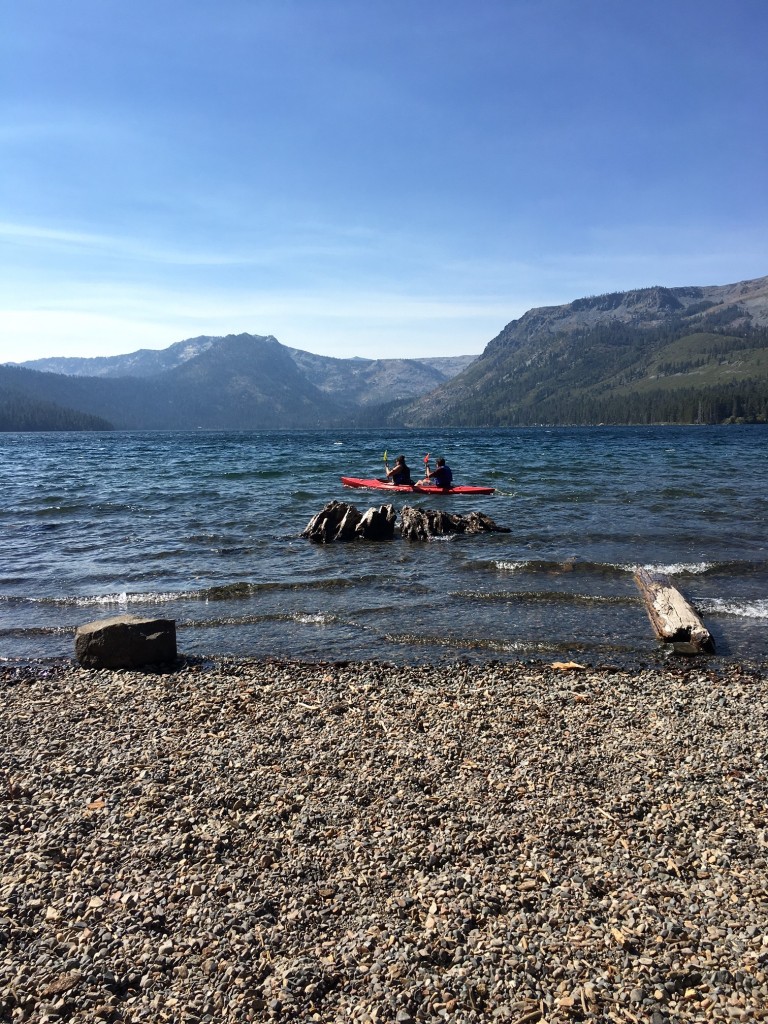 This is Fallen Leaf Lake on a crisp September morning. We all took turns taking the kayak out for a spin on the water to take in the high Sierra views.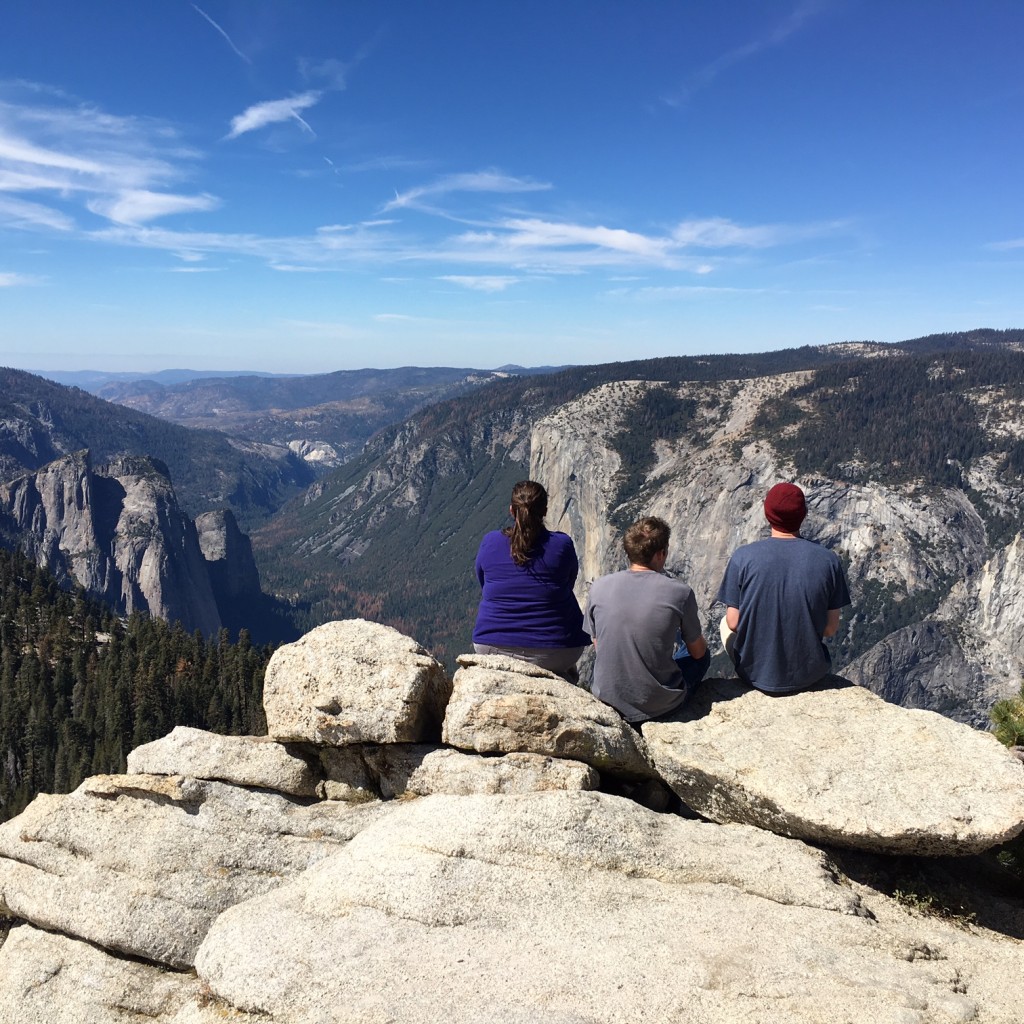 The last place on our travel list this month was to Yosemite National Park. We hiked to the top of Sentinel Dome with our children and they posed at the top for this amazing photo. It captures so much of what our family is about as we adventure in the big outdoors together. It was a day of laughter, refreshing vistas, and friendship. I tried to soak in the family time since it is hard to gather us all in one place anymore. We end up outside when we do get a chance to spend time together….habit? necessity? mutual love for God's creation? I think it is a little of all of those things.
I hope you enjoyed my entry this month and if you want to play along, there are instructions at the bottom of this post.
If you missed my August and September nature study entries, here are the links:
Our Wildflower Observations: This entry shares our August wildflowers, both in California and in Oregon.
Snail Observations at the Tidepools: We had a fantastic time hunting, observing, and learning about marine snails in response to the August newsletter topic. This is one of my favorite blog entries of the year!
Insect Nature Study -Potpourri: We had several opportunities to observe insect homes up close. We even identified something new to us!
Outdoor Mom's Journal
Whether your family spends a few minutes a week outside or hours at a time, share what is going on in your world.
How Do You Join?
Answer all or just one of the prompts in a blog entry on your own blog or right here on my blog in a comment. If you answer on your blog, make sure to leave me a link in a comment so that I can pop over and read your responses.
During our outdoor time this week we went….
The most inspiring thing we experienced was…
Our outdoor time made us ask (or wonder about)…
In the garden, we are planning/planting/harvesting….
I added nature journal pages about….
I am reading…
I am dreaming about…
A photo I would like to share…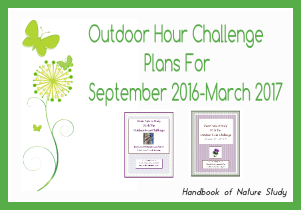 You can use the free monthly newsletter along with the Handbook of Nature Study book for your nature study. Adding a membership gives you access to the Ultimate Naturalist Library's ebooks and printablse which provides members with even more in-depth studies each month.
Save