This has been a month for insect watching! It's been a long time since I picked a "focus" nature topic for the month and it's reminded me of the value of being alert to seeing things I might otherwise miss.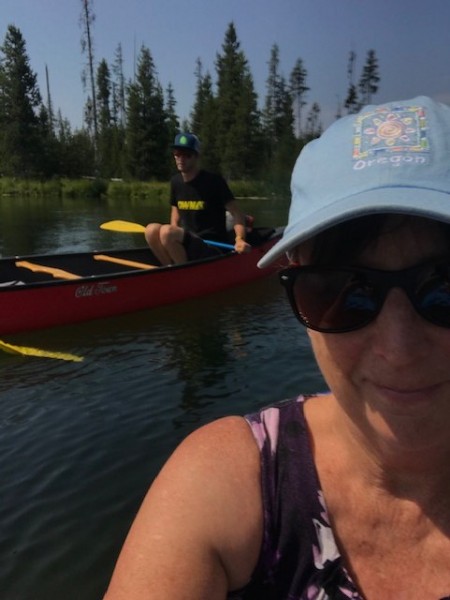 Dragon flies were the star for several of our outings on the water.  I have a fun memory of floating on the river with blue dragonflies landing on my arms and hat. Then there were the larger black and white dragonflies that look like small hummingbirds. They were spotted high up on tops of reeds and sticks, hanging out over the water where they sat waiting for a meal.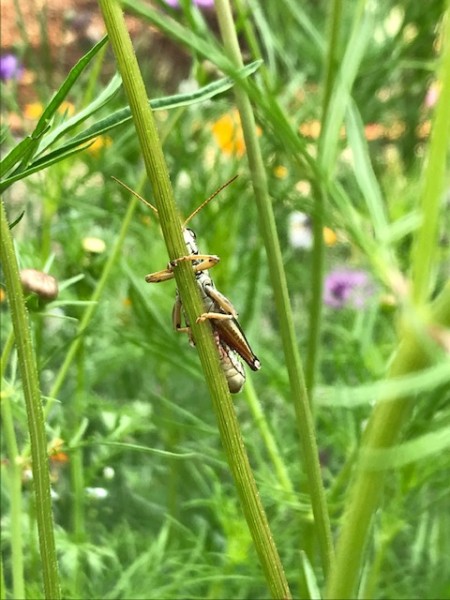 The wildflower garden has been abuzz with all kinds of insects. It makes me happy to sit nearby and listen and watch as they hop on, hover over, and dip into the colorful flowers.
We decided the meadow out behind the house should be called "grasshopper acres" this month because of the abundance of hopping and leaping that happens as you walk through the grasses. They are everywhere.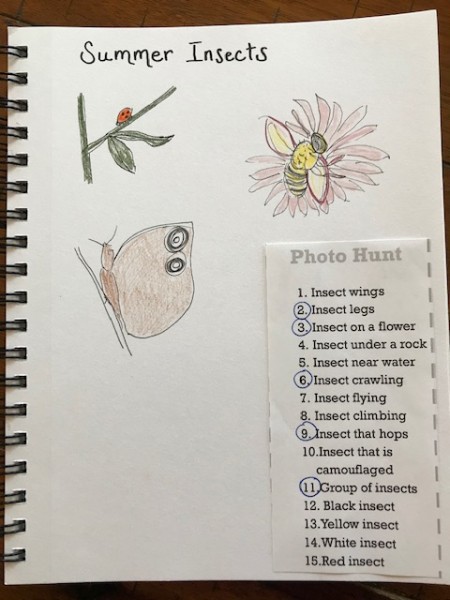 I'm keeping myself accountable this month with an insect page in my nature journal. It's nothing fancy but it will remind me of a few of the insects I encountered during this month of looking for insects.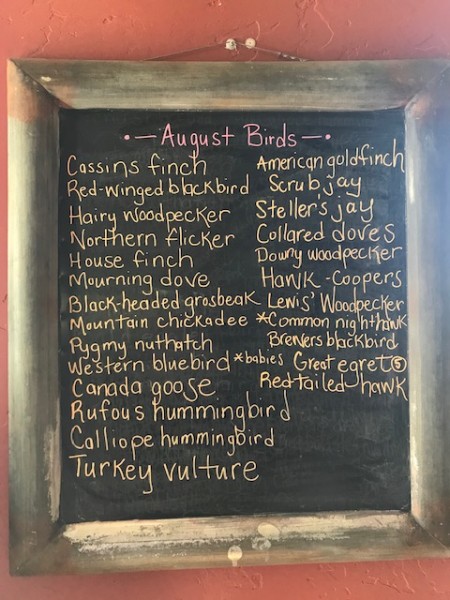 Our bird list this month has some surprise entries. The most inspiring addition was the Common Nighthawk. I wish I could post a video of the flying acrobatics of this amazing flyer! We noted the pointy wings, the white patches under the wings, and watched it on several late afternoons and evenings over the river.
Then there was the exciting visit of five Great Egrets. We observed them flying down at the river with their long thin necks, stick-like legs, and long yellow beaks. This is the first time we've seen a group of egrets here in our Oregon neighborhood.
But, the most compelling visitor we had this month is the Cooper's hawk. He's been hunting at my bird feeder. Twice I watched him dive at the feeder as the little birds flew off in every direction. Afterwards, both times, he sat in the tree over the feeder, unsuccessful in capturing anyone. I was able to get a good look at him as he actually posed for a few photos. A rather large and handsome hawk, he sat and patiently waited for a long time before flying off.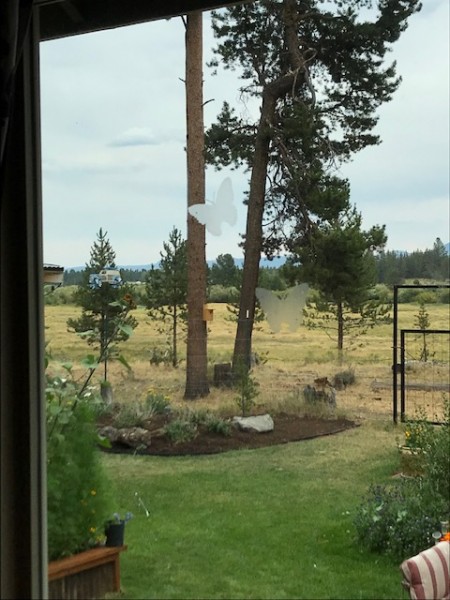 On another bird related note, I installed some window decals that are designed to alert birds and prevent bird strikes. Our living room has a HUGE picture window and it has been the scene of many bird strikes and deaths in the past. I purchased the Window Alert window decals in the hope of reducing the number of birds who run smack into our window glass. They were easy to adhere to the exterior of the window. I was worried that they would annoy me as I look out the window but I'm happy to say that I don't even really notice them anymore.
Do they work? I can't say they have eliminated ALL of the bird strikes from happening, but I have noted that the very few that still hit the window must see the decals and slow down enough that it isn't a fatal collision. We haven't had a single bird death since putting the Window Alert decals up.
I call that pretty successful. I purchased them at our local Wild Birds Unlimited store for $6.95. The package says to replace the decals every four months since the UV coating will eventually fade and not be as effective. I guess I'll get another set next spring.
Here are a few more fun things we did outdoors this month.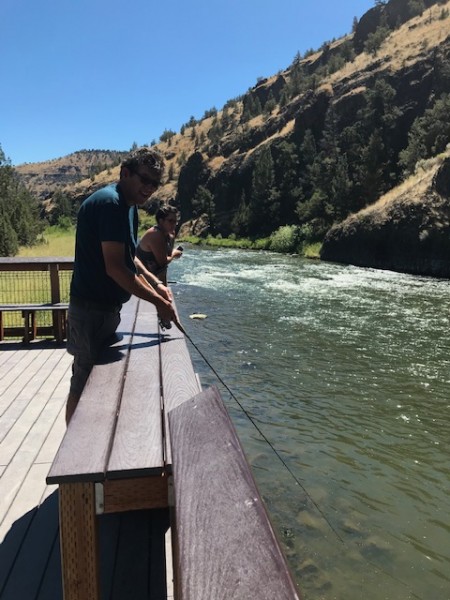 We made a day trip to the Crooked River to have a picnic and go fishing.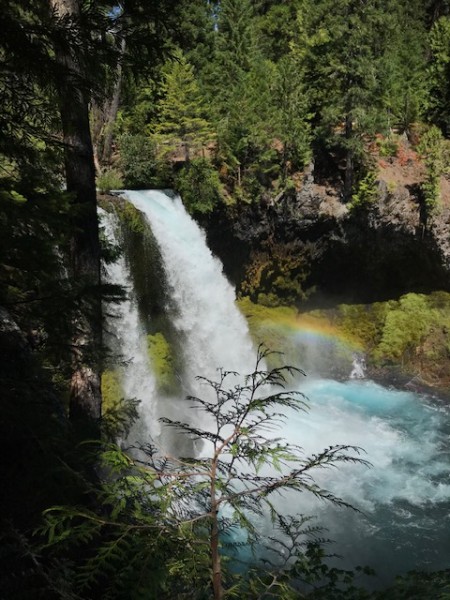 We took a new hike at Sahalie and Koosah Falls. What a magnificent place to take a 3-mile hike alongside the McKenzie River. I think this is my top pick for a day hike here in Oregon.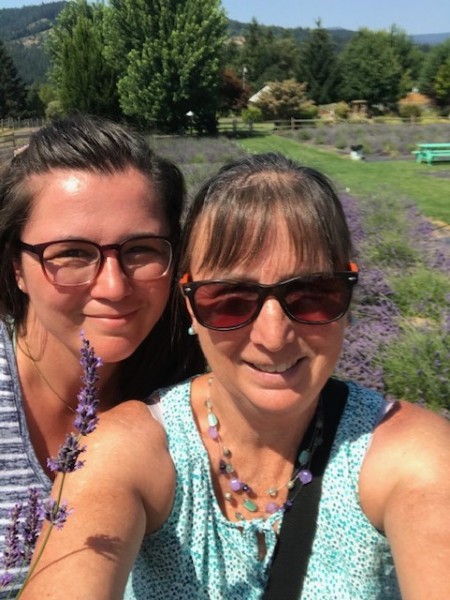 My daughter and I had an awesome time cutting lavender at the Hood River Lavender Farm. What great memories we made that day! It was a hot day and the scent of lavender was thick in the air. We tasted lavender lemonade for the first time and loved its refreshing flavor.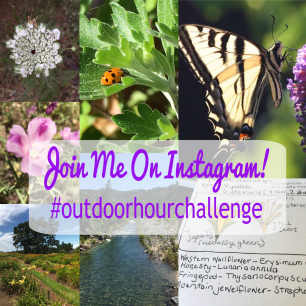 Are you following me on Instagram? I post regularly about my garden, the Central Oregon habitat, and our adventures. If you add the hashtag #outdoorhourchallenge to your Instagram posts, I'll come visit your images!
Want to join in the Outdoor Mom post?
Answer all or just one of the prompts in a blog entry on your own blog or right here on my blog in a comment. If you answer on your blog, make sure to leave me a link in a comment so that I can pop over and read your responses.
During our outdoor time this month we went…
The most inspiring thing we experienced was…
Our outdoor time made us ask (or wonder about)…
In the garden, we are planning/planting/harvesting…
I added nature journal pages about…
One last image…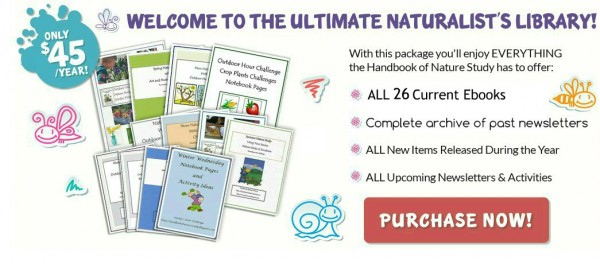 All members here on the Handbook of Nature Study have access to the 2020-2021 nature plan for the Outdoor Hour Challenge. Look for it in your library.