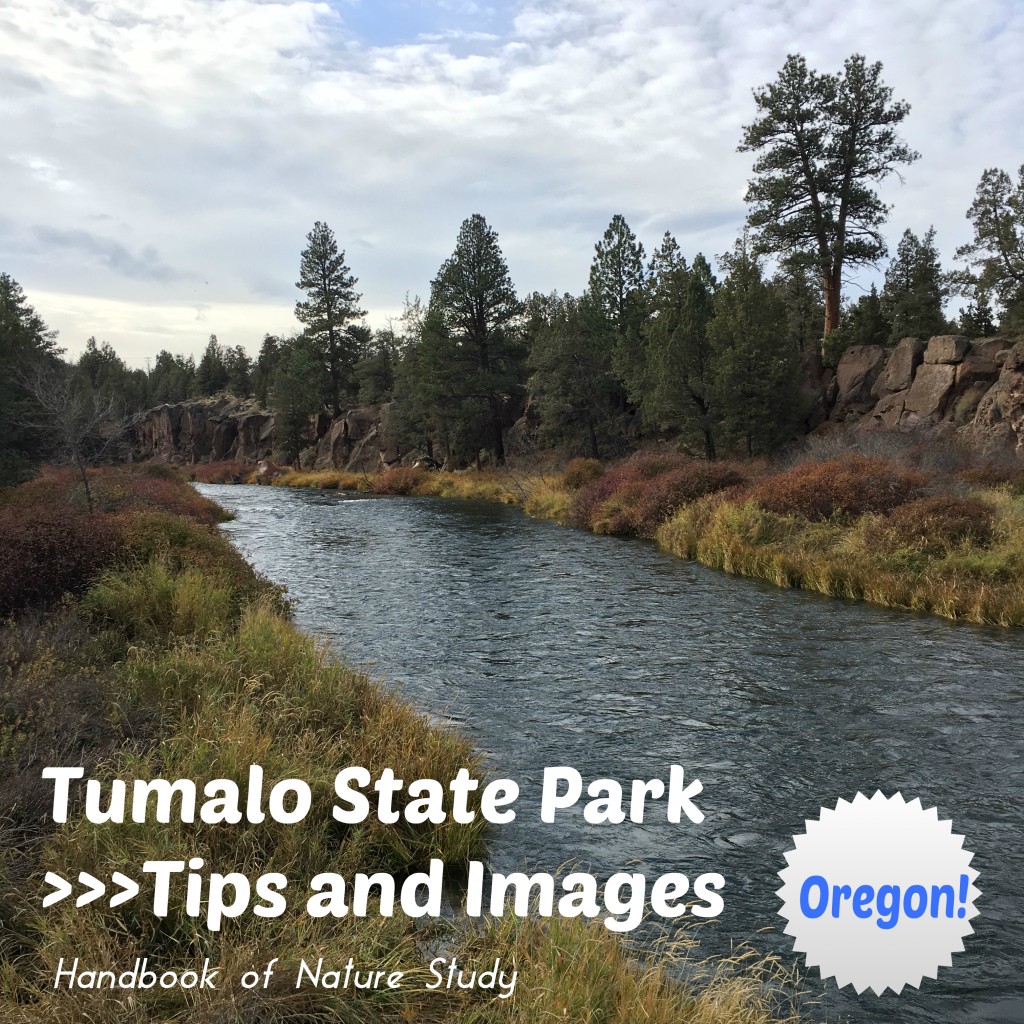 Central Oregon is our favorite new place to explore. Our trip last August (and this entry: Oregon State Parks) made us anxious to return and we made it happen in October 2016. We pulled our travel trailer and enjoyed staying in both La Pine State Park and in Tumalo State Park. The season was winding down for the campground at Tumalo but it was still a full house every night we were there. In the autumn the campground has only one loop open so we were happy to score a spot even for three nights.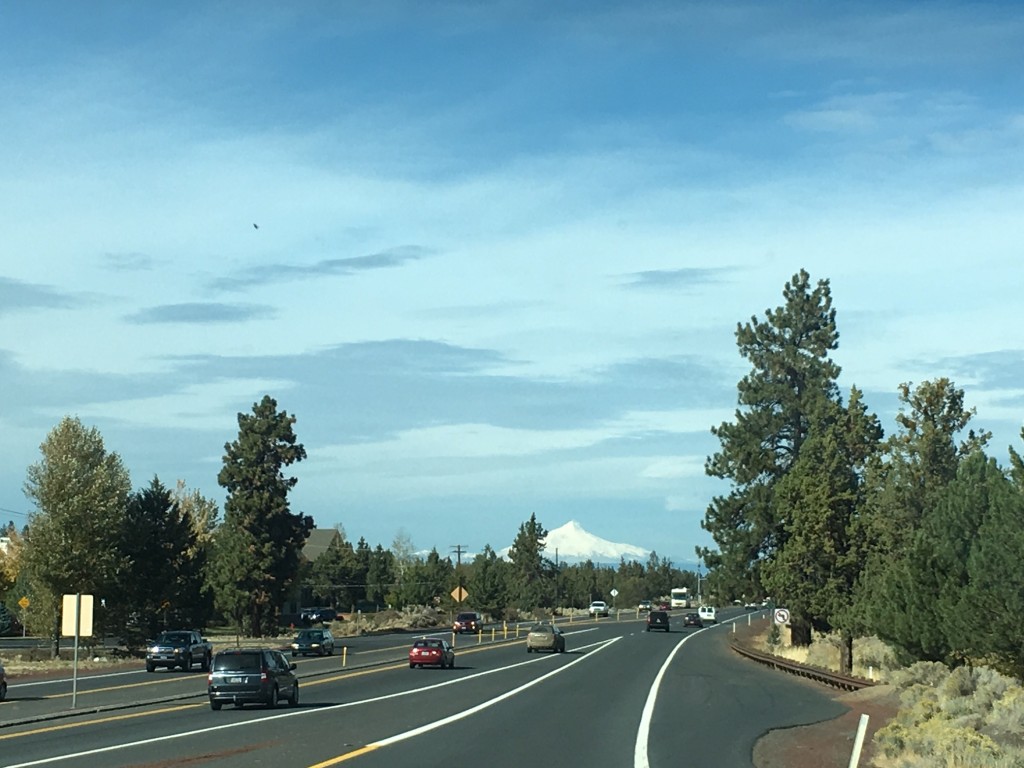 The park is not far off  Hwy 20 (just off Hwy 97 which is the main road going north/south from Klamath Falls to The Dalles at the Columbia River. It is also not very far from downtown Bend, Oregon. In fact, its location makes it the perfect spot to explore Central Oregon, the Deschutes River, the Cascade Lakes National Scenic Byway and more.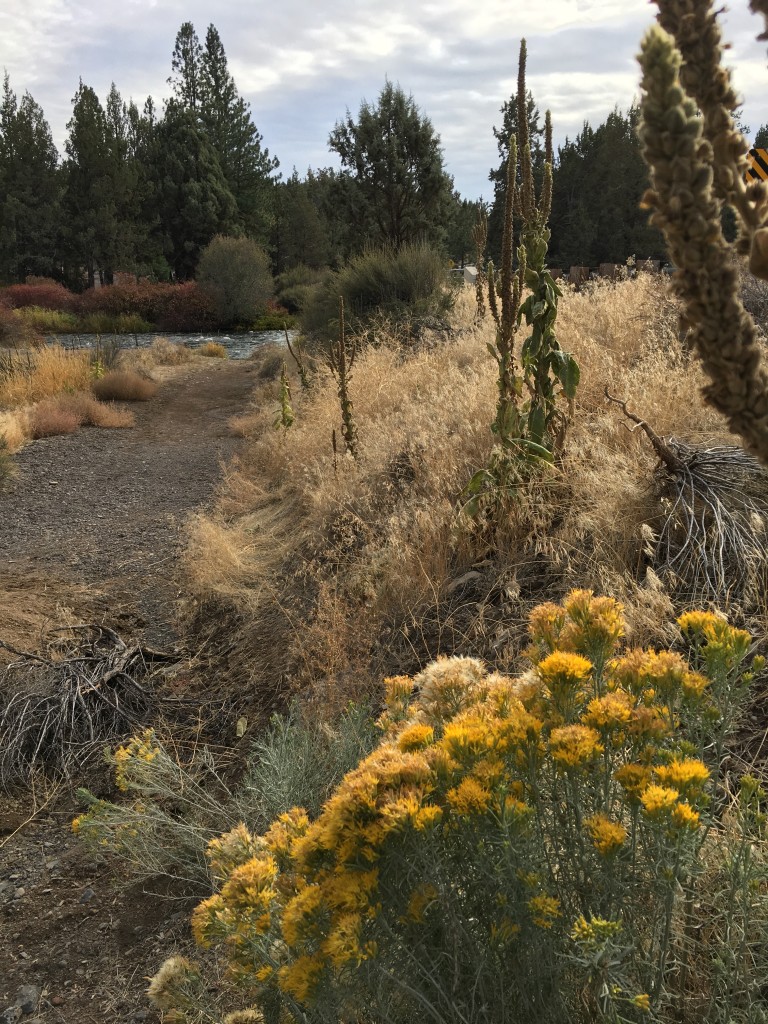 There is a large expanse of lawn and many picnic tables in the day use area that is situated right alongside the river. I can imagine this is a hopping park in the summer because of the easy access to the water and hiking trails. There is also a swimming area and fishing for trout is also noted in their brochure.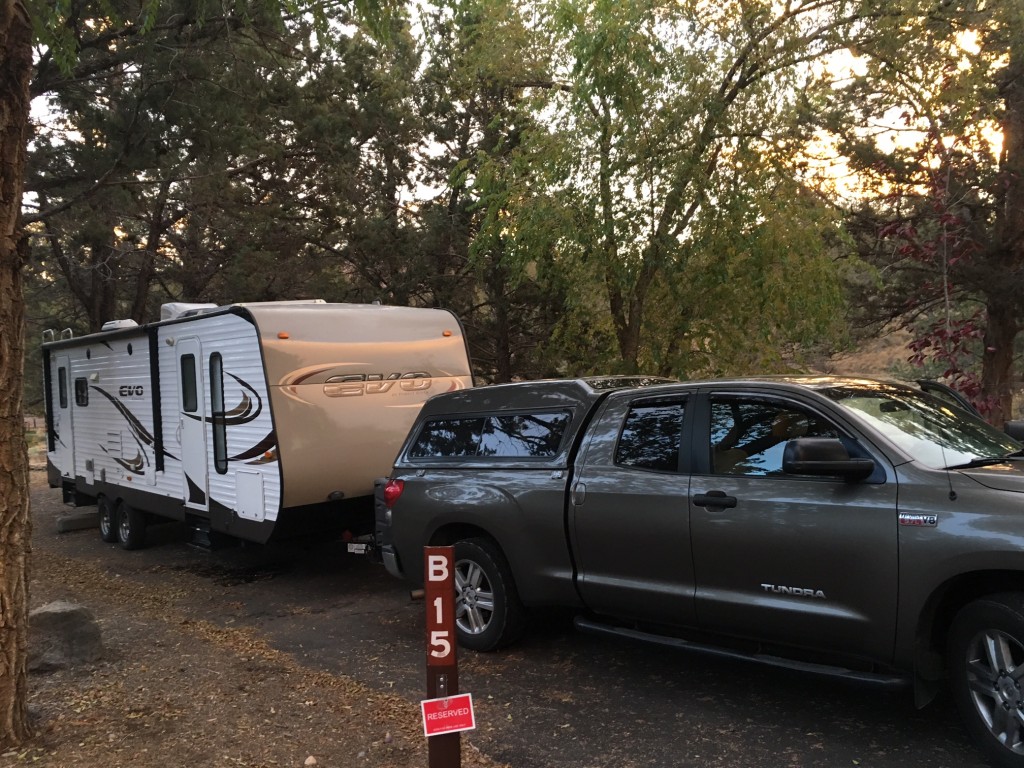 The campsites are ample in size and not too close together…just what we like. There is a picnic table and campfire ring in each site. There are showers and restrooms on every loop.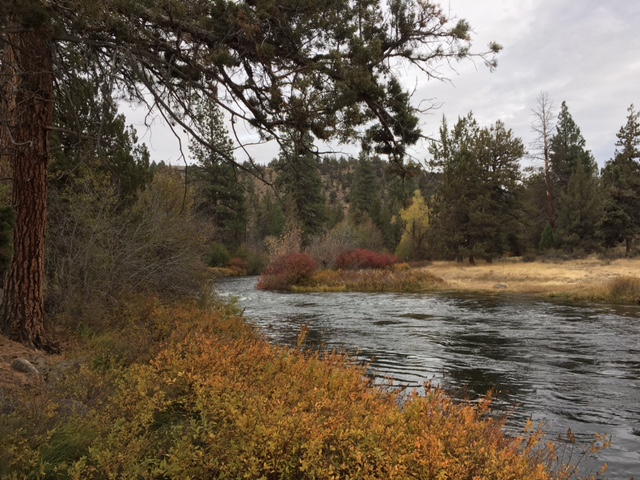 We spent parts of each day on foot as we walked along the trail first up river and then down river. This time of year it was very quiet and we saw very few other hikers. It was peaceful and gorgeous.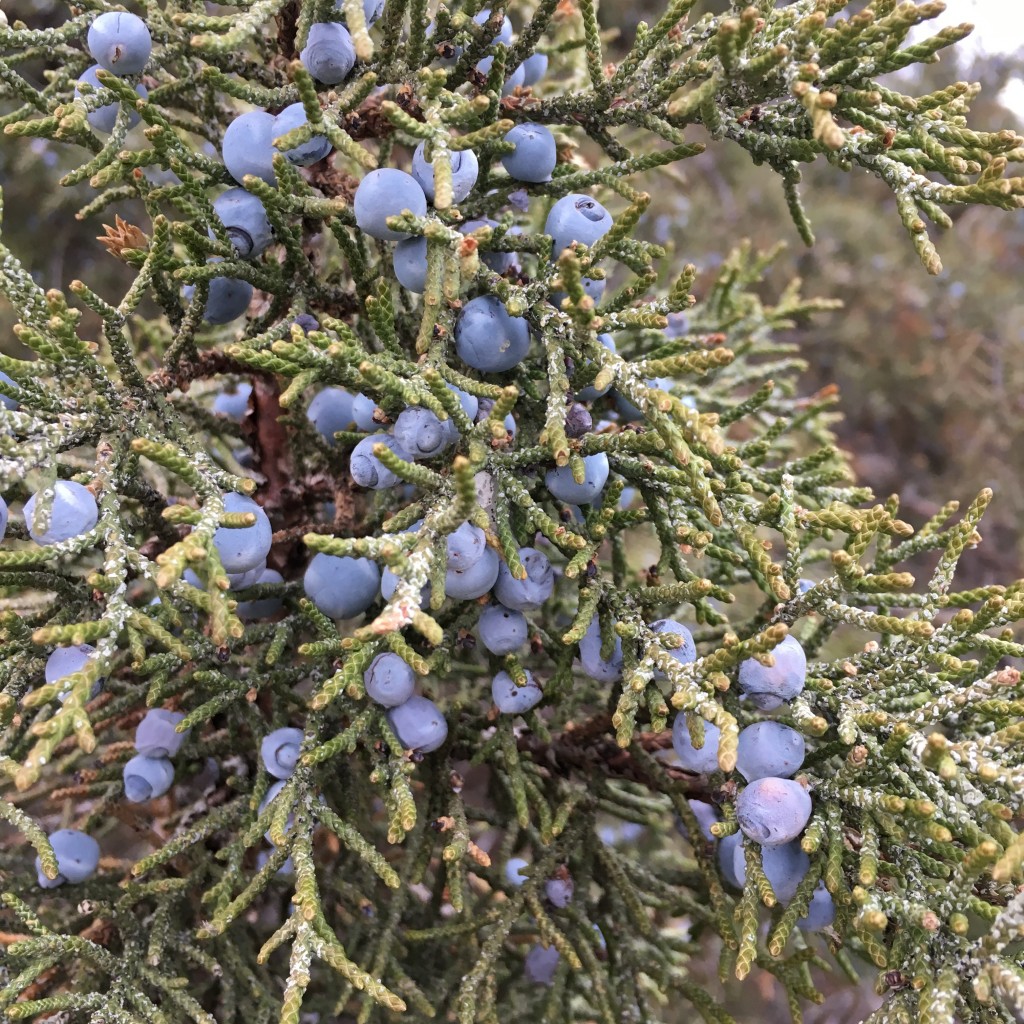 The views of the surrounding mountains was amazing and the terrain was interesting with rocks, trees, shrubs, and wildflowers to keep us entertained. Most of the trees were junipers like you see in the image above. I loved the blue berries!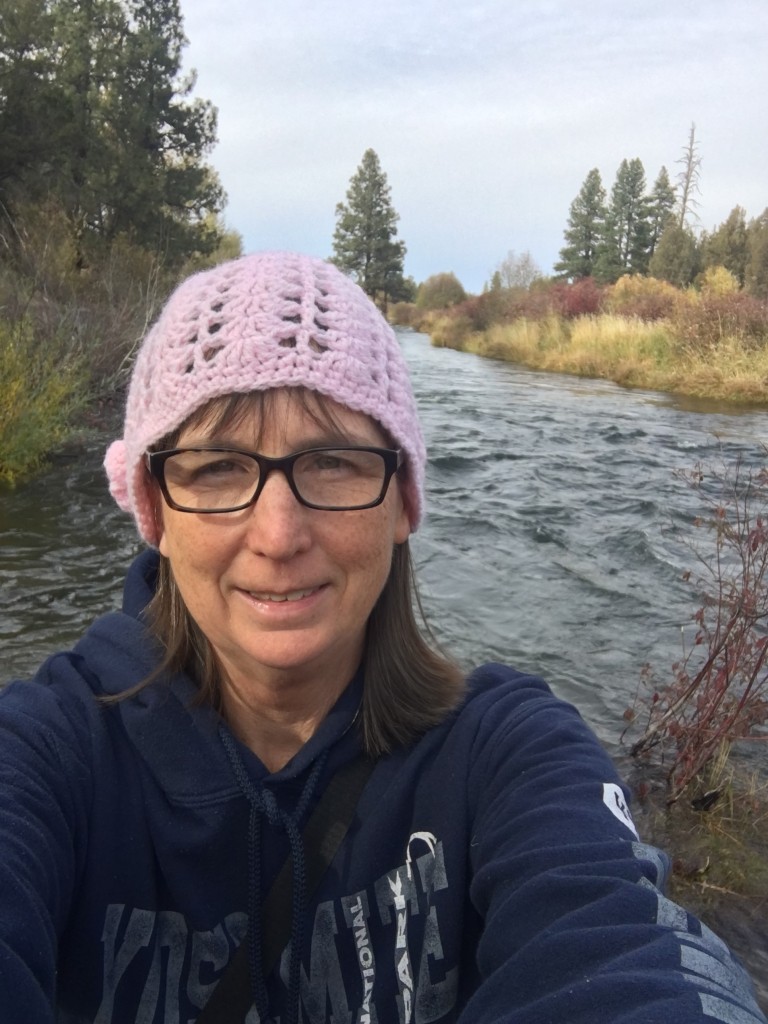 The weather was conducive to being outside most of the week we were there and we took advantage of it. We had been in Eugene, Oregon right before this and it never stopped raining the whole time we were there. Sunshine and warmer temperatures made Tumalo a great experience!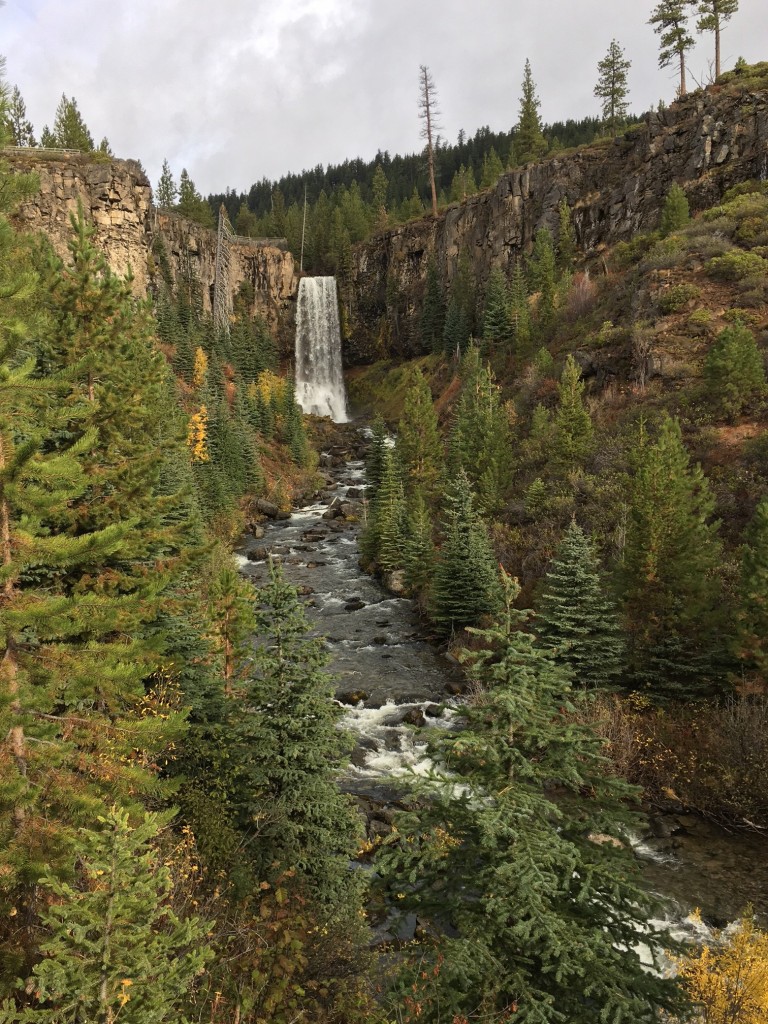 Tumalo Falls is a short drive ( about 15 miles southwest of the state park). Be aware that it only open seasonally and there can be limited parking during busy months. In October, we had no trouble with either parking or crowds. The weather was a little misty for the short walk to the falls viewpoint and then another about a quarter mile hike up to the top of the falls for a different perspective. I highly recommend hiking up to the top.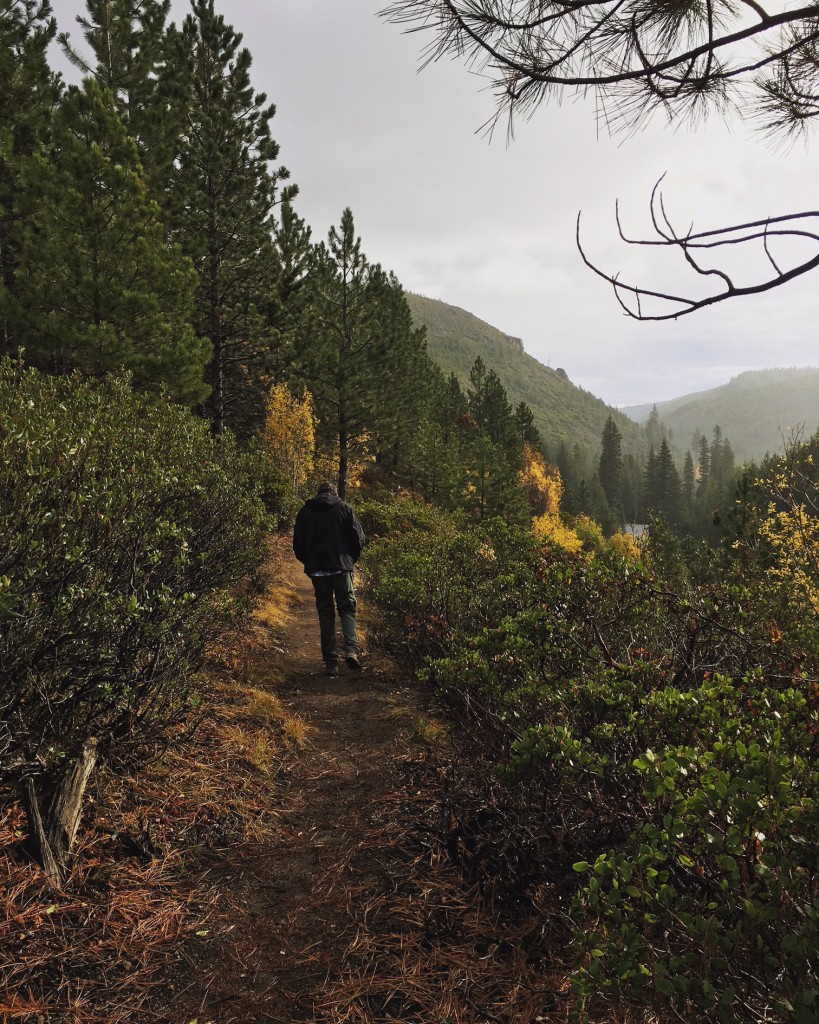 There are many trails taking off from this same parking lot up river to see more waterfalls. Make sure to consult a good map (I tried to find one online but wasn't successful).
Other Tips:
Tumalo State Park campground has yurts to rent if you don't want to haul around your camping equipment.There are universal access campsites for reservations as well. Use the website to reserve your spot in advance which I highly recommend doing at this popular campground.
There is a day use fee both at the state park and in season at Tumalo Falls parking lot.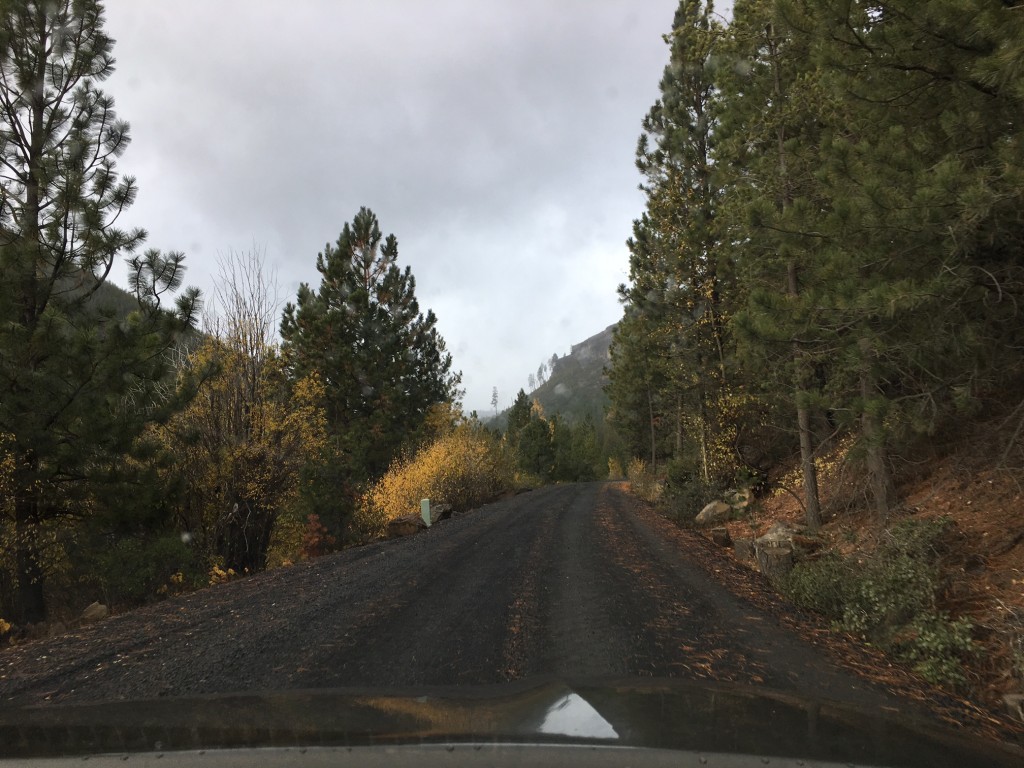 At Tumalo Falls parking lot there is a restroom and several picnic tables.
The last couple of miles to the Tumalo Falls parking lot are all gravel.
You can read more of my national park entries by following these links:
Save
Save
Save
Save
Save
Save
Save
Save
Save
Save
Save
Save
Save
Save
Save
Save
Save
Save
Save
Save
Save