Brand New! Outdoor Hour Challenge
Wilson's Snipe Nature Study
This week's nature study lesson features the very real and awesome snipe. It wasn't until we moved to Central Oregon and along the river that we even thought this was a real bird! We spent quite a few evenings chasing the sound of the snipe in an attempt to figure out exactly what bird was making such an unusual sound.
Now it's your turn!
Learn about the snipe, paying special attention to its preferred habitat and the sound that it makes.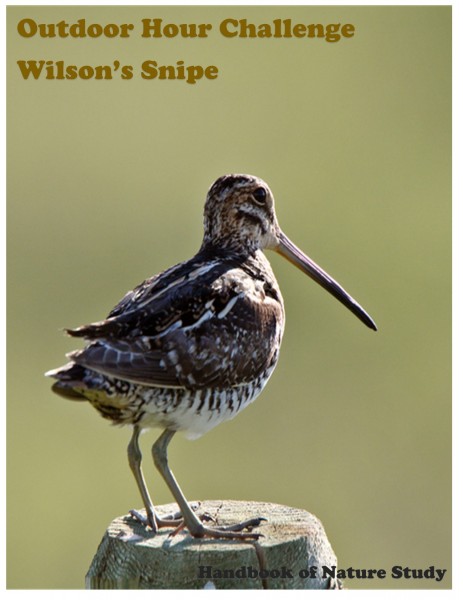 Get started with your study of the Wilson's snipe using the ideas below. As always, remember that the complete nature study lesson is found in the Bird Nature Study Set #1 ebook available to Ultimate and Journey level members.
Make sure to look at the range maps in a field guide or on All About Birds to determine if you have the Wilson's snipe in your area. Wilson's snipe can be found among the vegetation (especially cattails, willows, sedges, and rushes) along muddy edges of ponds, vernal pools, and other wet habitats.
Learn the sound of the snipe and memorize it so you can recognize it in the future.  Here's a link to YouTube that has the sound of a snipe winnowing: Wilson's Snipe.
Watch this YouTube video: Wilson's Snipe.  YouTube video of a snipe eating along the shore: Wilson's Snipe.  You can see in this video why they have a very long bill!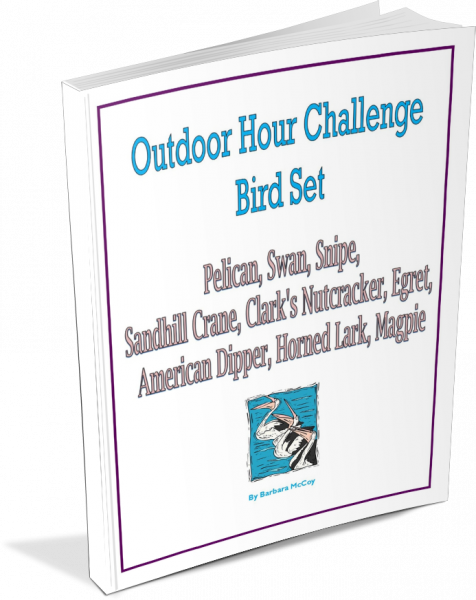 Birds included in this ebook include the pelican, sandhill crane, Clark's nutcracker, egret, American dipper, horned lark, magpie, swan, and snipe.
Download a sample of the book here: Bird Nature Study Set #1 Sample
To purchase an Ultimate Naturalist Library membership, click on over to the Join Us page at any time. A membership will give you access to all 26 ebooks currently available in the membership library. This includes the Bird Set ebook and the Learning About Birds ebook!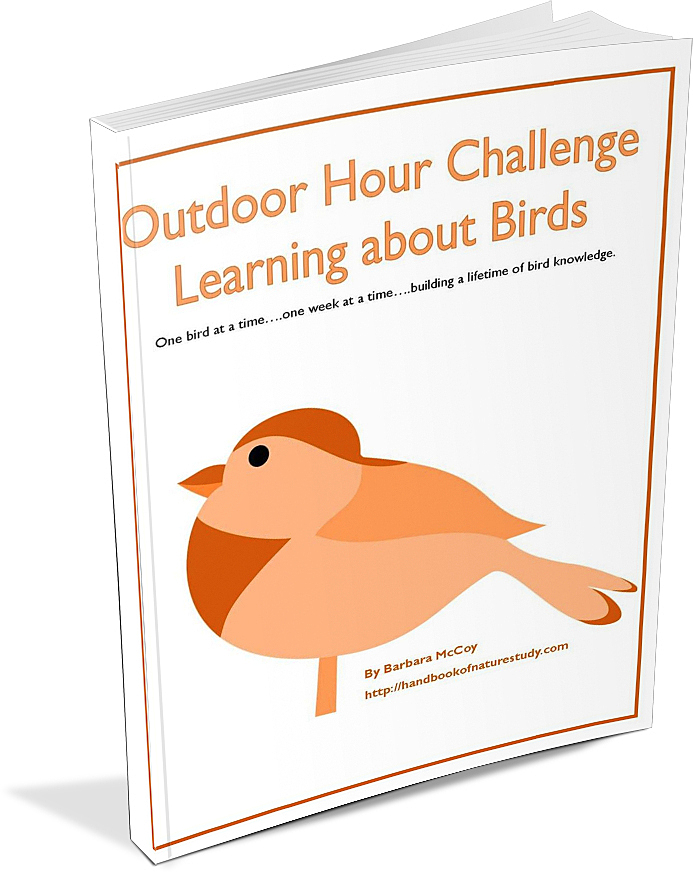 You may wish to also download and use the Learning About Birds ebook available in the Ultimate Naturalist Library.
Sample: Print your ebook sample here: Learning About Birds from the Outdoor Hour Challenge.