I have been trying all week to find time to post an entry sharing a little of our time in Yosemite last week. We had a great camping trip under the big trees and hiking was glorious. There were crowds of people in the valley but once you made a little effort to get on the trail, there were quiet and open spaces to enjoy with only a few other people to share the path.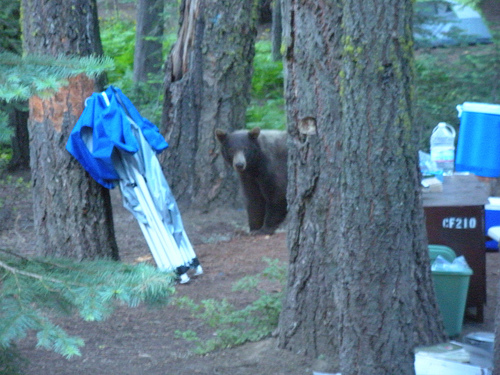 Our camping was made exciting by the visit of a black bear. Two campsites away they left out some food and the bear was quick to find a tasty meal of peanuts and chips. We were up early and making our way to the restroom and back when I spotted what I thought was a bear in the campsite. I did not have my glasses on and it was still early and dark. My husband assured me it was a bear.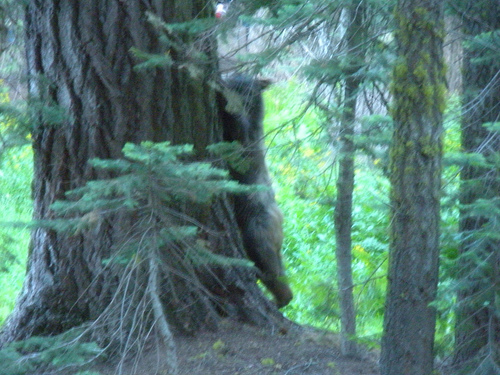 We made some noise and eventually grabbed some pots and pans to bang together to scare the bear away from the campsite. There is a meadow and wild space behind the campground and the bear eventually made its way off into the trees…not until after he tried to climb a tree. When he stood up he was taller than my 6′ tall husband. We never felt in danger but we know that once a bear gets accustomed to people food that they become a nuisance and the rangers have to take action. (Sorry for the blurry photos but it was really early morning and I just had my point and shoot.)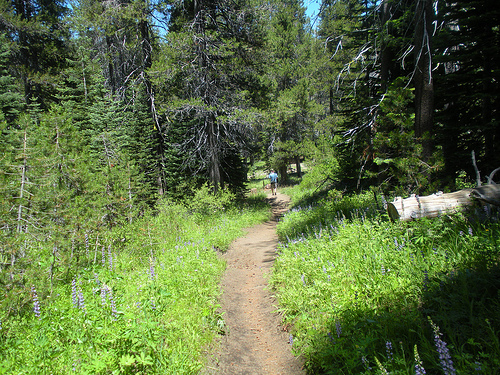 We had two great hikes during our visit. The first was to McGurks Meadow which is off Glacier Point Road. It is the perfect time of year to visit the meadow to view the wildflowers. I can't keep up with my boys anymore. They take off ahead of me but our family has come up with a way to stay together…a family whistle. They need to be able to hear me whistle and whistle back or they are too far ahead.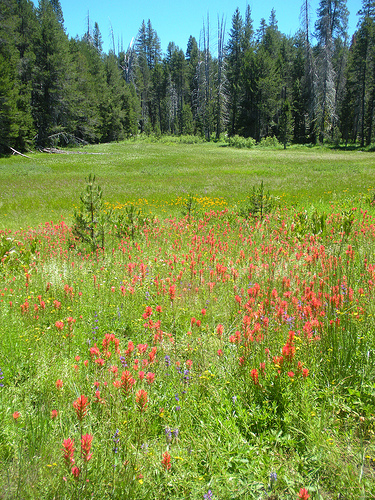 The most abundant wildflower blooming was the Indian Paintbrush.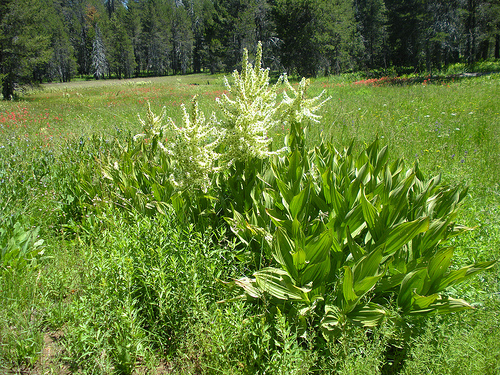 The corn lilies were starting to bloom as well. We saw loads of butterflies and when we stopped to sit on a log to rest, a tree frog jumped right up next to us.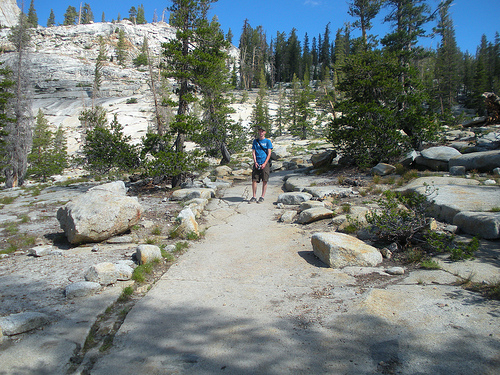 Our second hike of the week was up to May Lake which is a High Sierra Camp. You can hike up there and spend the night in tent cabins or bring your own tent. We just went for the day. Believe it or not, there is a trail there across the granite.

Here is some more of what the terrain looks like as you hike up to the lake. The lake itself is at about 9,200 feet in elevation. I can feel it in my lungs as we hike up at that altitude. I hike a lot but in combination with the heat and the altitude, it slows me down.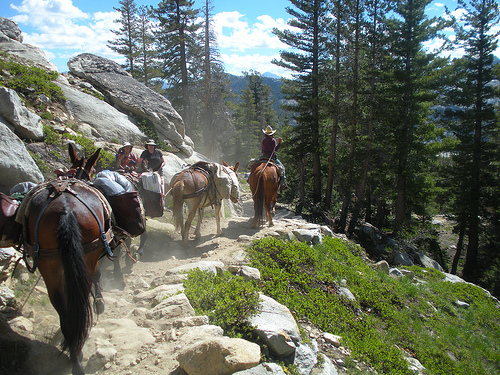 On this particular day, there were two separate mule teams coming down from the High Sierra Camp. They bring the trash and stuff down the mountain and then after resupplying the packs, they head back up. They seem so sure of their footing even on the granite slabs.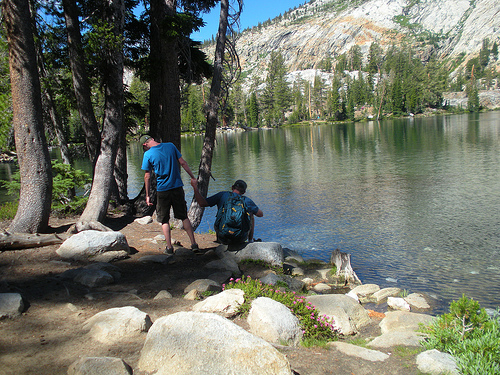 The lake itself is not very big but so sparkling clear and cold…you just want to sit and enjoy the view for awhile before exploring around the edge. Here my son gives his dad a helping hand up after our time resting.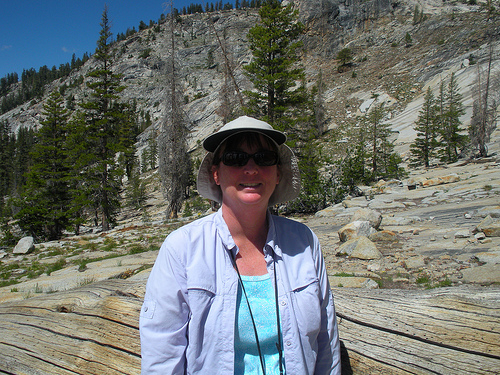 Here I am on the trip down the mountain. Not very glamorous but it keeps the sun off this freckle face.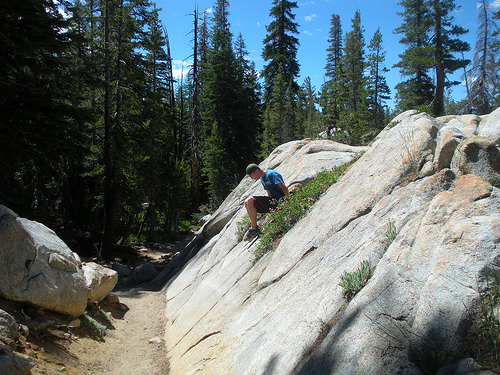 The boys still have enough energy to do a little rock scrambling on the way down. They love this stuff and I think they need to do this sort of thing in order to grow up healthy and happy.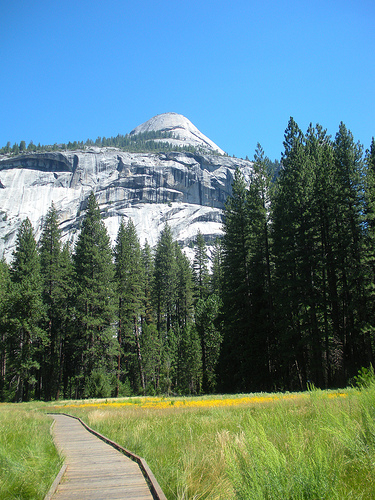 Our last day was spent in Yosemite Valley itself. We checked out the meadows with milkweed blooming and monarch butterflies fluttering.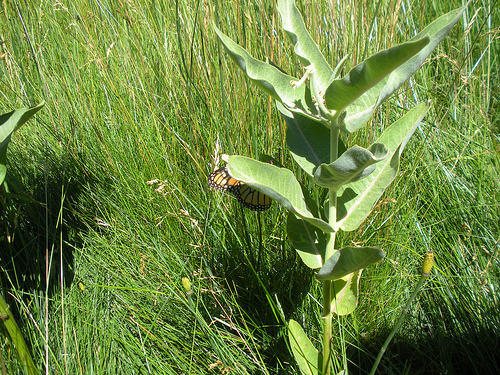 I almost captured the monarch on the milkweed…see him peeking out?

The milkweed is just glorious right now…so many butterflies and other insects in the meadows. Coexisting, growing so pretty.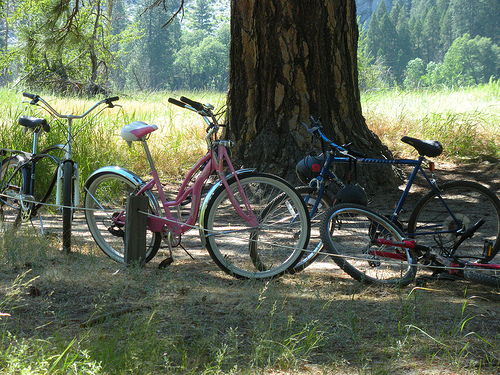 We spent the afternoon pedaling at bike speed around the whole valley. What a great way to slow down and really see a lot of ground in a short time. Guess where we are parked?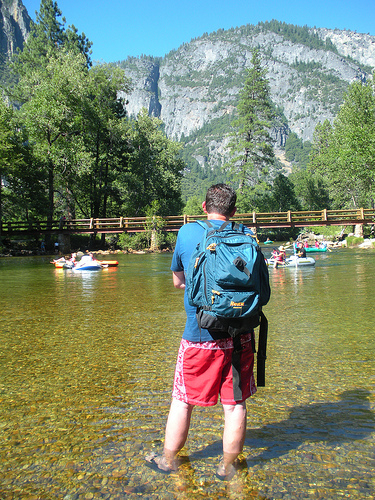 The Merced River. Talk about refreshing! Most people were drifting down on rafts but we decided to jump in and get wet. No kidding, it was perfect.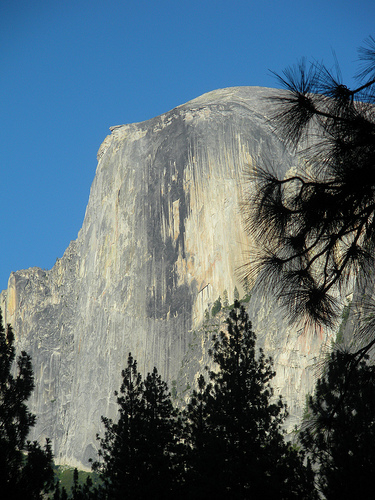 One last shot at sunset of this massive granite rock that we have come to love. Half Dome in all its splendor…until next time.
Hope you enjoyed seeing a few of our adventures.
Barb-Harmony Art Mom