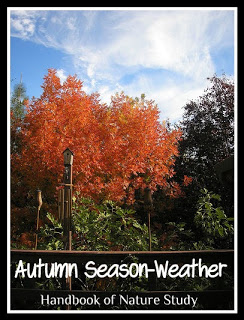 The challenge this week is one that can be done by every participant without regard to location.
This week we will start a year long, four season weather observation study. This challenge will be to make a record of your weather during the current season. I have put together a simple Seasonal Weather Notebook Page. You can use it for your records or you can simply record the information in your a nature journal.
Outdoor Hour Challenge Autumn Series #5:
Seasonal Weather Observation (See Also Challenge #40)
Inside Preparation Work
Read pages 790-791 in the Handbook of Nature Study which includes the sections on Thermometer Scales in Use and Distribution of the Temperature and Pressure. Read the sections with a view to finding a few facts to share with your children this week about what influences the temperature and the atmosphere around us.
"The heat received on the earth from the sun is the controlling factor in all weather conditions." Handbook of Nature Study, page 791
It might even be a good idea to purchase an outdoor thermometer so you can record the temperatures in your own backyard.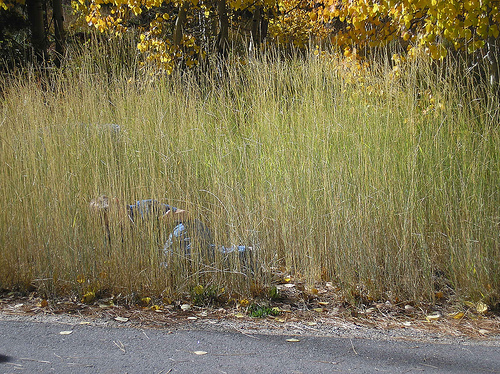 Outdoor Time
Pick a day this week to spend 15-20 minutes outdoors observing the weather and recording the conditions using the Seasonal Weather Study notebook page. We will be completing a weather study challenge during each season in the coming year and the more detailed you get in your observations, the easier it will be to compare the weather from season to season.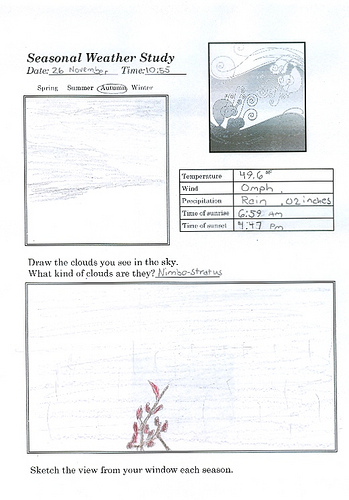 Follow-Up Activity
Spend a few minutes discussing what you experienced with your children. Find out if they have any questions about the weather that you can research together this week. The Handbook of Nature Study on pages 812-814 lists numerous specific weather related activities that will help demonstrate weather concepts for your children. Please complete any of the activities that interest your family and that you have time to complete. For your nature journal this week, fill out the Seasonal Weather Observation notebook page. If you prefer to record you observations into your nature journal and not on a notebook page, look to the sample blank chart on page 807 of the Handbook of Nature Study for a basic record keeping idea.
"Let us make it a daily habit to give a thought to weather conditions; the wind directions; the presence or absence of dew during the hours of evening, night, or early morning; and the readings of the barometer, thermometer, and the weather maps if any are available." Handbook of Nature Study, page 806