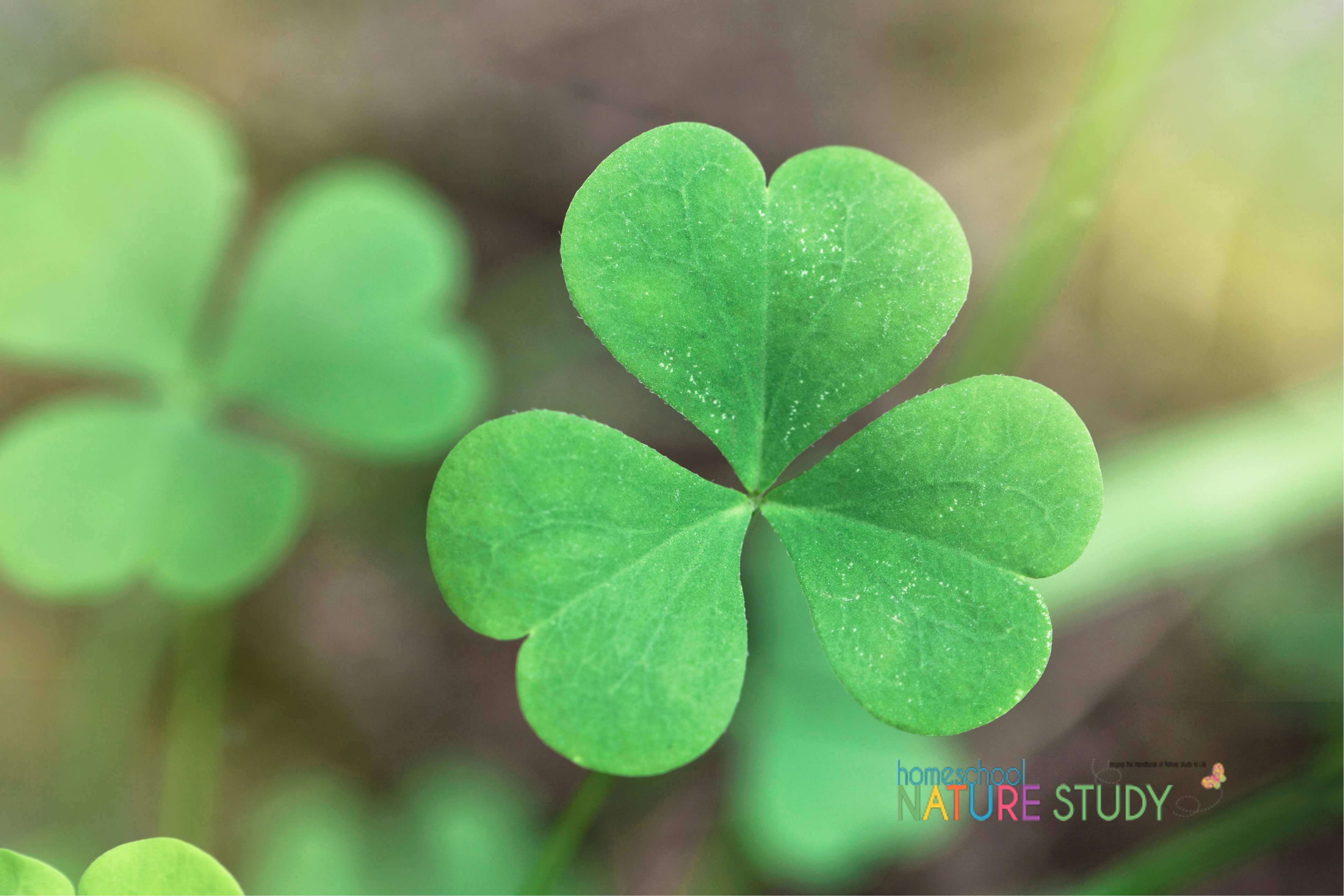 Enjoy a clover or shamrock homeschool nature study this spring and learn about this abundant ground cover you likely have in your own backyard.
Clover or Shamrock Homeschool Nature Study Inside Preparation Work

1. Read in the Handbook of Nature Study pages 591-598. These pages cover three sections in the Handbook of Nature Study but are closely related. I encourage you to read all the pages even if you do not think you have the particular clover in your area. Use your highlighter to mark sections you found interesting and that at some point you want to share with your children in the follow-up activity.
"The clover head is made up of many little flowers; each one has a tubular calyx with five delicate points and a little stalk to hold it up into the world. In shape, the corolla is much like that of the sweet pea, and each secretes nectar at its base. The outside blossoms open first; and as soon as they are open, the honey bees, which eagerly visit white clover wherever it is growing, begin at once their work of gathering nectar and carrying pollen…"

Handbook of Nature Study, page 597
This video will give you a good idea of how bees move from clover to clover.
You can do an internet search for each of these kinds of clover so you and your children will know what you are looking for during your Outdoor Hour time this week. I use Google Images. You may wish to preview any searches.
White Clover
Red Clover (Vermont's State Flower)
Buffalo Clover
Crimson Clover
Rabbit Clover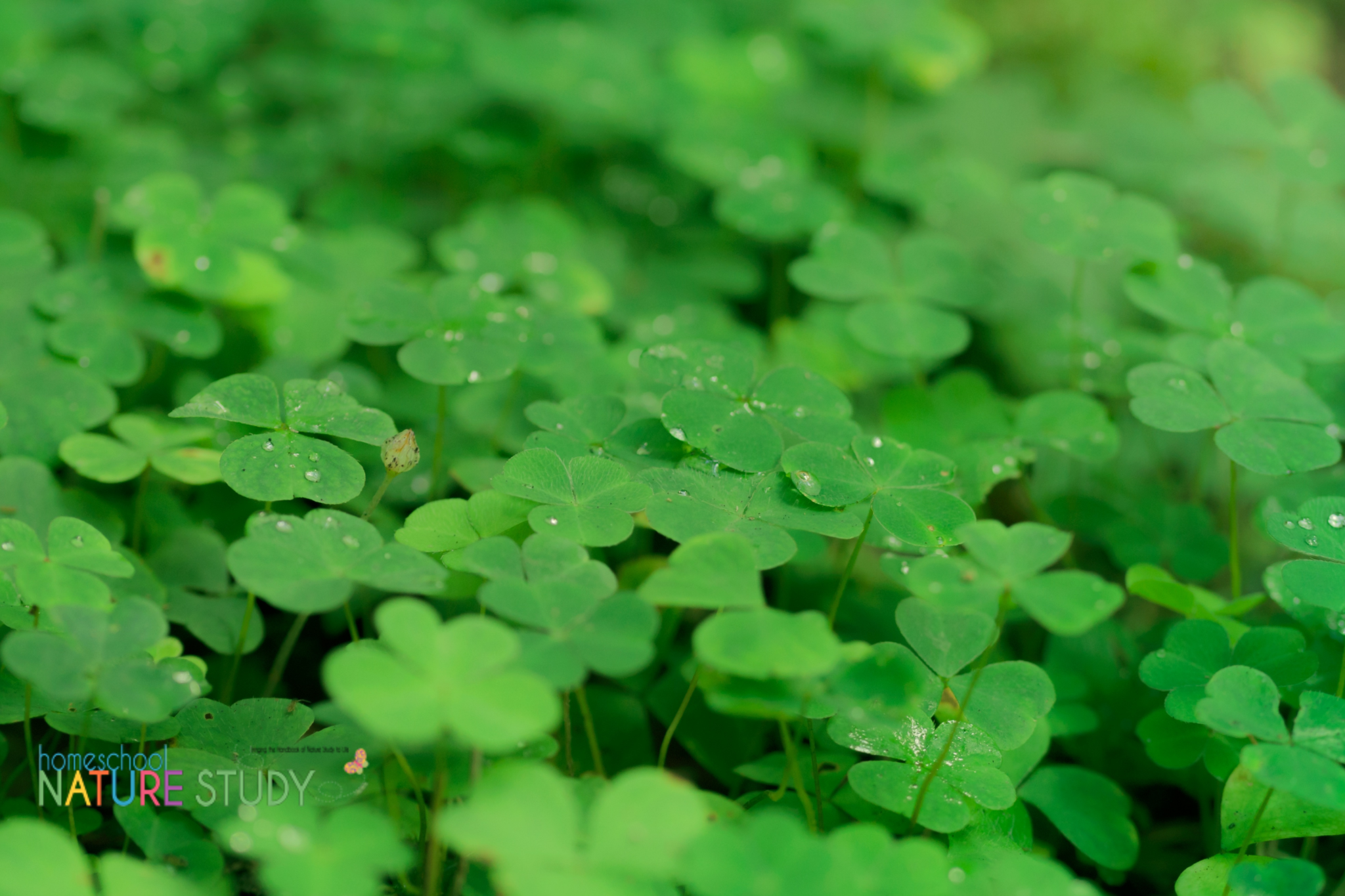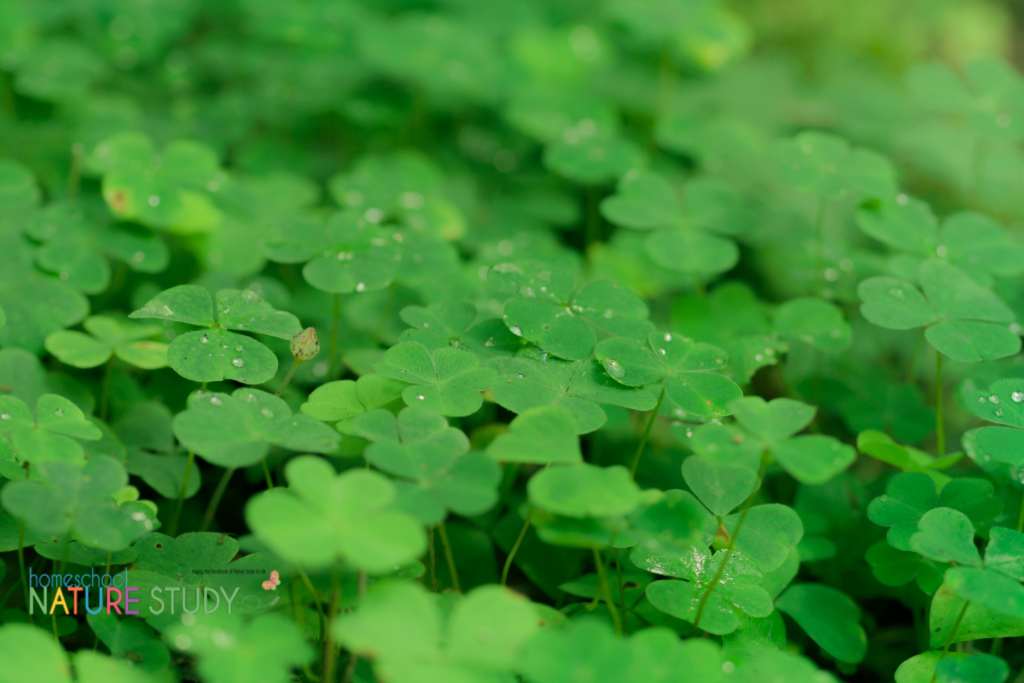 Your Nature Study Outdoor Time

2. Your outdoor time this week can be spent in your yard or at a near-by park. Look for areas of lawn or pastures that may include clover. You may find clover at the edges of trails as well so keep your eyes out as you have your outdoor time this week.
3. Another subject for your outdoor hour time could be the honeybee. The relationship between clover and honeybees is a beneficial one and if you can observe bees in the clover you have witnessed a great partnership.
4. Pollen can be a topic for your outdoor hour time if you don't find clover or honeybees.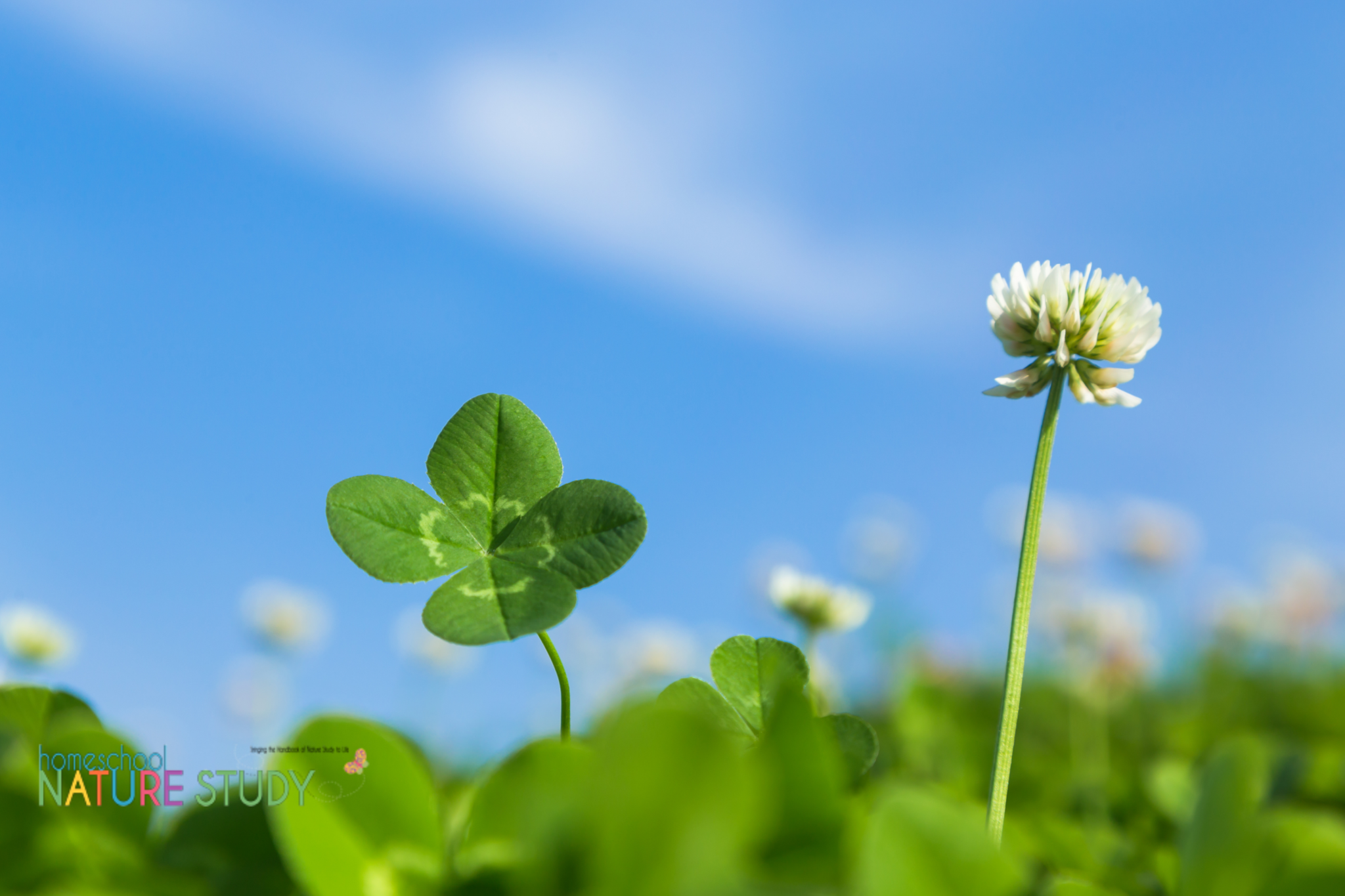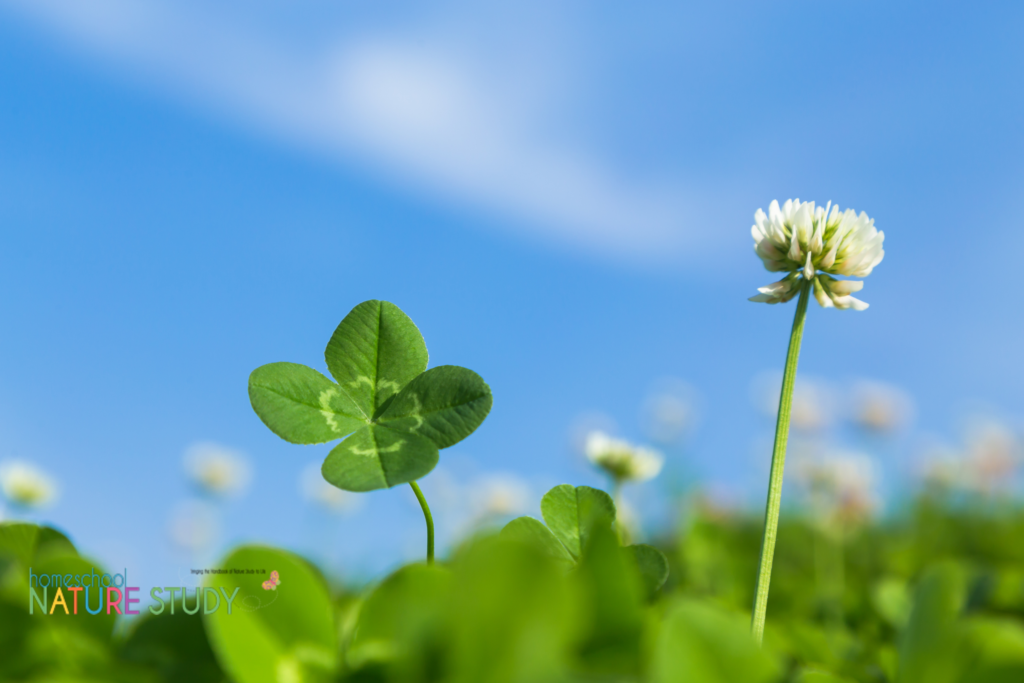 Clover or Shamrock Follow-Up Activity

5. After your outdoor time, make sure to discuss with your children what interested them from shamrock homeschool nature study this week. They may be more interested in learning about something they observed and our job as parents is to help them answer their questions. Use the Handbook of Nature Study by looking up the topic in the index or the table of contents. You can also look on the Handbook of Nature Study blog and see if we have covered the topic in a previous Outdoor Hour Challenge.
In the Handbook of Nature Study, on page 593, there is a section on nodules. The nodules will be found as little "swellings" on the roots of clover. These nodules have an important job which is explained in the Handbook of Nature Study on the same page. Make sure to read this section to yourself so when you have your follow-up activity you will be prepared to talk about nodules.
5. On page 594 in the lesson, #3 suggests that you take up the clover plant and look at its roots. This would make a great addition to your nature journal. Sketch the whole clover plant and then perhaps one of the flowers.
6. On page 598 in the lesson, #5 suggests that you tie a string around a clover head that has not yet blossomed. This way you can observe the same flower over a period of several days. You could record each day's observations in your nature journal either in words or as a sketch.
More Clover or Shamrock Homeschool Nature Study Ideas
Here are some optional activities for you to enjoy in your homeschool.
Find some clover honey at your grocery store and enjoy it on bread or in some herbal tea.
Grow clover as a cover crop in your garden. Here is a link for you to read and learn how to use your new knowledge of clover to an advantage. How to Grow Crimson Clover as a Cover Crop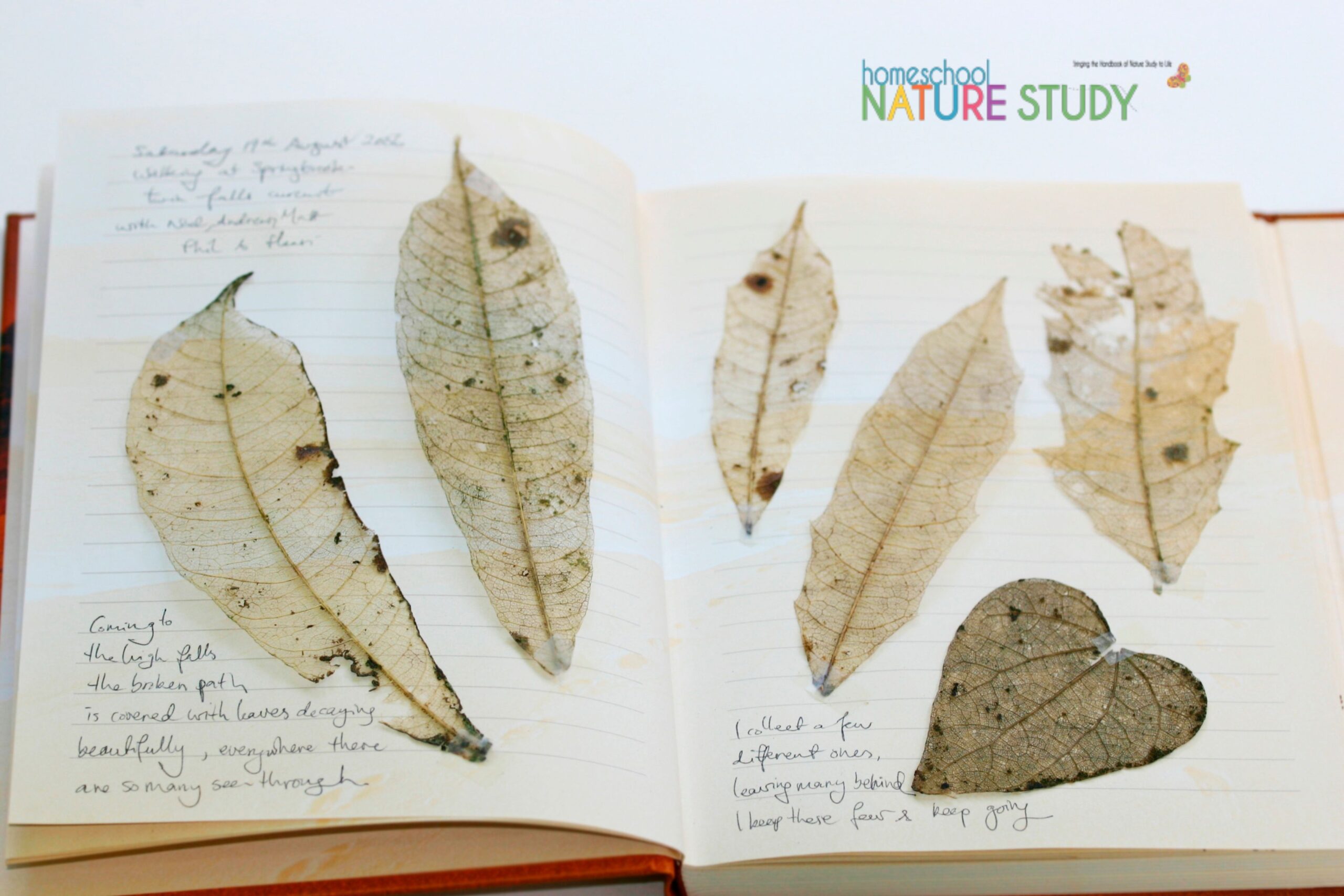 Taking the time to draw leaves helps you observe the details. For young children, a wonderful starting place for a homeschool leaf nature study is to make leaf rubbings.
When my children were young, autumn walks always included collecting colorful leaves. We might get home with handfuls of leaves in a rainbow of autumn shades. We would talk about the shapes and what tree each leaf came from or which ones were our favorites. Once home, we'd pull out crayons or markers and attempt to draw a few of the leaves on paper to be hung on the refrigerator or given as gifts to grandparents. Nature study was casual and enjoyable.
As they grew older and we would be out during our homeschool day, I would sometimes follow up with a more detailed nature study lesson using the Handbook of Nature Study or our tree field guide. The amount of information we would cover really depended on the children's interest and my aim. By high school we were more deliberate in our autumn leaf studies using more scientific vocabulary and I expected them to create a more detailed nature journal as part of our more formal science lessons.
Learning about trees, leaves, autumn, and the neighborhood can build over many years and still seem to be just a part of learning about the world we live in and the trees that share the same space.
I love this quote from Anna Botsford Comstock:
"During autumn the attention of the children should be attracted to the leaves by their gorgeous colors. It is well to use this interest to cultivate their knowledge of the forms of leaves of trees; but the teaching of the tree species to the young child should be done quite incidentally and guardedly. If the teacher says to the child bringing a leaf, 'This is a white-oak leaf,' the child will soon quite unconsciously learn that leaf by name. Thus, tree study may be begun in the kindergarten or the primary grades." Anna Botsford-Comstock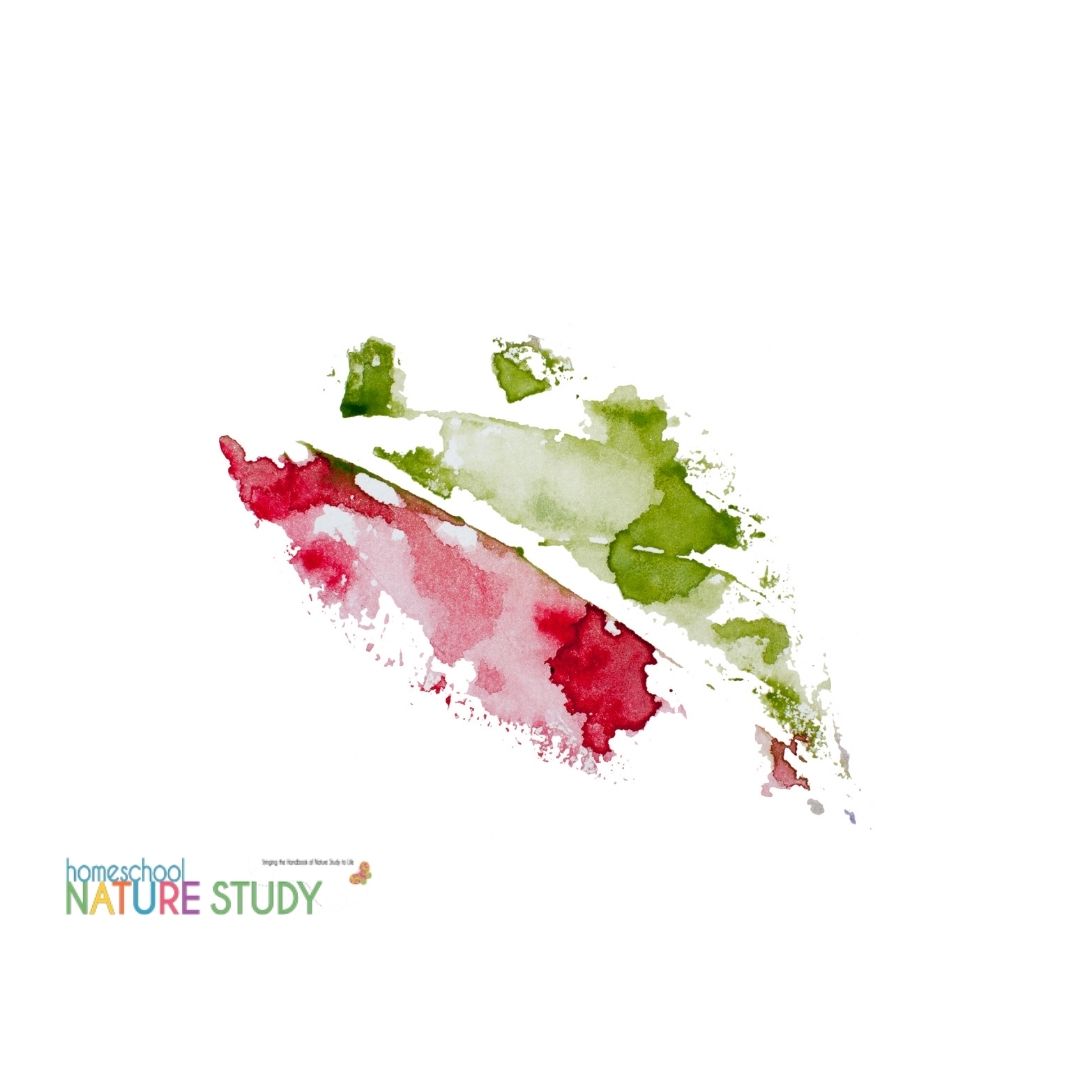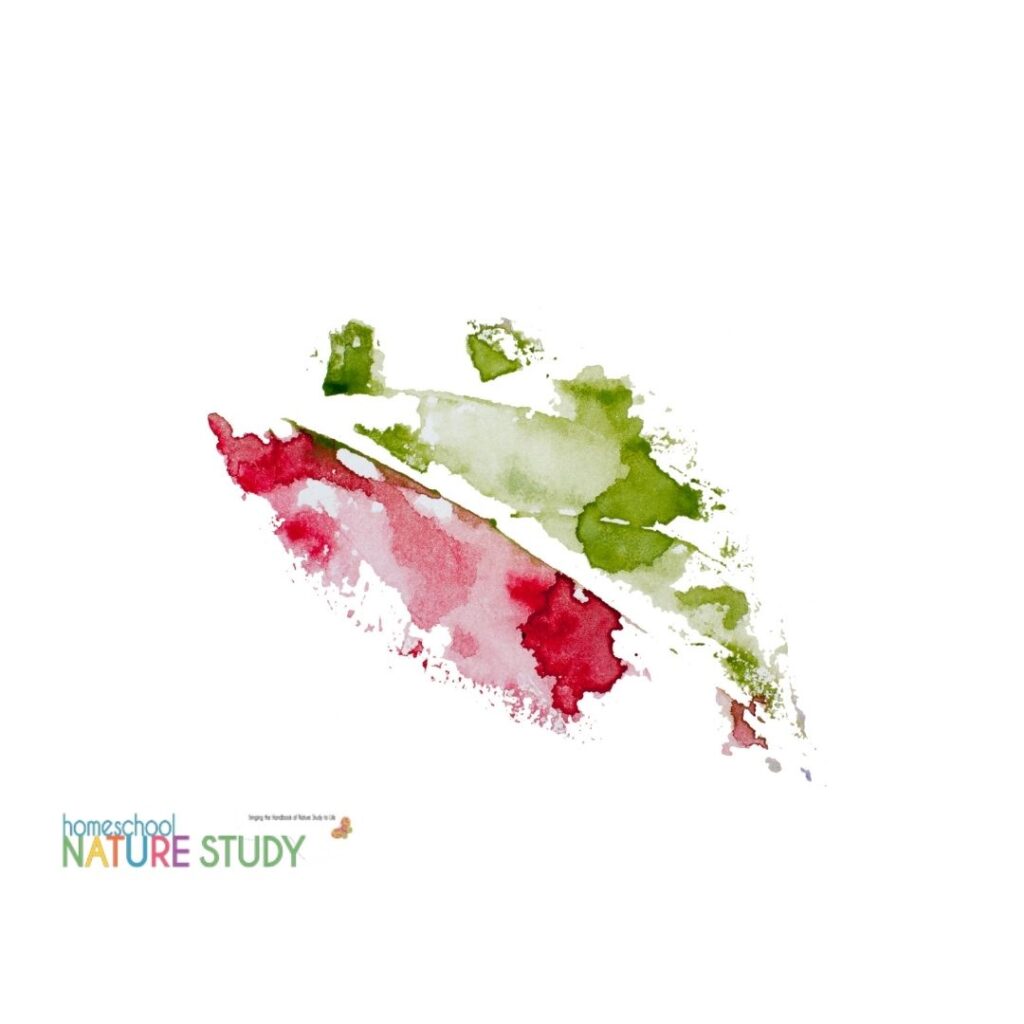 Leaf Homeschool Nature Study: How to Make Leaf Rubbings
I have many resources here on my website that will help your family learn about leaves, some for younger students and some for older and more advanced students. I've found that taking time to draw leaves makes you observe them closely and see the specific features each tree's leaves involve.
I highly recommend starting with simple sketching and/or rubbing of leaves with younger children.
You can watch my short YouTube video that shares some of my tips for drawing leaves, how to make leaf rubbings, and using a flower press for pressing leaves here: Tips for Drawing Leaves.
You may wish to complete the Outdoor Hour Challenge that features collecting leaves. Click over and read how to complete a simple leaf study: Collecting Leaves.
Watercolor crayons demonstration – Fall Leaf for the Nature Journal. I created this YouTube video a long time ago that shows how I use watercolor crayons in my nature journal. It makes me want to go gather some leaves and do this again in my nature journal!
Making Leaf Prints with Ink: This activity is wonderful for older students to quickly create a leaf nature journal page using ink pads and leaves they collect.
Image of the cover 9/15 NL
Now that autumn is here, I'm trying to embrace its beauty. We don't have much "fall color" here in my part of the world but the little bit we do have will be appreciated and perhaps even make its way into my nature journal.
Members can look in the library for many more printable tree and leaf activities and notebook pages in the Trees course.
Join The Homeschool Nature Study Membership for Year Round Support
You will find hundreds of homeschool nature studies plus all the Outdoor Hour Challenges in our Homeschool Nature Study membership. There are 25+ continuing courses with matching Outdoor Hour curriculum that will bring the Handbook of Nature Study to life in your homeschool! In addition, there is an interactive monthly calendar with daily nature study prompt – all at your fingertips!