October can often be the most mild and inviting time to be outdoors! The mornings are cool, the sunshine abundant, and the afternoons offer the perfect invitation to take a walk crunching the leaves under the foot. I hope your month is full of sunshine and outdoor walks too with these engaging October nature studies.
October Nature Study Activities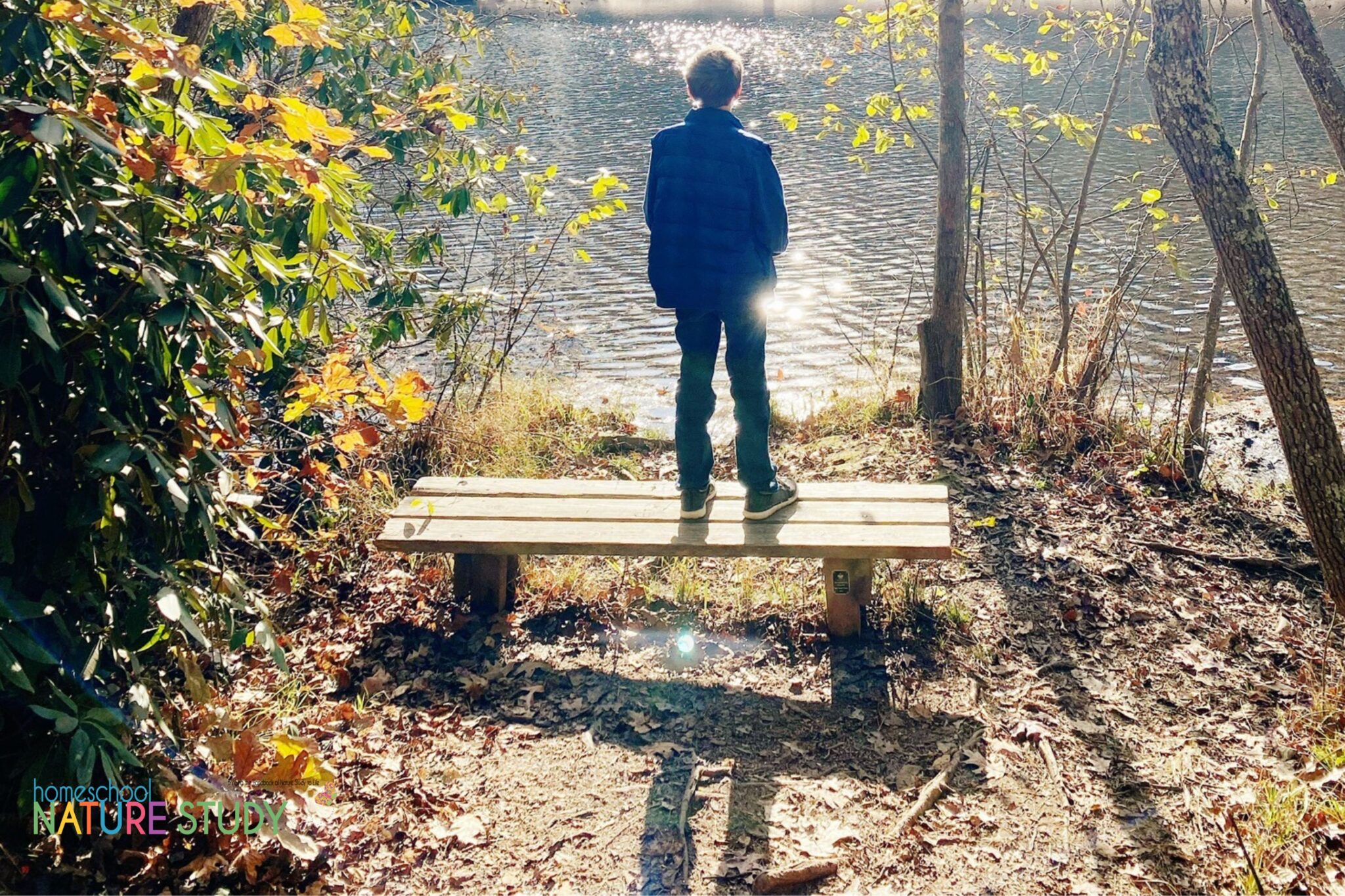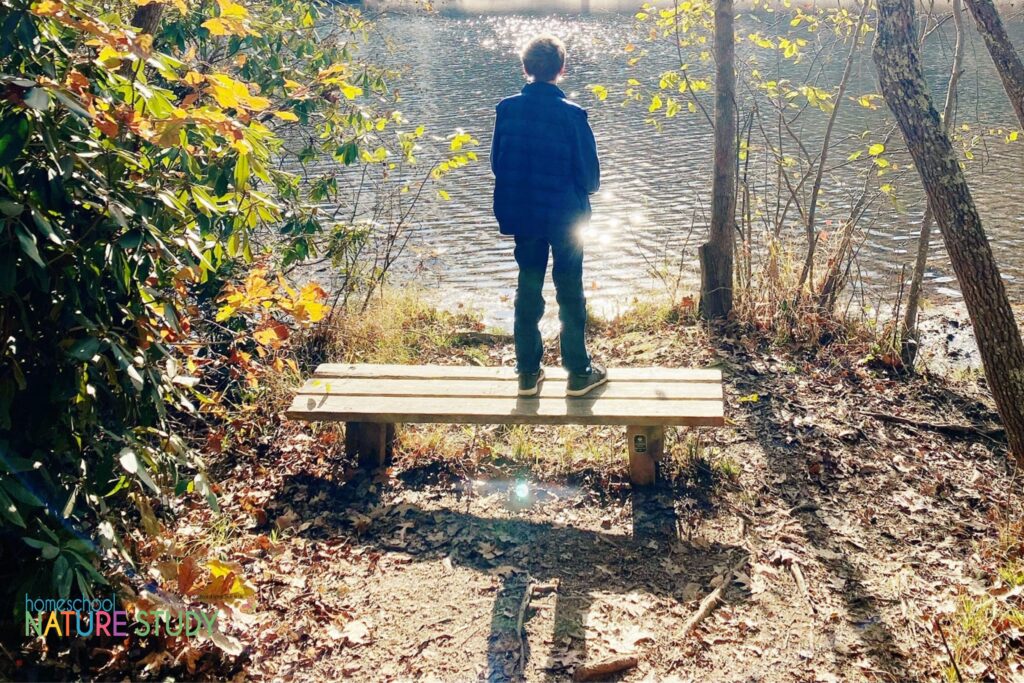 Outdoor Nature Study Plans with the Outdoor Hour Challenges
Autumn Favorites Outdoor Hour Challenge Curriculum
Autumn Curriculum
Fall leaf study grid
Signs of autumn study
Under the fallen leaves autumn fun
Fall color walk with printable color cards
Swallows and swifts and learning about bird migration
Goose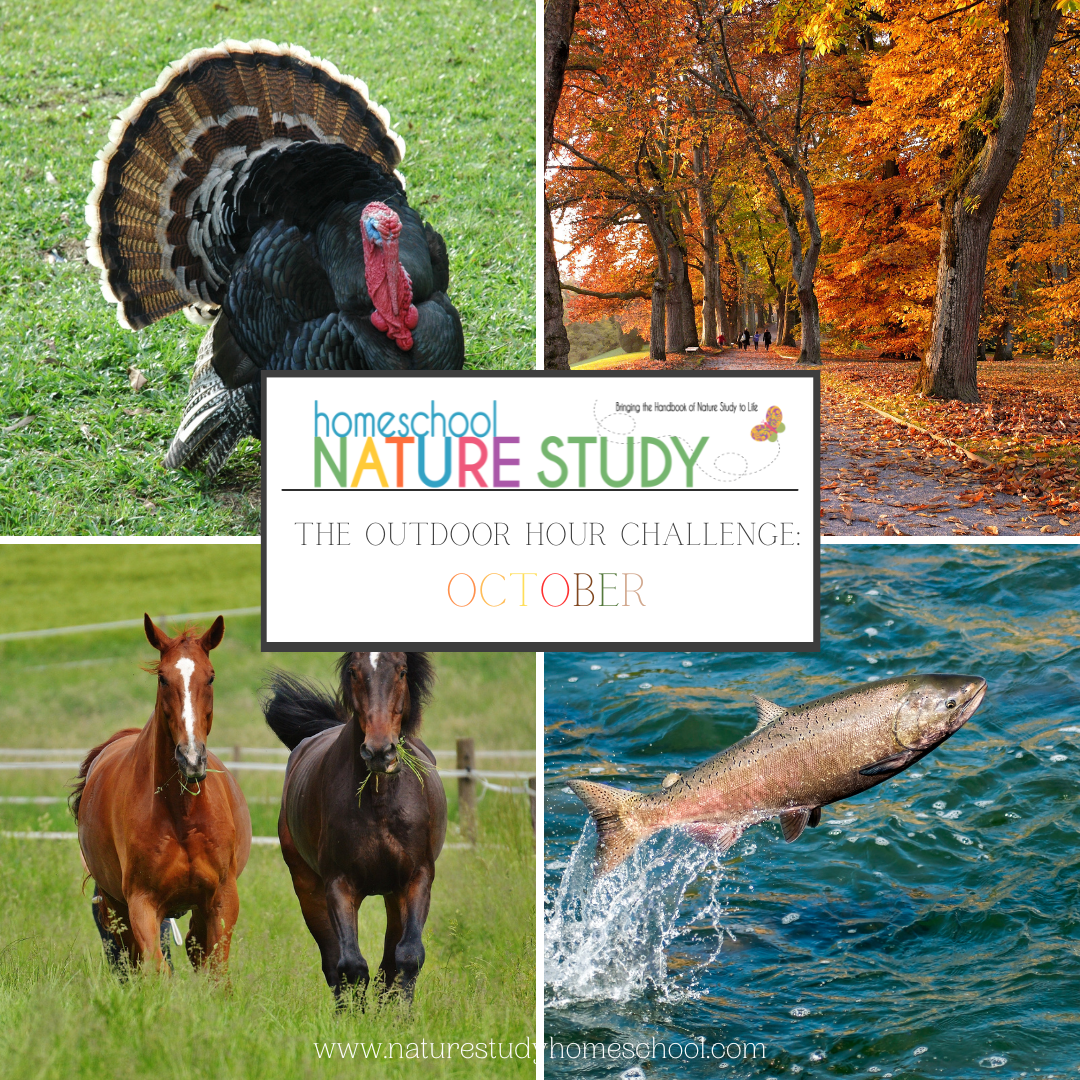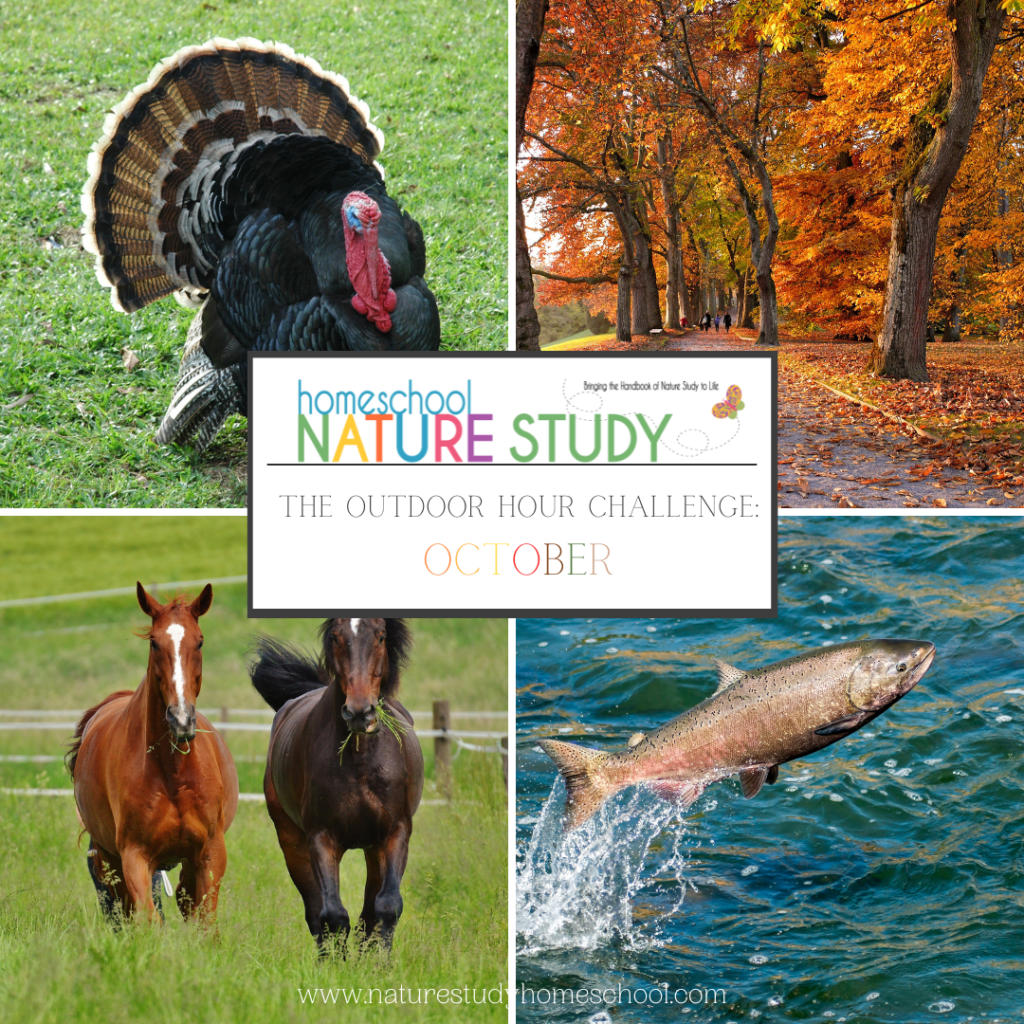 Turkeys
Horses
Salmon and trout
Seasonal tree study
Apples and how they grow
How to start a field notebook
Autumn weather and changes in your own backyard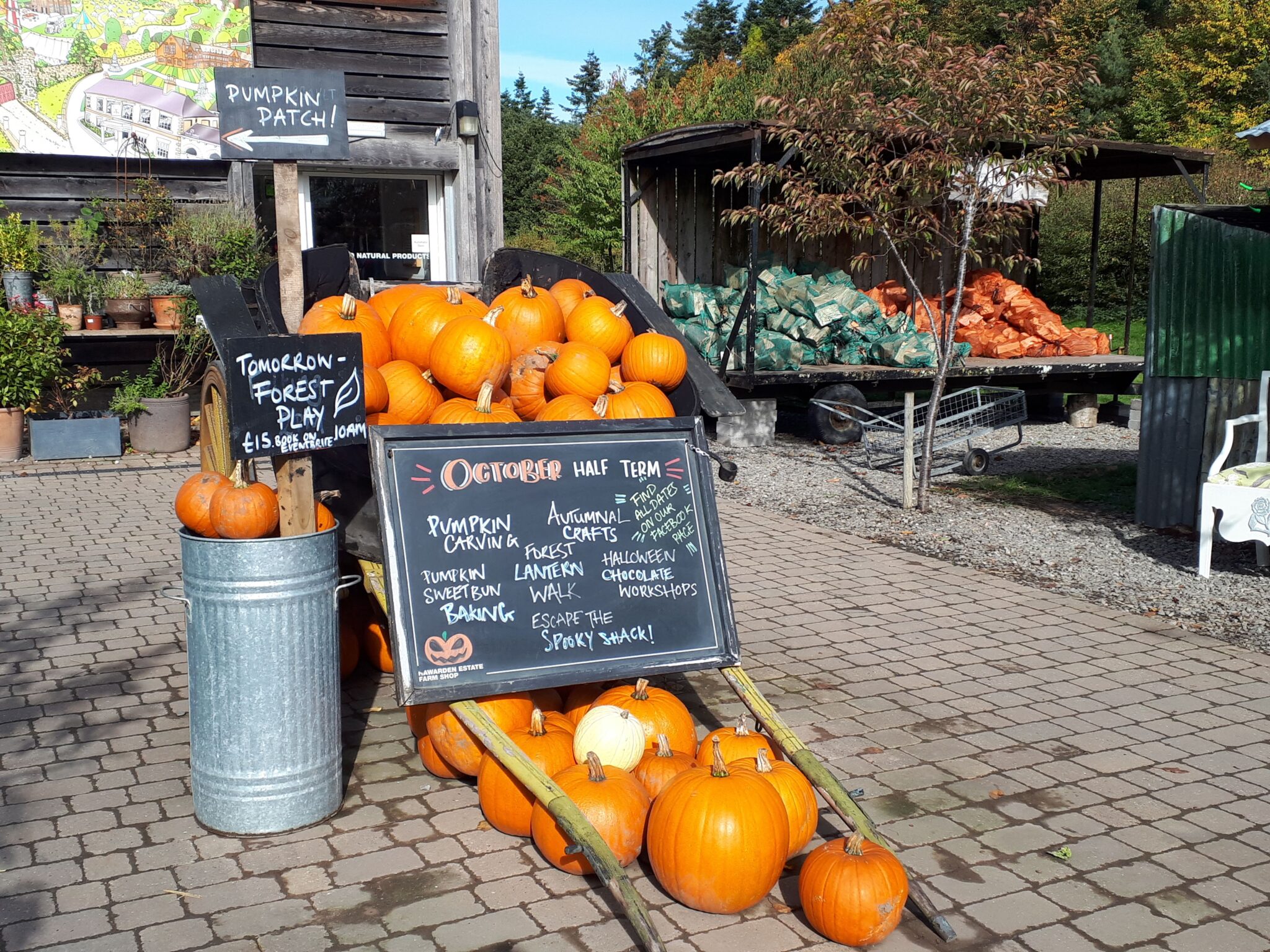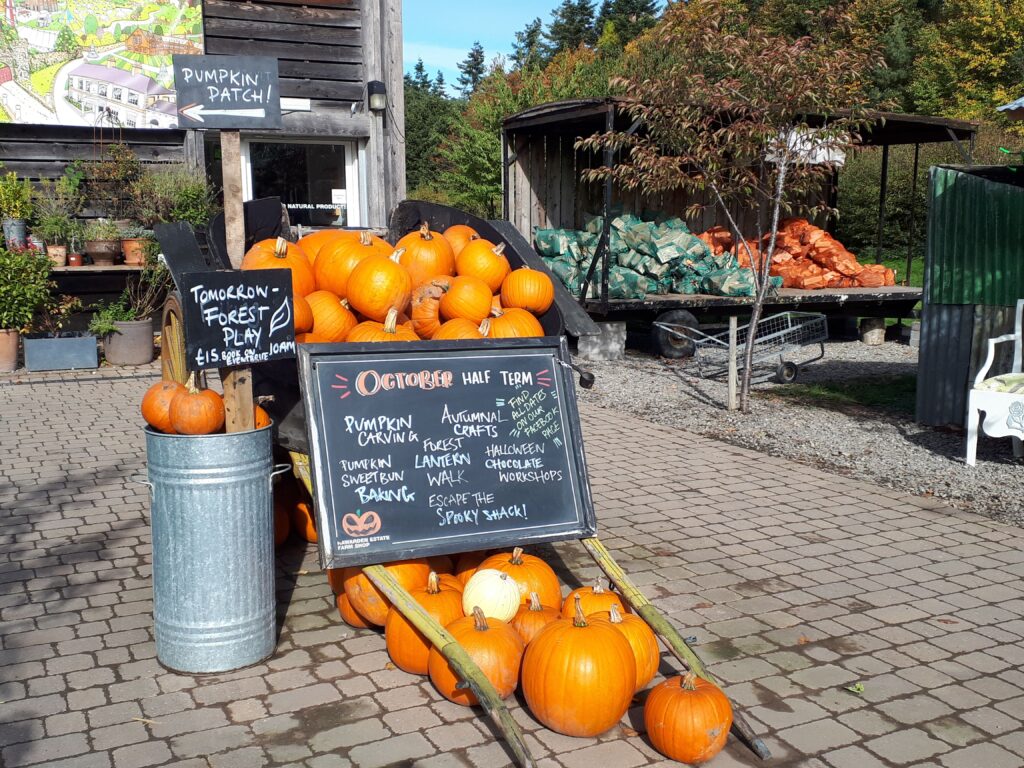 The October Outdoor Mom
Anne reveled in the world of color about her. What is this? "Oh Marilla", she exclaimed one Saturday morning, coming dancing in with her arms full of gorgeous boughs, "I'm so glad I live in a world where there are Octobers. It would be terrible if we just skipped from September to November, wouldn't it"?

Anne of Green Gables
Your Outdoor Hour Challenge hostess, Shirley Vels, shares lovely prompts just for mom in The Outdoor Mom course for annual members: I'm sure most of us resonate with Anne and her love for October. There is no doubt in my mind that October is my favourite time of the year!
The smell of woodsmoke in the air, the gentle mists that gather each morning as the sun pops its face over the horizon, the chill that makes soft clouds form as you speak, the splendour of the autumnal trees and the golden light that seems unique to this time of the year filtering through the golden tree tops and painting beautiful dappled shadows on the ground is all simply quite heavenly!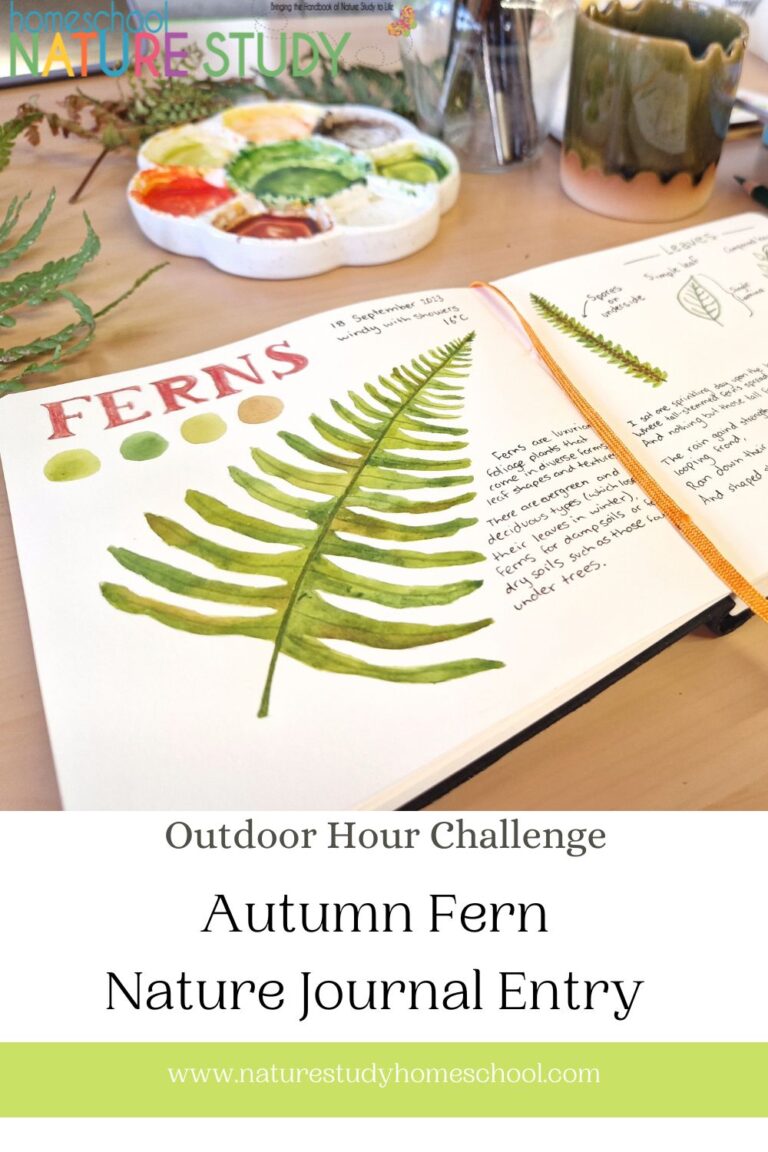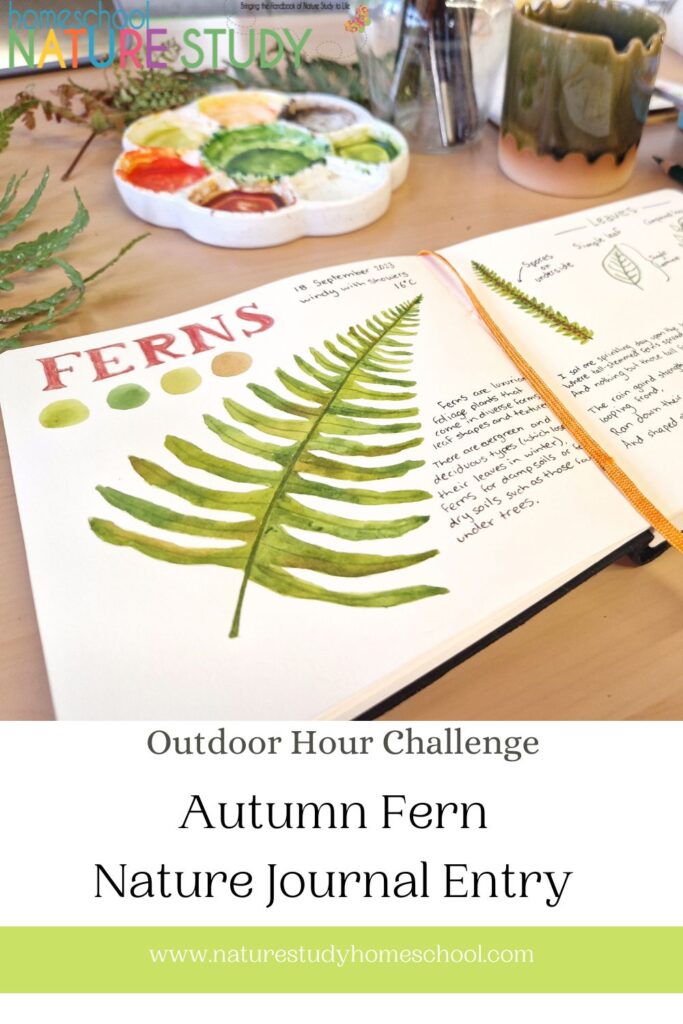 Nature Journaling Video on Ferns: Nature Crafts
Your nature illustrator, Victoria Vels, shares a beautiful fern nature journal entry. Follow along as she shares her process in a step-by-step video in the Nature Crafts course for annual Homeschool Nature Study members. Autumn is here with all its vibrant colour changes, so it's time to document the beauty with this fern themed autumn nature journal entry. Follow along with me as I create this autumnal spread, experimenting with colours and painting techniques. Gather up your specimens, literature and facts and lets get started!
Nature Study Outdoor Hour Challenges for Pumpkins and Apples
All the apples and pumpkins for nature study fun! When the air turns cooler and the leaves start to change color, it is always fun to learn more about apples and pumpkins! Enjoy this ultimate guide of fun apple and pumpkin nature study ideas for your homeschool.
New for Homeschool Nature Study members: apple printables, apple observations, apple taste test plus visiting a pumpkin farm and more!
Fall Leaf Study
There are leaf nature studies to fill an entire week! Go on a fall leaf tour!
Fall Color for Preschoolers
A really great thing about fall is that it is a great time to get outdoors with the kids and explore nature. With that being said, here are some great fall nature study ideas for toddlers and preschoolers that I hope you (and your little ones) will enjoy.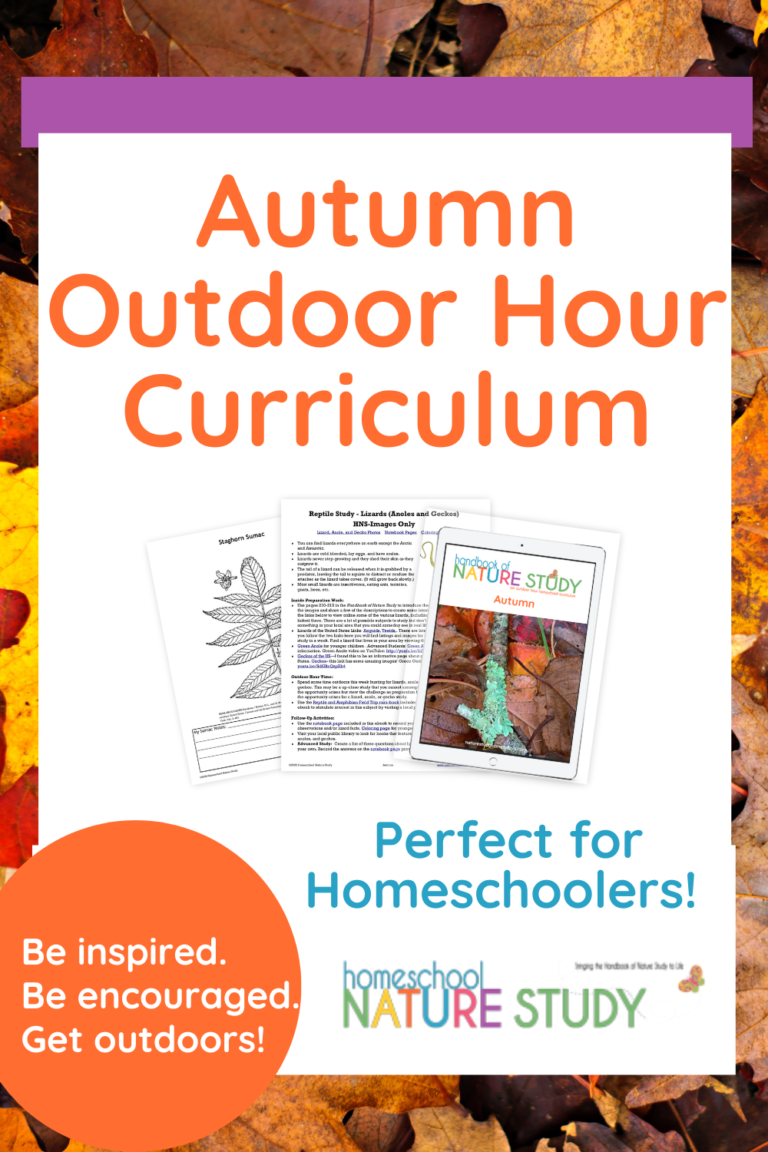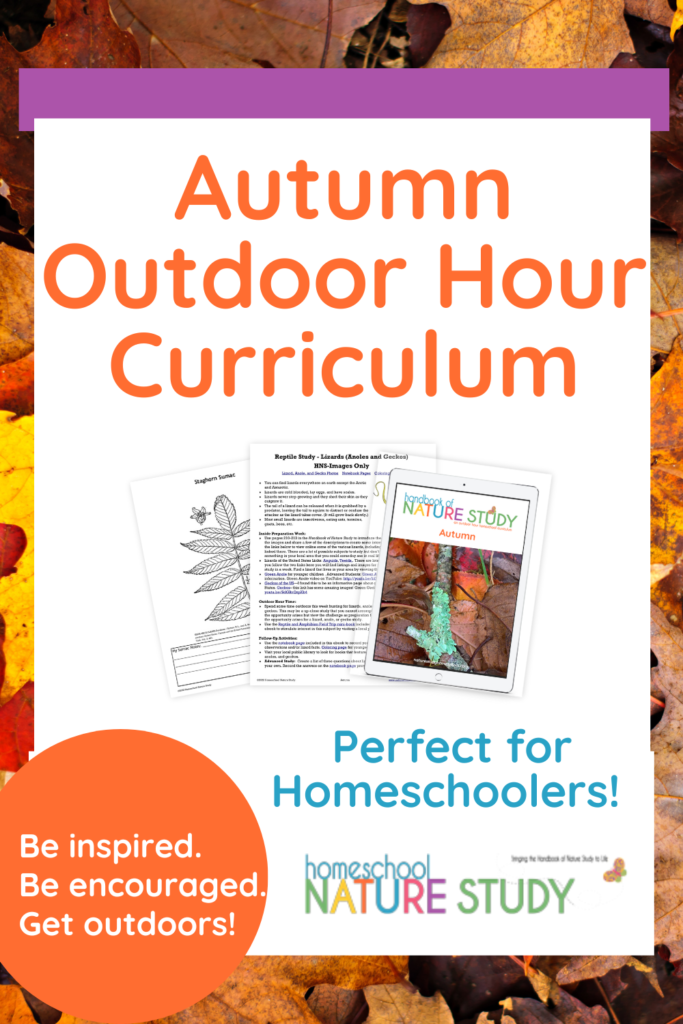 More Fall Nature Study for Your Homeschool
Homeschool Nature Study Activities for Every Month of the Year!
Check out all we have for our members for each month: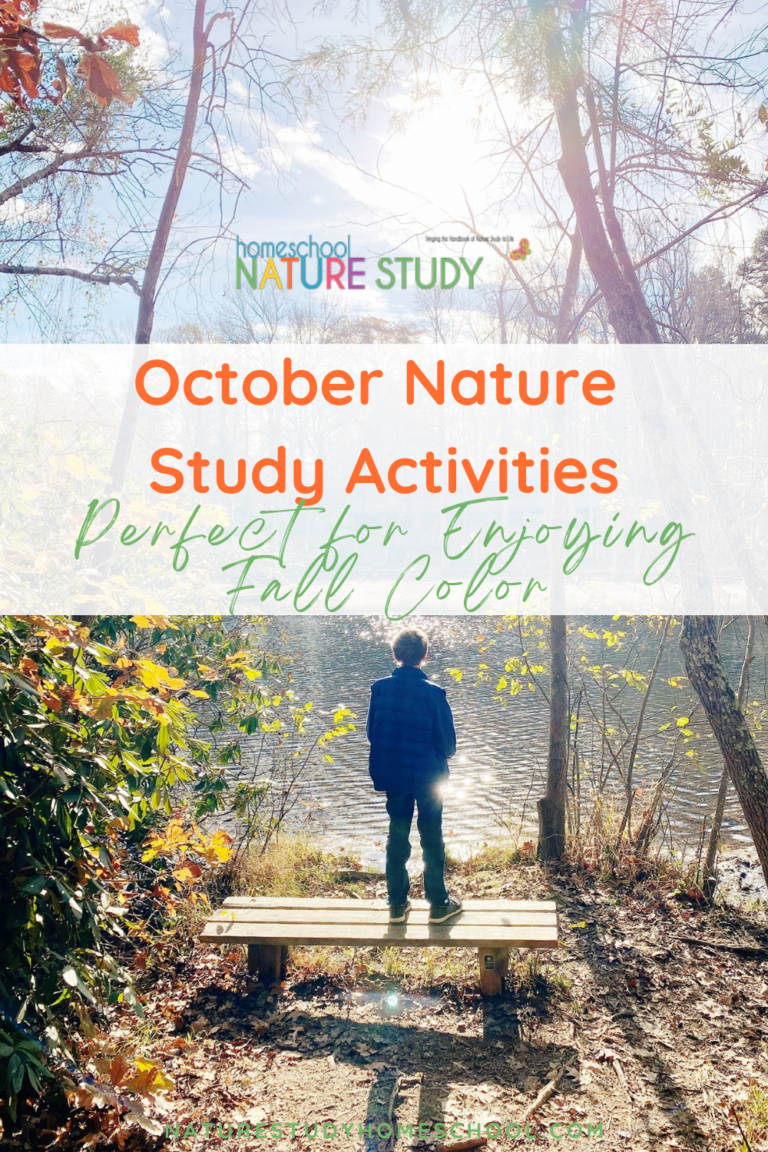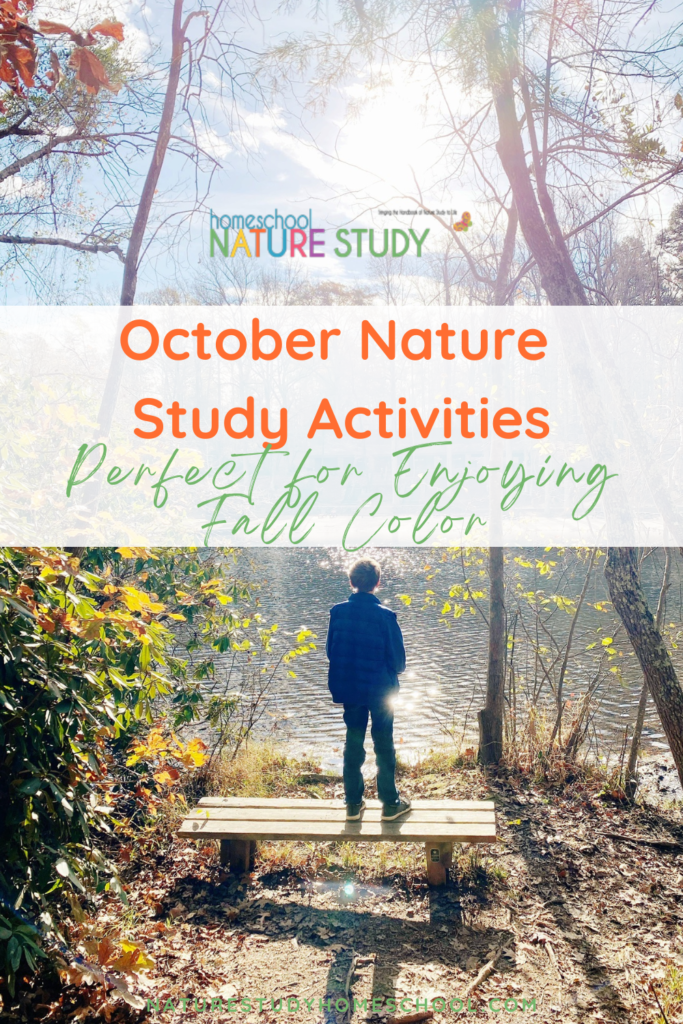 The Outdoor Hour Challenges Bring The Handbook of Nature Study to Life in Your Homeschool!
For even more homeschool nature study ideas for all seasons, join us in Homeschool Nature Study membership! You'll receive new ideas each and every week that require little or no prep – all bringing the Handbook of Nature Study to life in your homeschool!
Be inspired. Be encouraged. Get outdoors!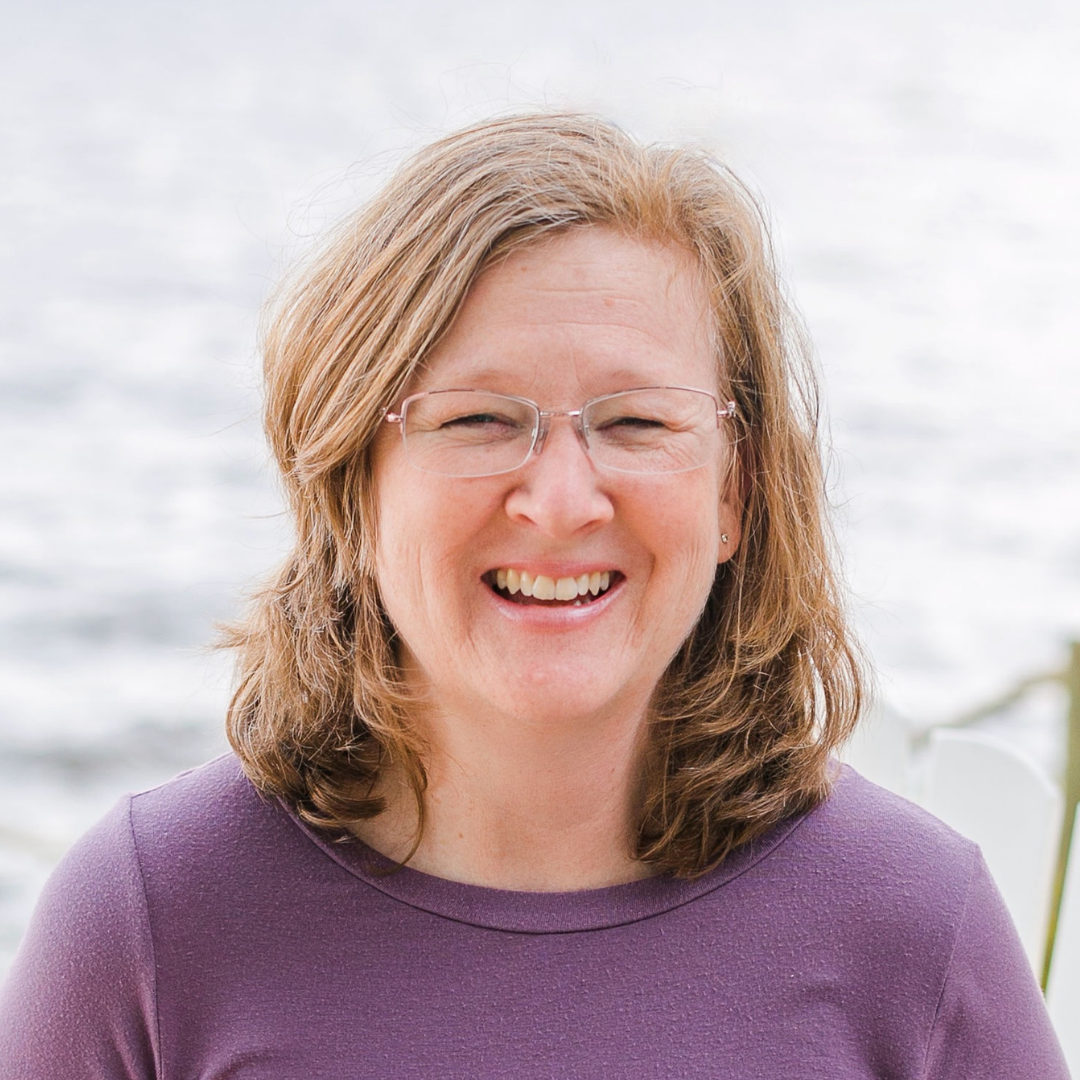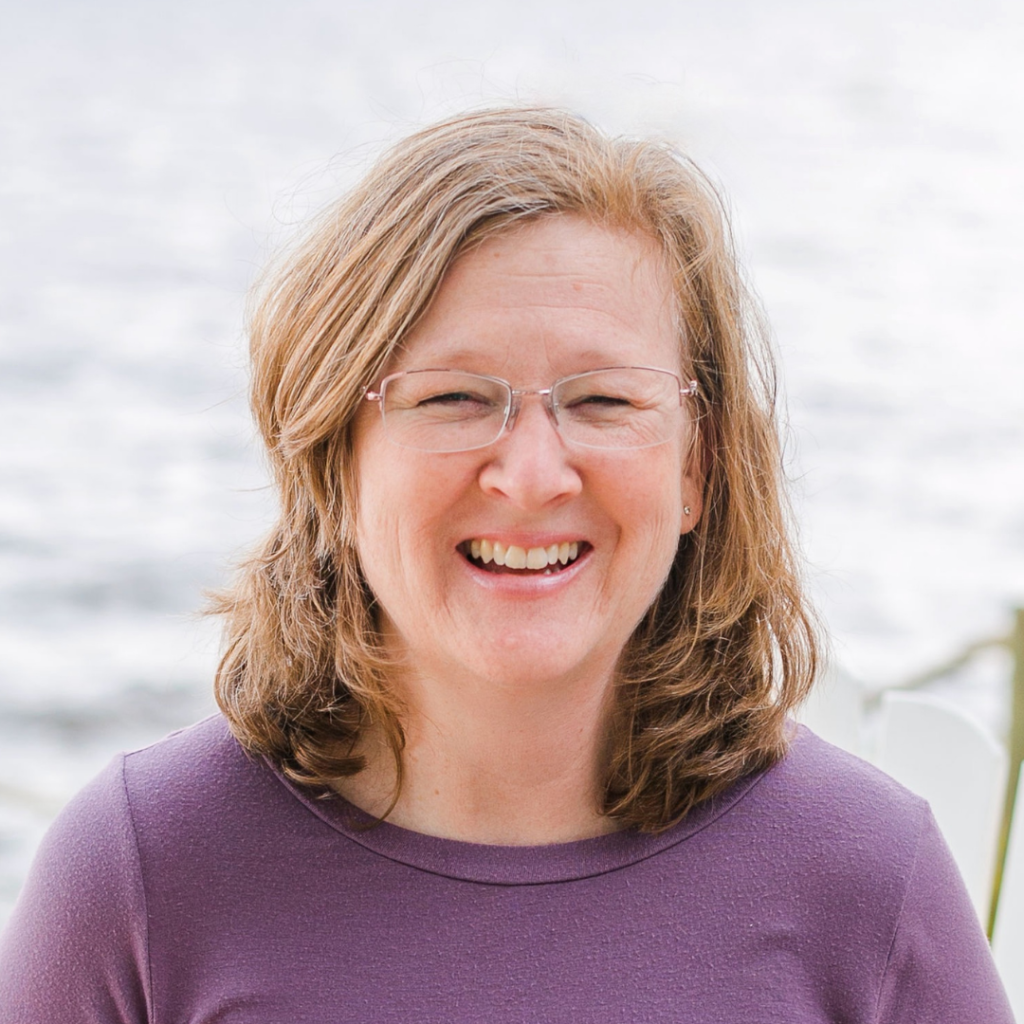 Tricia and her family fell in love with the Handbook of Nature Study and the accompanying Outdoor Hour Challenges early in their homeschooling. The simplicity and ease of the weekly outdoor hour challenges brought joy to their homeschool and opened their eyes to the world right out their own back door! She shares the art and heart of homeschooling at You ARE an ARTiST and Your Best Homeschool plus her favorite curricula at The Curriculum Choice.