Outdoor Mom – July 2018
And an Update of My Nature Study Goals 2018 for the Second Quarter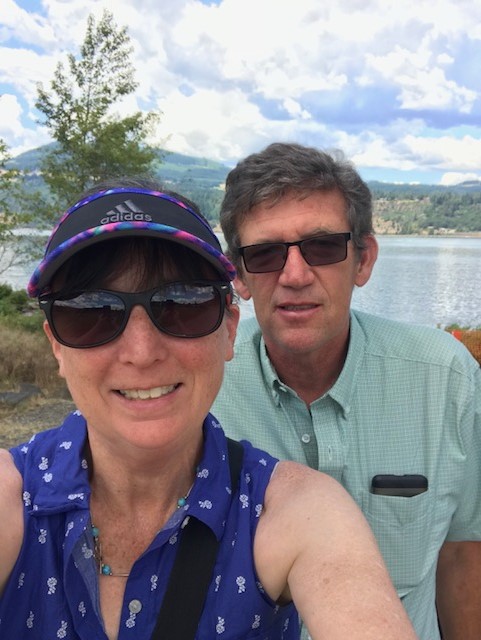 We're finally doing a summertime dance as the temperatures climb and the skies are clear. It's been a struggle for me personally because my husband and I made a commitment to each other to get the yard done during June and July. Making it a priority has meant we have to pass on some recreational opportunities.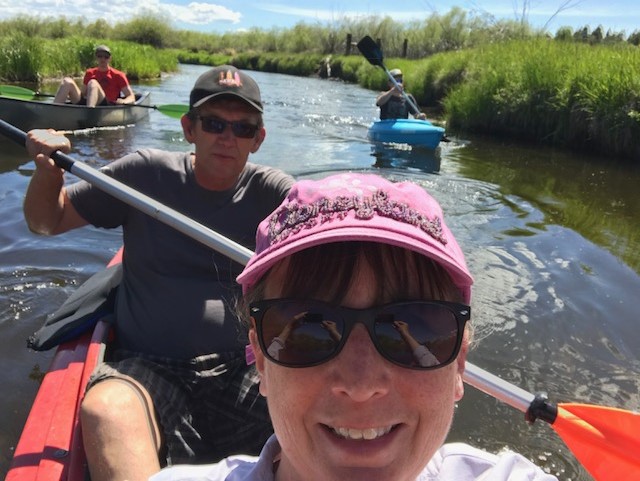 We still try to fit in our daily river walks and a few short kayak excursions when we can.
Plus, we did take a week and go camping on the northern coast of Oregon. The beaches there are either rugged or sand dunes. The weather was pretty good and we found a couple of places to kayak, including Lake Coffinbury, where we saw bald eagles!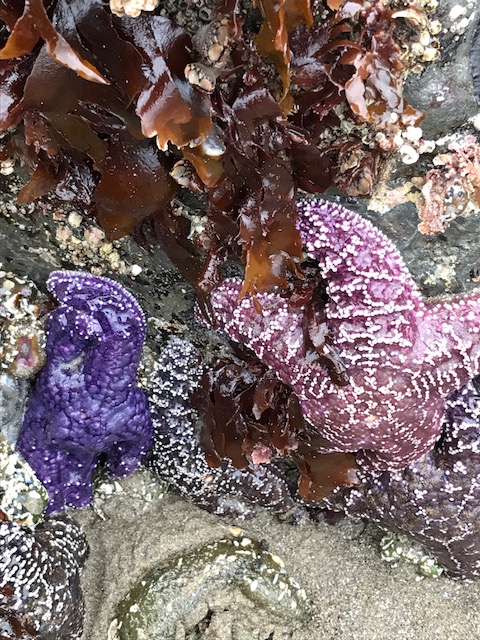 We took advantage of the negative tide and did some tide pooling. I spotted a purple sea star, the most colorful one I've ever seen. There were loads of anemones and barnacles.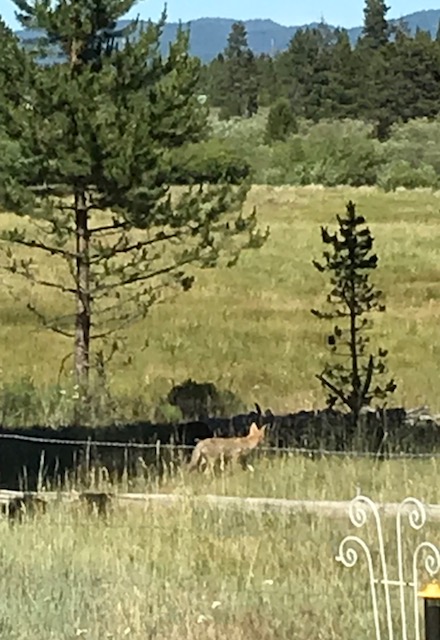 We've had an abundance of wildlife right in our backyard. My son saw this coyote pup strolling through the back fence and I was able to capture an image or too.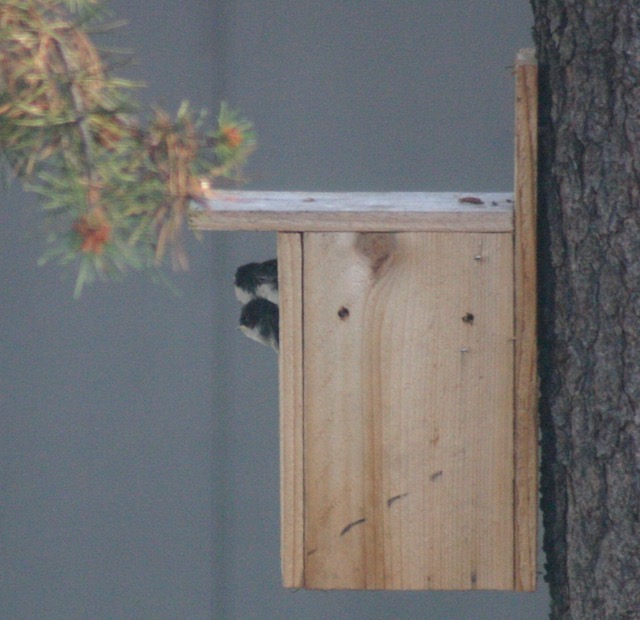 We have 5 birds nesting in our yard- 2 tree swallows, a chickadee, a Pygmy nuthatch, and a mountain bluebird! What a fantastic thing for this bird loving girl! My husband built the nesting boxes last year, a little too late in the season so we weren't sure what to expect this year. Happy surprises!
The nuthatch nest is in this crack in the pine tree, believe it or not. Amazing!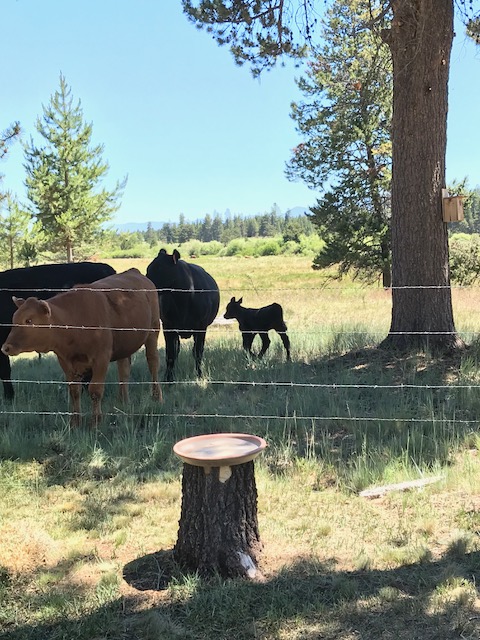 The cattle are back in the pasture behind our house and we've so enjoyed seeing all the newborn calves. They sure are curious little things!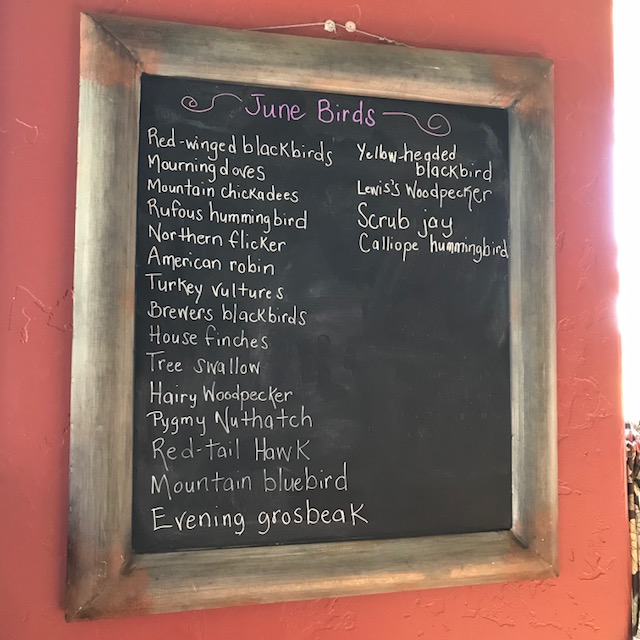 Here is my June list of birds seen from our back window. I love keeping track and now my friends come over and check the board every time they visit to see what new birds have been added.
Life is good here in my little part of the world.
Now here's an update on my nature study goals as a way of keeping me accountable.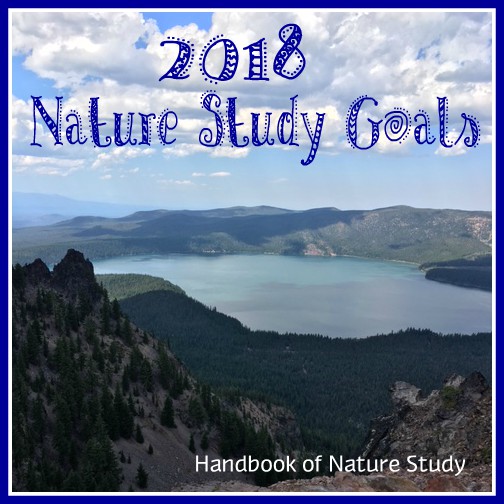 Nature Study Goals 2018 – 2nd Quarter Update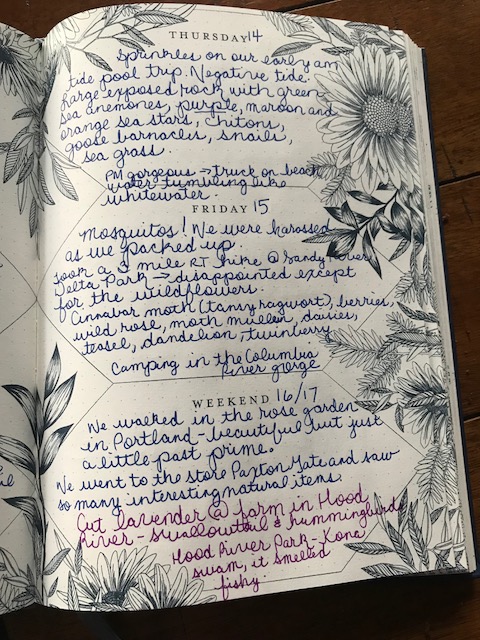 1. Nature Observer journal – I've continued to journal my observations almost every day. I find if I don't take a minute to note what happened during the day that I forget the little things; the things that when I look back mean the most.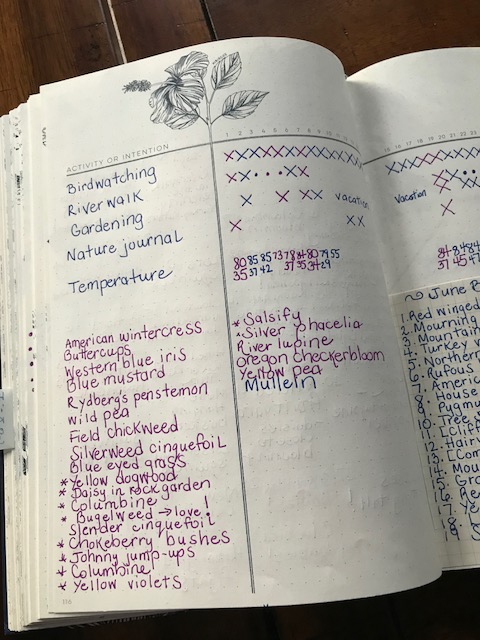 There are very few prompts I haven't filled in from the many nature-related page ideas. I adapt the ones that really don't fit my style. I'm trying not to make excuses and just do my best to keep the journal full of thoughts and observations that show the picture of what it's like living here in Central Oregon.
I'm still highly recommending this journal!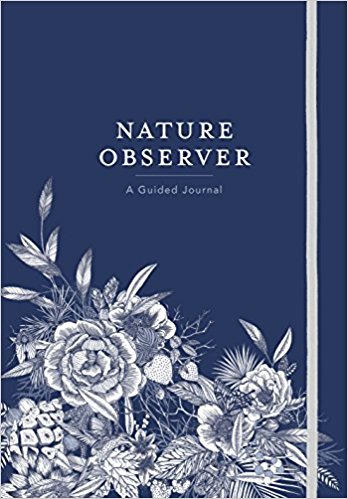 Edit to add an affiliate link: Nature Observer.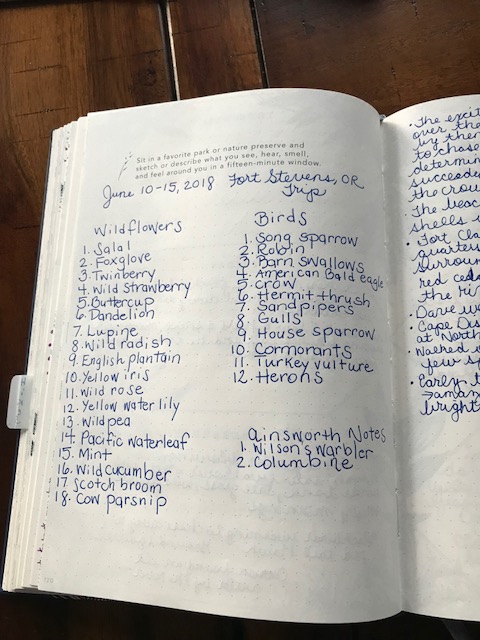 2. Keep a record of the wildflowers that grow in my local habitat. I narrowed this goal to include my yard and the grassland between my house and the river. I keep my list in my Nature Observer journal.
3. Visit the High Desert Museum each month. I have failed at this! They have a new exhibit featuring rocks and the history of rock climbing that I really want to see, so I've now put it on the plan. Plus, I want to go see the raptors again.
4. Visit Sunriver Nature Center and see the garden. We ended up going to the Sunriver Observatory instead with some friends. It was awe inspiring as always, to look up at the stars and the planets Venus and Jupiter.
5. Take 3 new hikes. Twin Lake hike, Smith Rock – not new.
6. Get the kayaks out in a new local spot. My oldest son bought a canoe and my middle son bought a kayak so we're all able to get on the water and explore the local area. So far, we've kept to our familiar stretches of river but we have plans next week to go exploring.
Additional Goal Related Items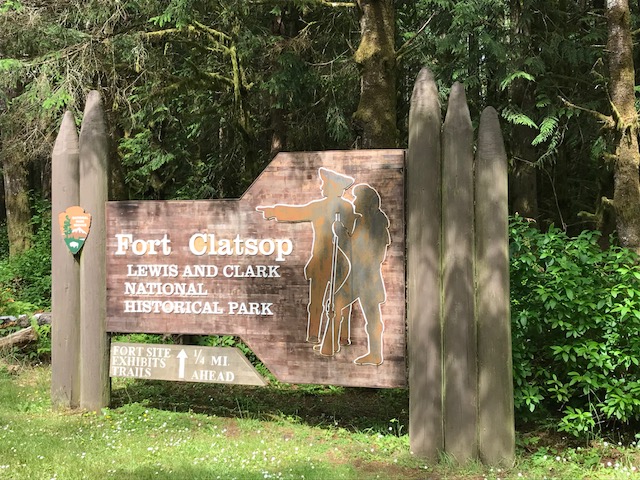 We purchased our National Parks pass and visited Lewis & Clark National Park, which is really a group of places centered around Astoria, Oregon. Visiting these places and then kayaking on the Lewis & Clark River were a highlight of our camping trip last month.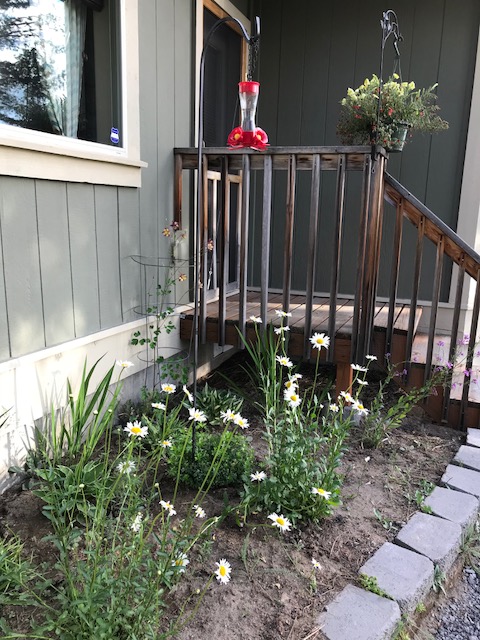 Our backyard landscape is coming together. We've discovered that we can transplant many grasses and wildflowers and even an aspen tree to fill in our garden spaces. It's a very big learning process and we need to keep reminding ourselves that it will take many years to accomplish what we want to in this space.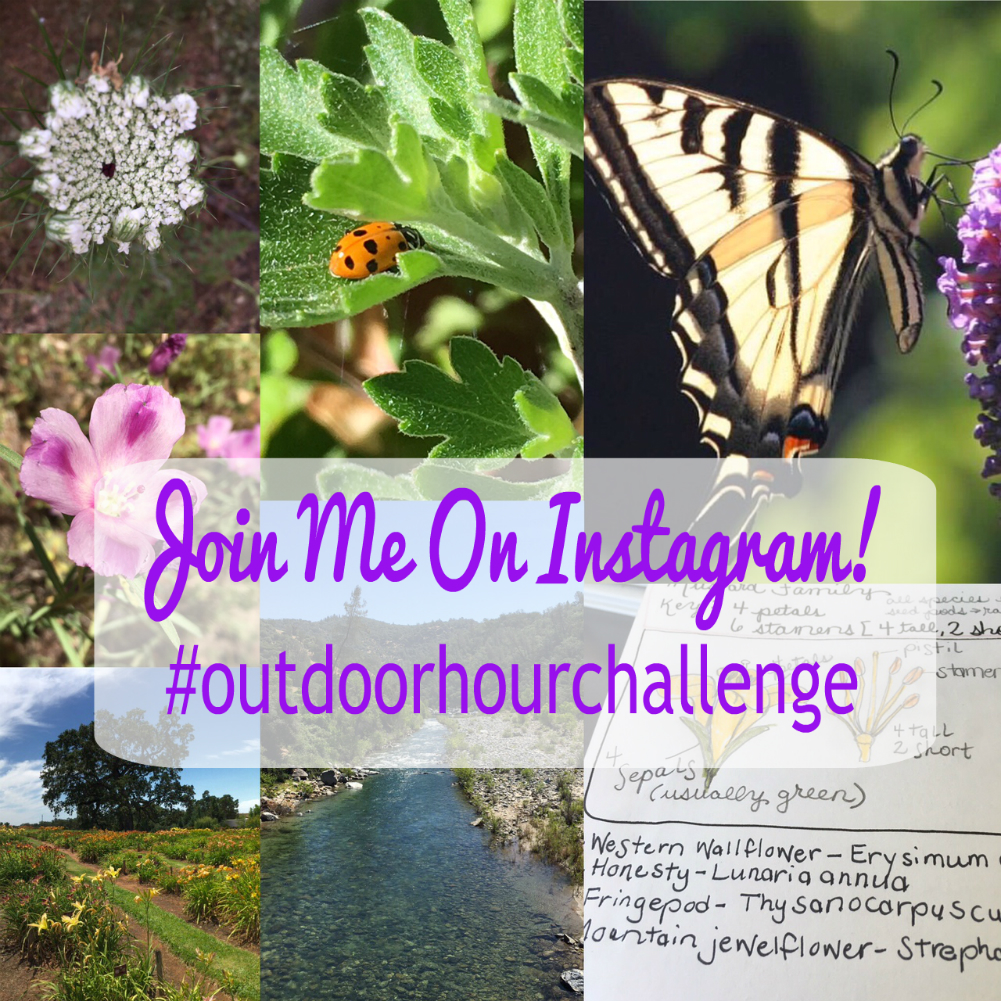 Follow me here: Instagram – outdoorhourchallenge. If you would like me to take a look at one of your images on Instagram, use the hashtag #outdoorhourchallenge.
Want to join in the Outdoor Mom post?
Answer all or just one of the prompts in a blog entry on your own blog or right here on my blog in a comment. If you answer on your blog, make sure to leave me a link in a comment so that I can pop over and read your responses.
During our outdoor time this month we went…
The most inspiring thing we experienced was…
Our outdoor time made us ask (or wonder about)…
In the garden, we are planning/planting/harvesting…
I added nature journal pages about…
I am reading…
I am dreaming about…
One last image…