Note: I found this entry in my drafts! I have been so busy over the past six weeks as we sold our house in California, purchased a house in Oregon, moved all our belongings, and tried to keep from getting to stressed out. It isn't surprising then that a few things slipped through the cracks.

Here is my April nature journal entry for your enjoyment.
Weekly Nature Journal Project
April 2017
This month my nature journal is full of flowers. My world has been filled with flowers so it only makes sense that this is what made its way into my heart and then onto my journal pages. The first part of the month we were in Oregon, then back to California, then back to Oregon again. This pattern will be happening for the next few months while we transition our life to our new home.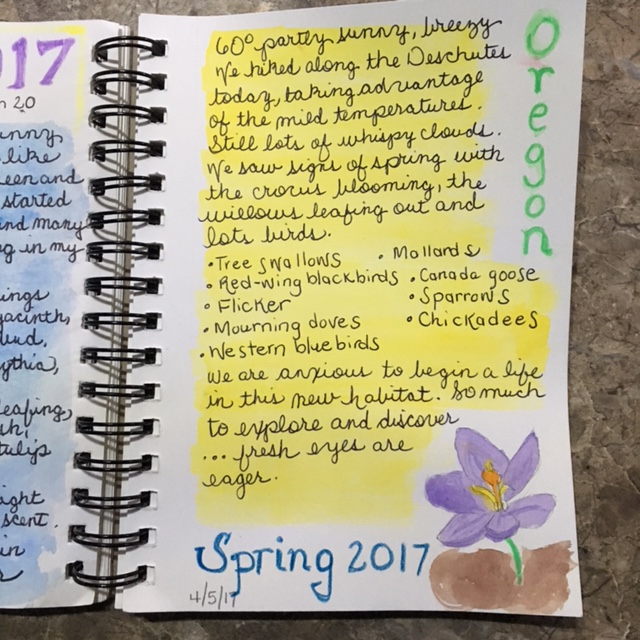 Central Oregon is just starting to move from winter into spring, so it was fun to create a second spring page noting my observations in contrast to my previous California spring page.  I featured the crocus we saw and used a bright springy background of yellow for my journaling.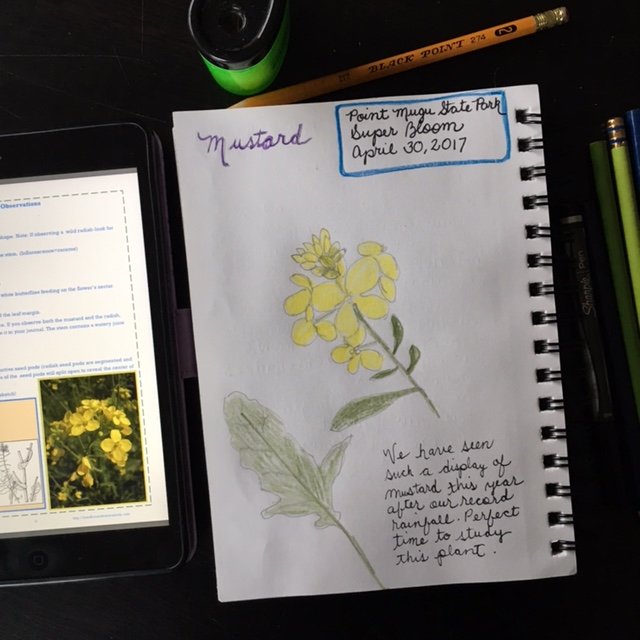 The first wildflower we studied from the new Wildflower Set #1 is the subject of the next page in my journal. We saw mustard all up and down the state of California.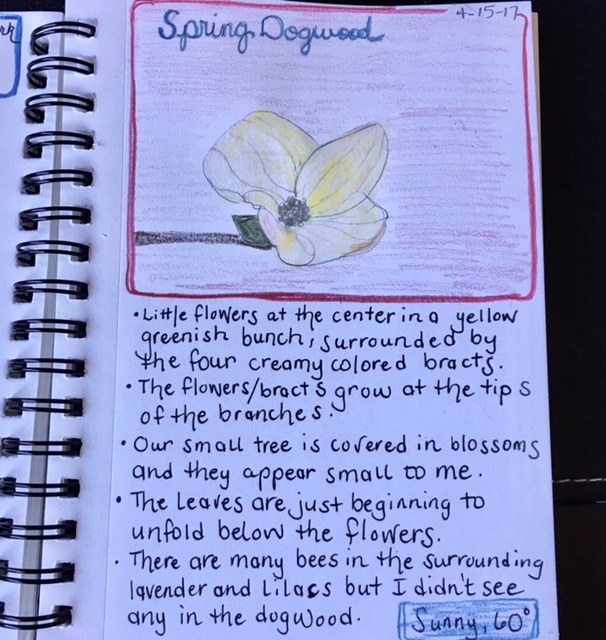 This is the second page in my year-long study of the dogwood tree. I think this is my favorite page of the month! I so enjoyed making careful and up close observations of this pretty flower…or rather flowers and bracts. The creamy color and delicate pink tinge may just make this my favorite flowering tree.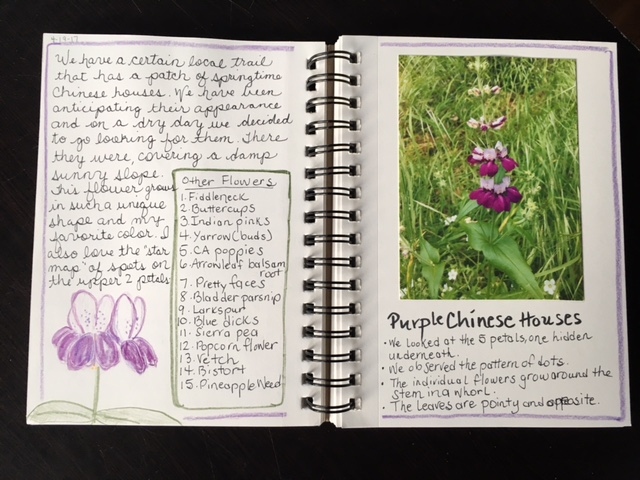 I think this is my first two page spread of the year. I wanted to sketch this flower and include a photo so it made sense to make it two pages facing each other. I included a list of the other flowers we found on this particular hike. It's always nice to have a record to compare from year to year.
As we get ready to make our move to Oregon, I'm getting very sentimental about my home and garden here in California. Each day I try to make more mental notes of the sights and sounds. It's comforting to know that many of those memories are tucked safely away in my journals. I packed my older nature journals into a box yesterday and was grateful for the time I have spent digging deeper into learning about my neighborhood's flora and fauna. I also packed my children's nature journals alongside mine in the box. I inherited those journals from them as they left home. You can be sure they will be treasured keepsakes of the 30 years we have lived here on Hilltop Drive.
From a hilltop to a riverbank….maybe next month you will see my new habitat make an appearance in my nature journal!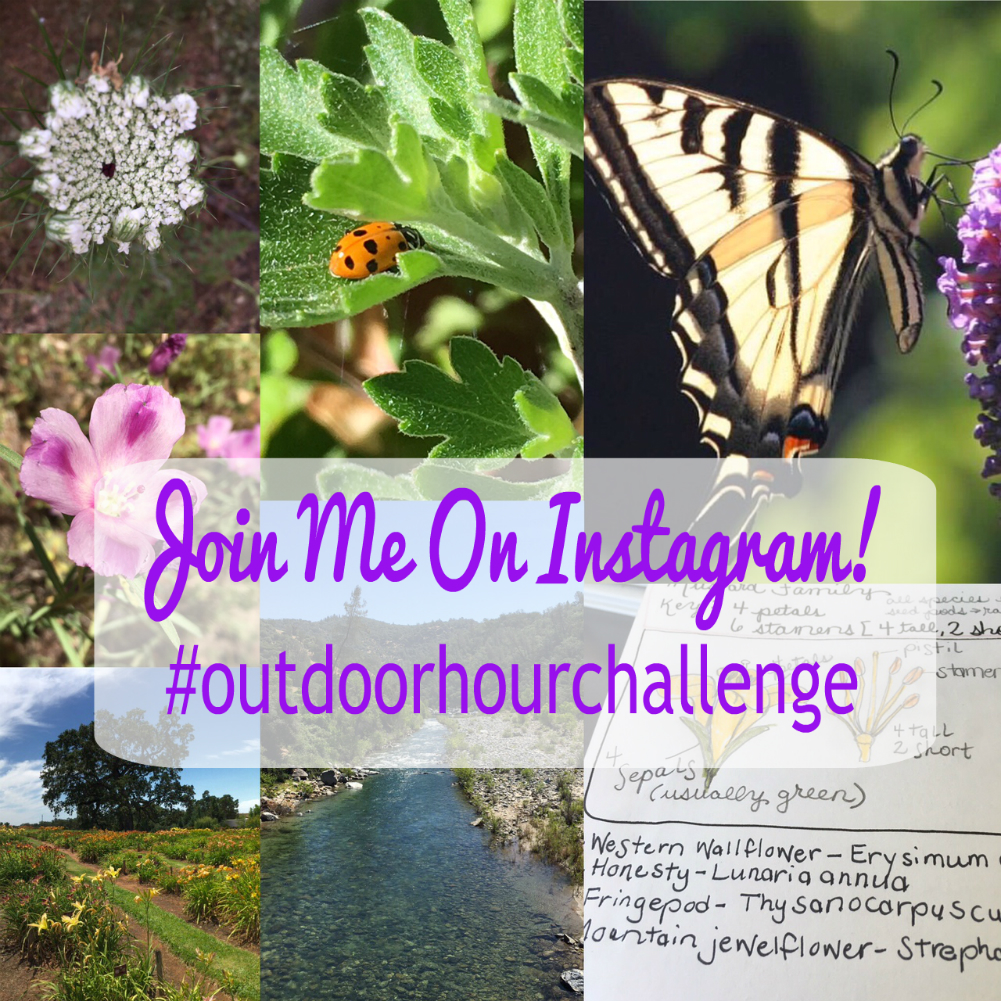 Don't forget that I am sharing a nature journal page each week on my Instagram account if you want to see the pages as they unfold. Follow me here: Instagram – outdoorhourchallenge. And, if you want to create a page and share it on your Instagram for me to see, use the hashtag #OHCnaturejournal
Save