The month of February has brought with it a lot of SNOW! We haven't thawed out completely since the beginning of the snow storms. There have been a few days of sunshine but the temperatures have been very cold; cold enough to keep the snow and ice piled up outside our door.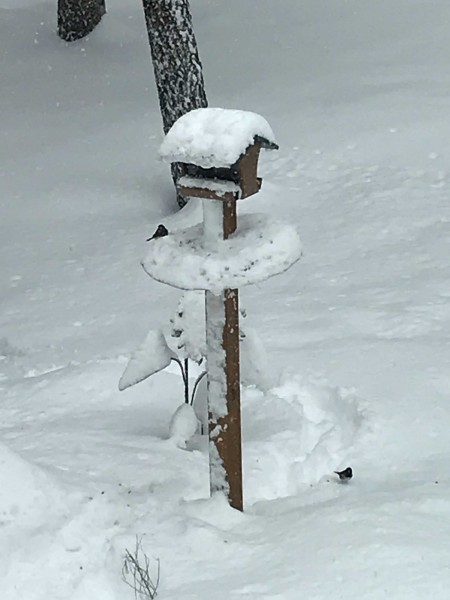 We've been trying to keep up with the birds that visit our feeders as part of Project Feederwatch and also during the Great Backyard Bird Count. From what I can observe, not only have there been fewer bird species but even the numbers of those birds has decreased. Some days I only see a handful of birds….far less than this same time period last year. Because we haven't lived here very long, it's hard to know if this is an unusual year or not. We'll keep a detailed record of our observations and see how the year progresses.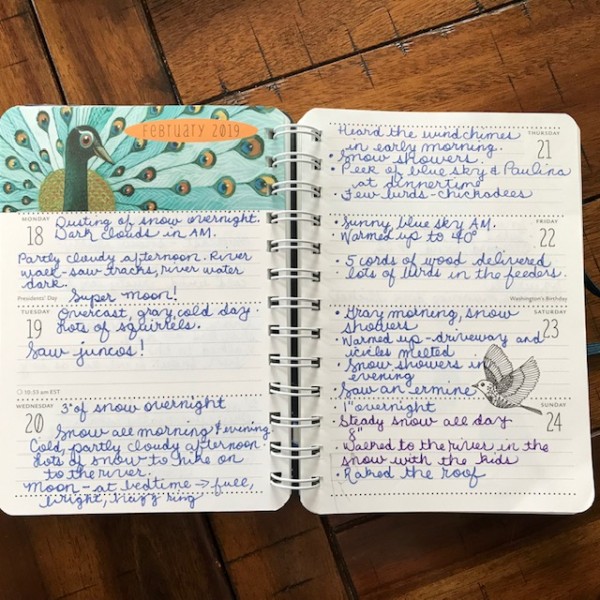 I've kept up with my daily nature journal notes with our temperatures, snow amounts, and other interesting details from our observations. These simple notes help record just a little more thorough picture of the season.
Images from my Journal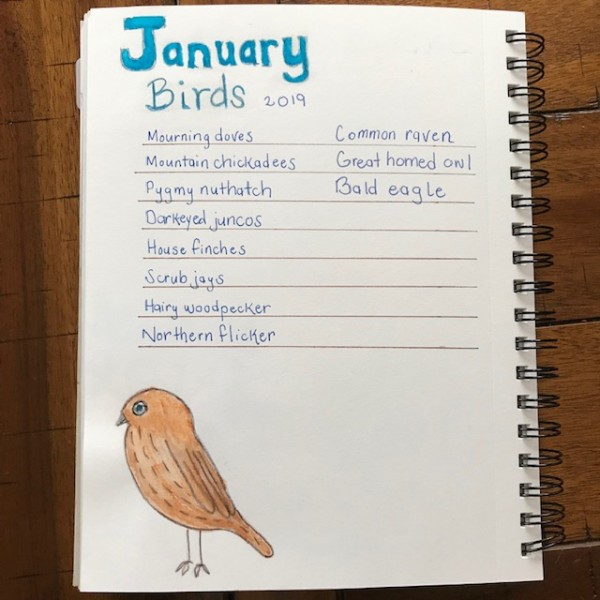 I completed my January birds page. Now that I look at it, it needs a little more detail to make it a really good record of the month. Perhaps I'll add the numbers of birds I observed (by looking at my Project Feederwatch data) and maybe compare this year's January birds with last year's list.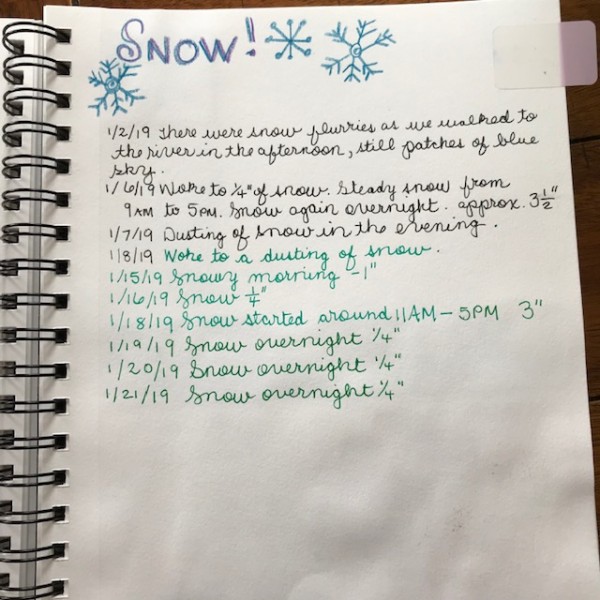 Here's the page that I made to keep track of the January snow. I may just add February's statistics to it as well since there's room.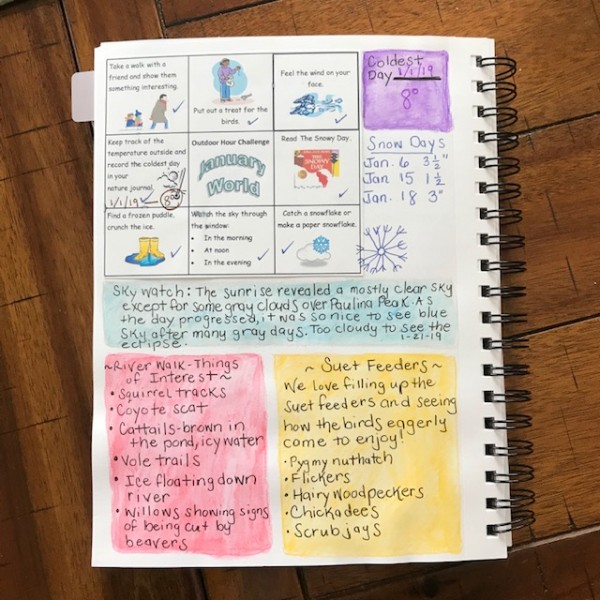 I used a Handbook of Nature Study newsletter printable grid to record some fun nature details in my journal. This is a super simple way to get started if you're stumbling over a big ol' blank page. See this entry for more information on using nature study grids: Using Printables from the Handbook of Nature Study Newsletter.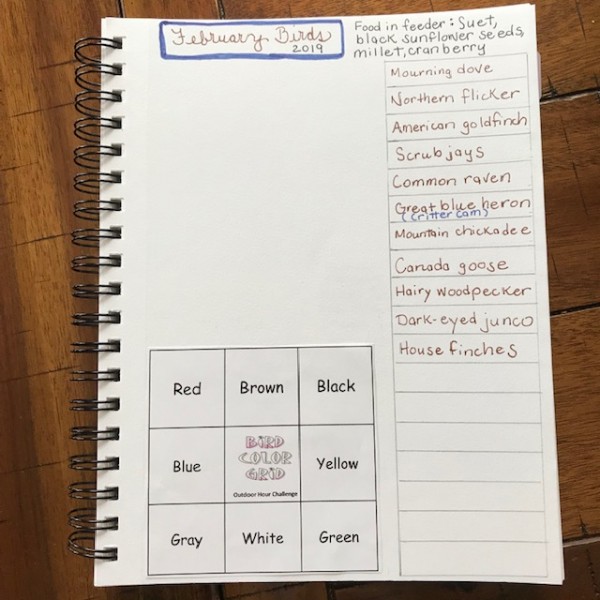 Here's a look at my February birds page in progress. I'm keeping a running list of birds observed, left room for my Great Backyard Bird count details and thoughts, and I'm using a printable grid from the Handbook of Nature Study newsletter to encourage me to be on the lookout for birds of all colors. I will finish this one up by the end of the month.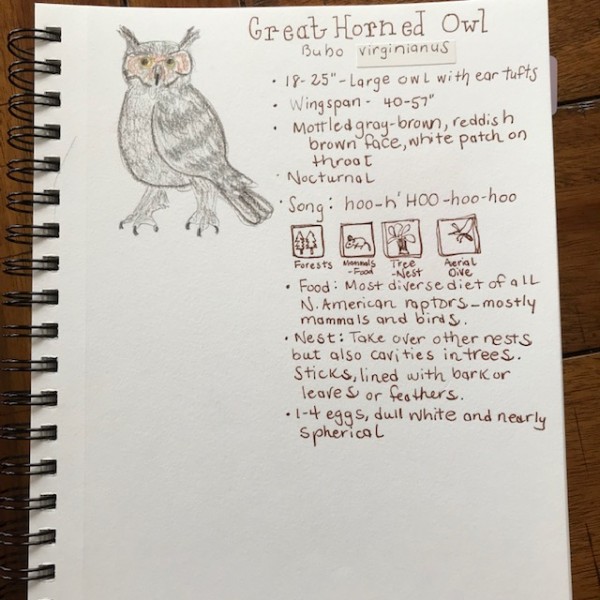 We heard a pair of Great Horned Owls early one morning and I wanted to create a page that had all of the interesting facts about this bird in my nature journal. I find the process of looking up the information for a page helps me learn and remember things better. I'm not aiming for a fancy page but one that has meaning to me. I'm challenging myself to draw in my nature journal, not on every page but a few times a month.
One More Image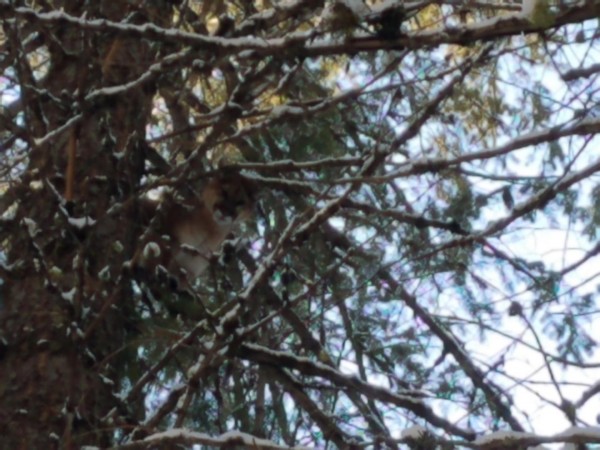 We've had a mountain lion roaming our neighborhood for a few weeks. Our next door neighbor snapped this image of the big cat right up in a tree in his backyard. It makes me a little nervous to have such a wild creature so near to our home, but we're just taking precautions and being alert to any signs that he is back.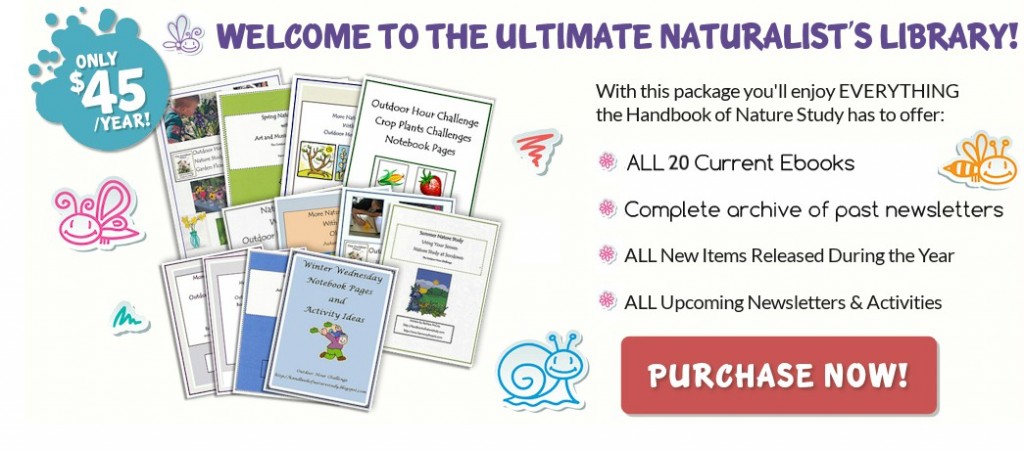 There are many, many nature journal ideas included in the archives of the Handbook of Nature Study newsletters. If you have any level of membership, make sure to download the newsletter index to make finding a topic easy.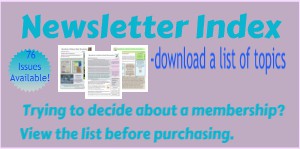 76 issues of the Handbook of Nature Study newsletter are available in the Discovery level of membership for only $20! You also get the Getting Started with the Outdoor Hour Challenge ebook in this level which makes it a super awesome value for your $20.
Download an index of topics here: Handbook of Nature Study Newsletter Topics and Printables.