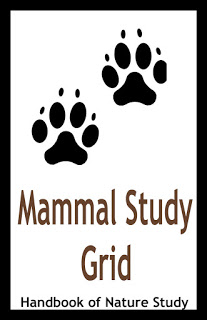 Outdoor Hour Challenge:
This week we will be using the Mammal Study Grid from the November 2012 Newsletter. Print the grid out, cut it to include in your nature journal, and then take a few minutes during your week to complete some of the suggested activities. If you haven't subscribed to the blog yet, you can do so now and you will receive the newsletter link in the next entry.
Suggested Activity:
This week's extra is a YouTube recording with a catchy little song about mammals.
If you don't see the YouTube player you may need to click this link: Mammal Song.

Getting Started Suggestion:
If you already own this ebook, this week's challenge would correspond nicely with Outdoor Hour Challenge #4. Start a focus study of mammals this month and see how many mammals you can find to learn more about in your local area. You can use the notebook page provided in the ebook for each mammal you study.
If you need an explanation of how the Outdoor Hour Challenge is going to work from this day forward, please read this entry:
Nature Study Using the Outdoor Hour Challenge – How to Steps and Explanation.