It took me awhile to be ok with bringing nature inside. I mean, I was a little concerned about little critter hitch-hikers finding their way into my home. But after figuring out how to address that problem, I was all on board for creating a nature display for our nature treasures. And now we keep adding more around our home. Here's a few things to think about when planning our nature display.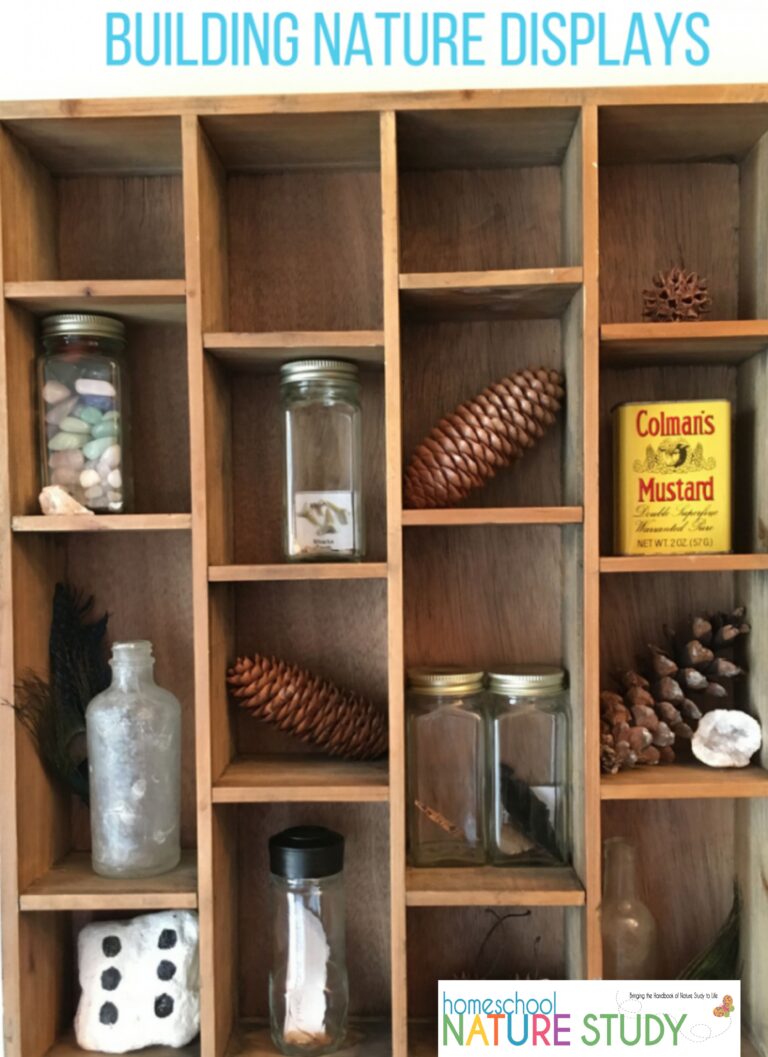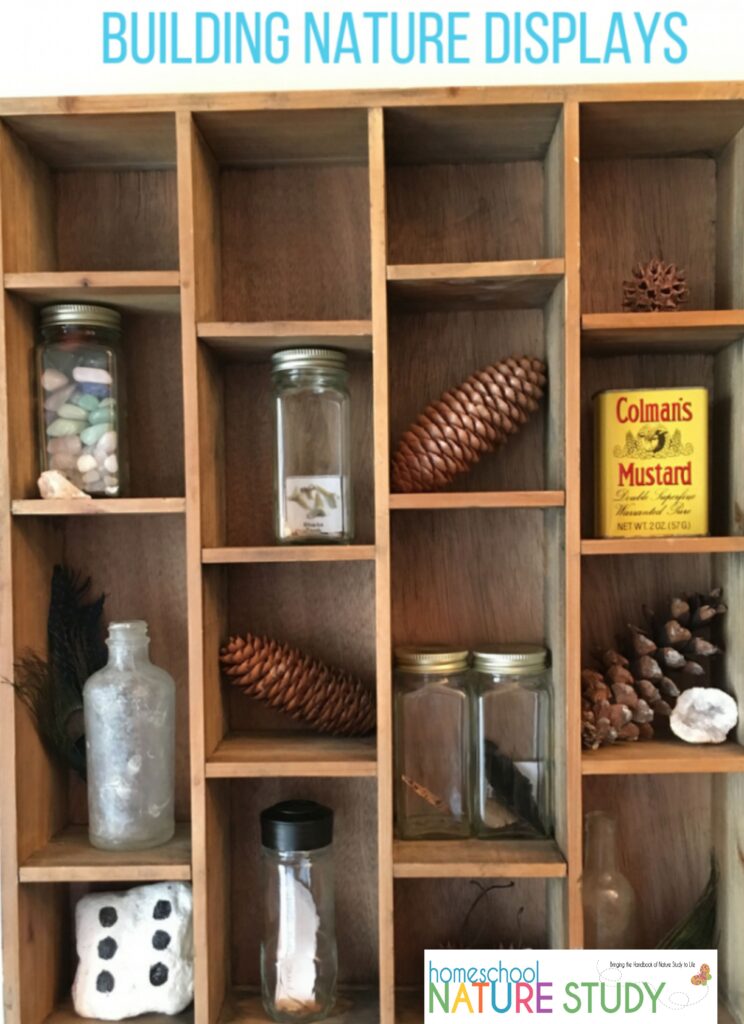 Types of Nature Display Containers
First you need to decide what kind of nature display container you would like to use. I've seen:
baskets
shadow boxes
old printer press drawers
miniature display case
trays
Find Treasures on a Nature Hike
Next, go find some nature treasures! Go on a nature hike! Many of our nature treasures were found in our own back yard or neighborhood. Things to remember:
Know the rules for keeping nature objects. If you're at a state park, national forest or nature preserve, you can only look– not take anything you find.
If you reside in the U.S., there are some rules regarding collecting bird feathers. Because of this, we don't pick up bird feathers. We did purchase some feathers at Hobby Lobby (which is where we got the peacock feathers.) See Is it Illegal to Pick up Bird Feathers
For objects such as pine cones, nuts and bark– you can put them on a cookie sheet and place in a 200 degree oven for about 20-30 min. Watch items carefully so they don't burn. This will make sure you don't have any unwanted critters.
For things like seashells, soak them in cold water. Change the water daily for a week. I did use a plant-base cleaner on the last day (adding a very small amount to the soaking water) but that isn't necessary– especially if you are picking up empty shells.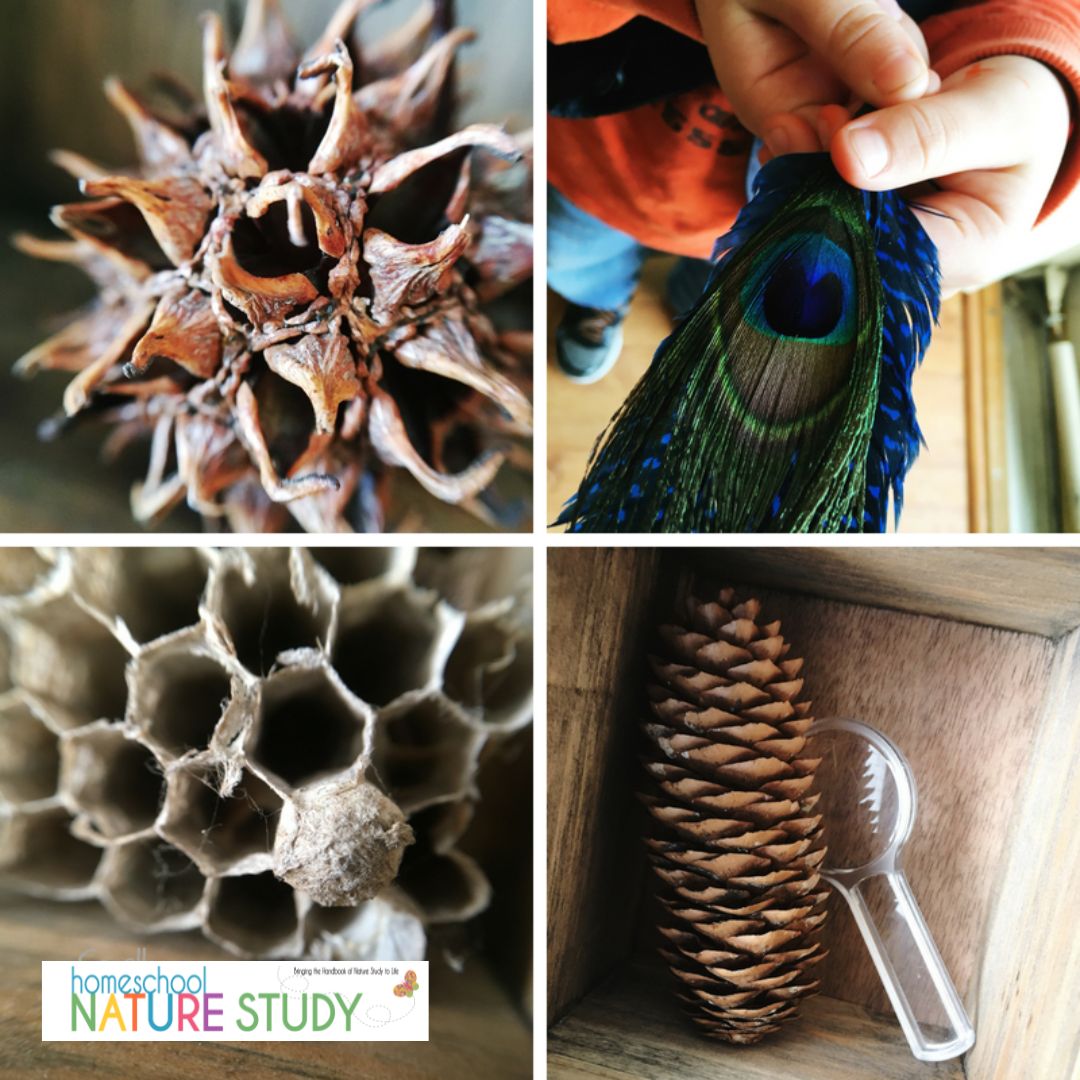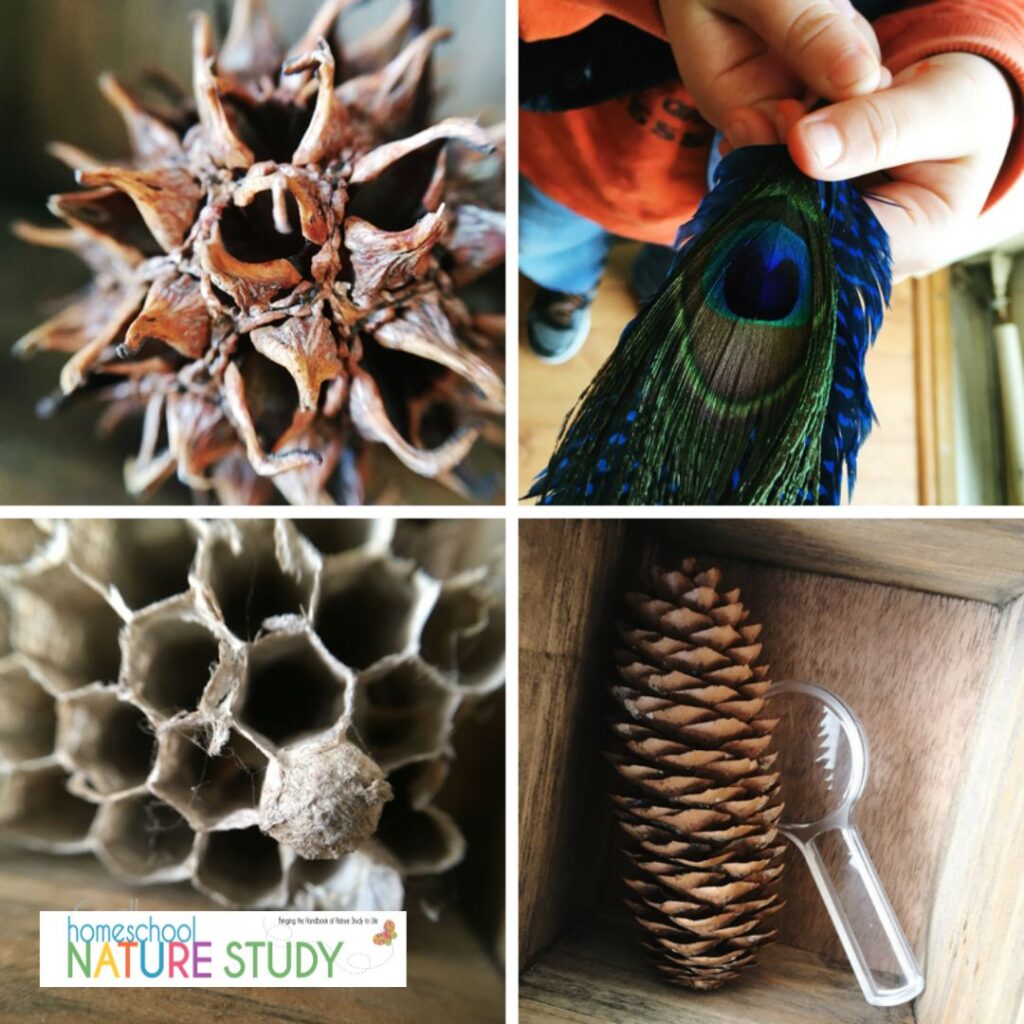 How to Create a Nature Study Wall Display
We decided to create a wall display first. I found our display box at Hobby Lobby, but when I went back to get more, I couldn't find them there. They might have been a seasonal item.
For bigger items, we placed them directly in the space. But I found that clean, glass spice bottles are awesome for holding smaller items. We have a bottle of sand, shark teeth, tiny shells, crab pinches, and tiny rocks.
How to Create a Simple Nature Table
We quickly ran out of room in our wall display, so we added a small display on top of the bookcase. I love that my kids can pick up and observe objects and have a space to proudly place items they find. (The book on the stand is Nature Anatomy: The Curious Parts and Pieces of the Natural World (Julia Rothman) )
Do you have a nature display or nature box? What tips would you add?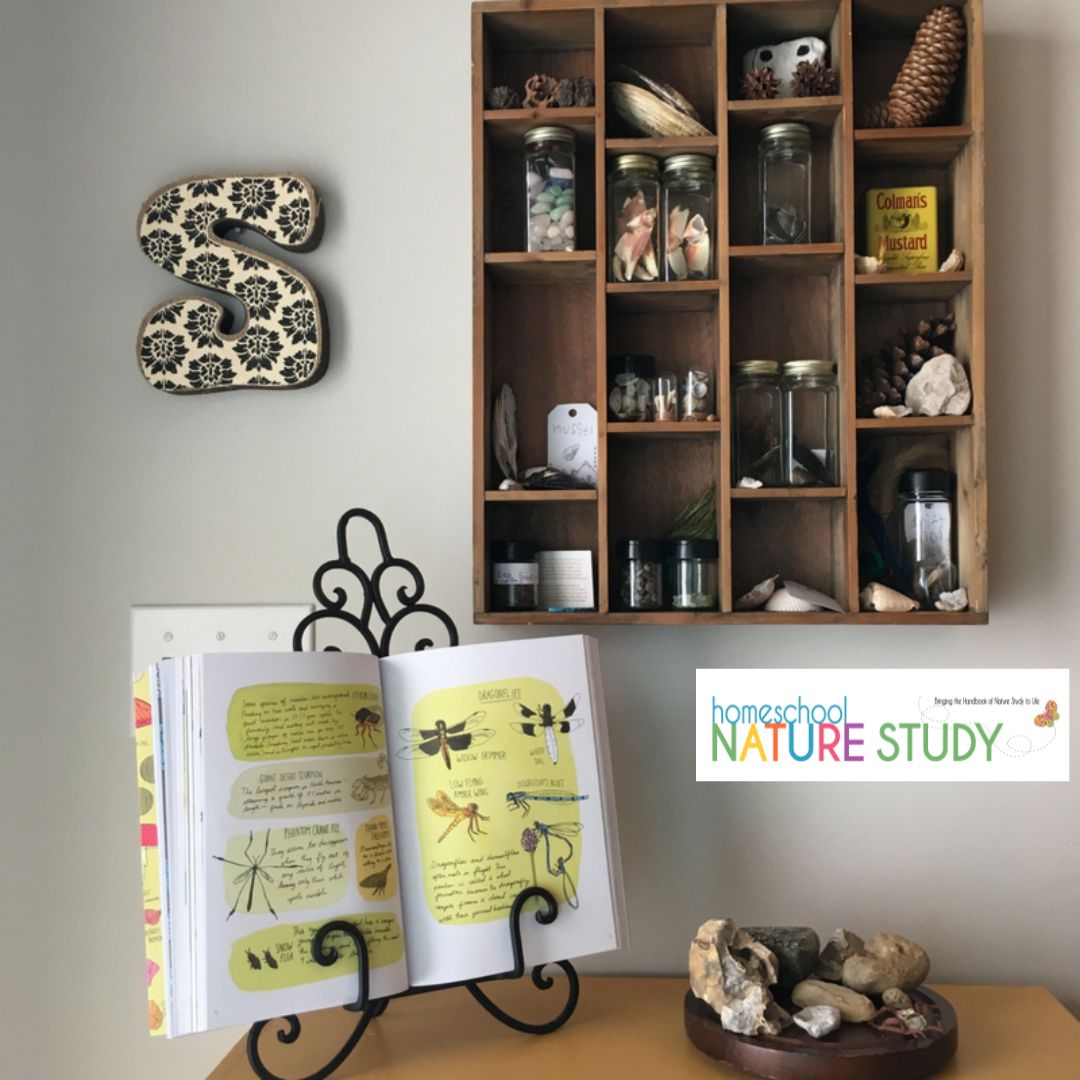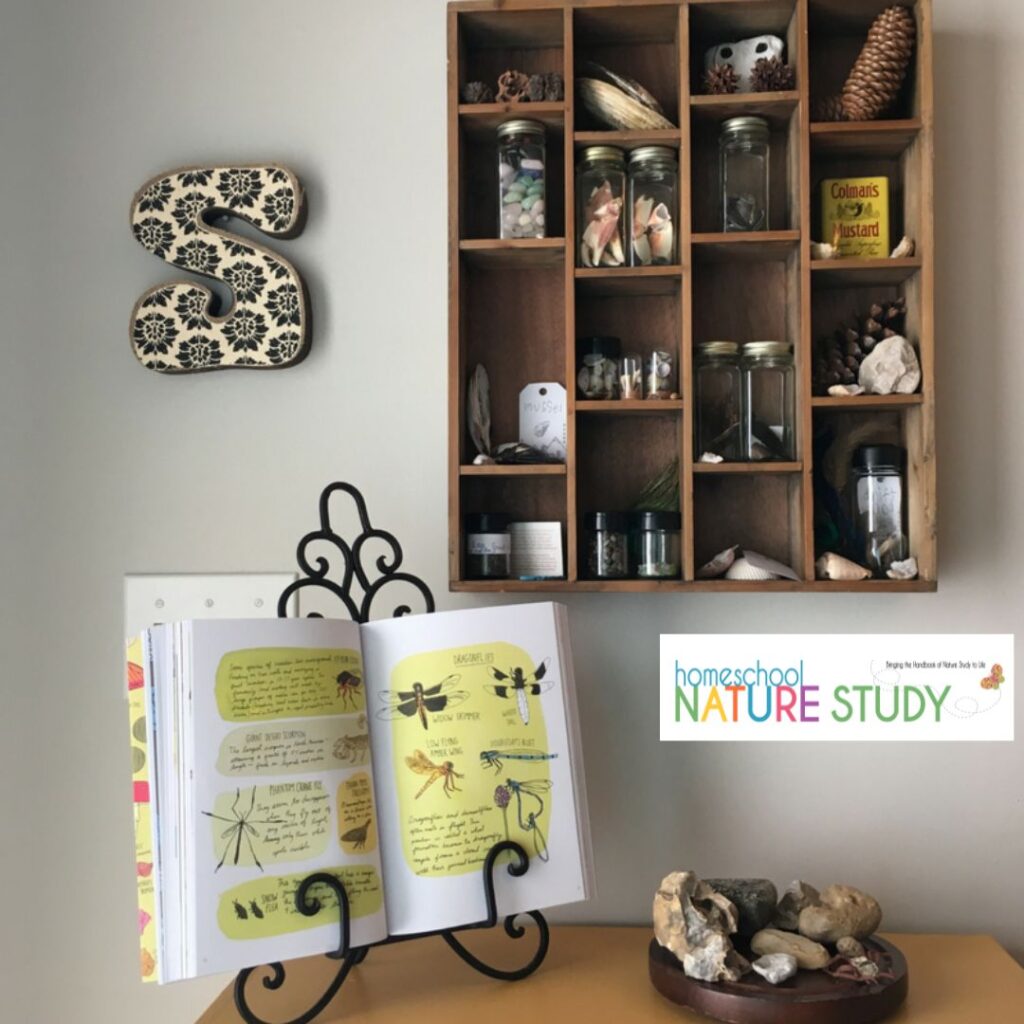 More on Nature Tables and Displays for Your Homeschool
Unsure of what a nature table is exactly? Here is simple definition with some ideas and tips. These will help you begin the habit of gathering things for your homeschool nature table during your Outdoor Hour Challenge time.
Nature Table Pinterest Board filled with ideas!
Moss on Our Nature Table and Up Close
The Outdoor Hour Challenges Bring The Handbook of Nature Study to Life in Your Homeschool!
For even more homeschool nature study ideas for all seasons, join us in Homeschool Nature Study membership! You'll receive new ideas each and every week that require little or no prep – all bringing the Handbook of Nature Study to life in your homeschool!
Be inspired. Be encouraged. Get outdoors!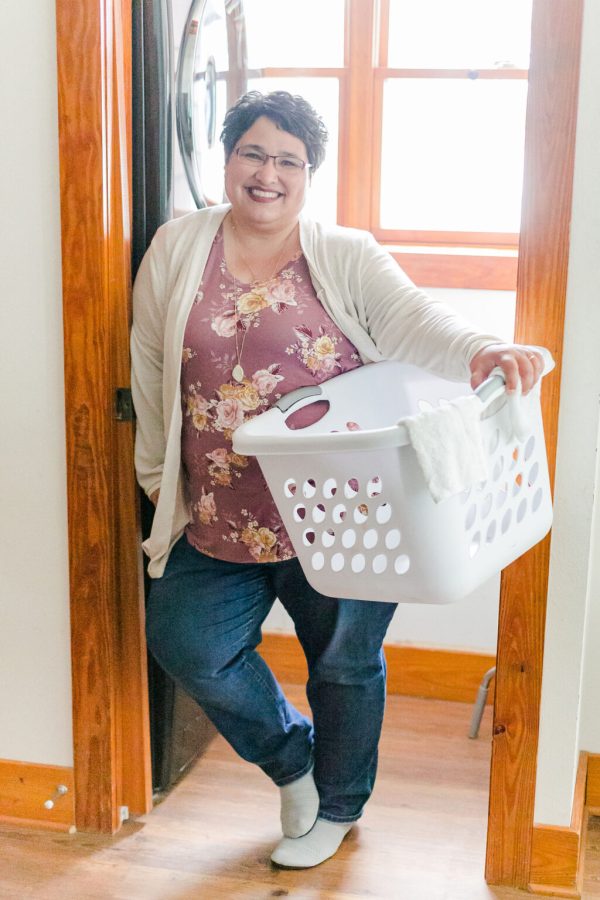 By Maureen Spell, a long-time contributor to the Outdoor Hour Challenges. Maureen helps Christian mompreneurs operate their business from a place of joy, purpose, and excellence because they are clear on how their business is serving their family and others. As a homeschool mom, she believes success at home AND business without the mom-guilt, stress and burn-out is possible! Outside of work, she loves having good conversations over a hot chai or GT Gingerberry kombucha and spending time with her husband and seven children. Visit her at MaureenSpell.com