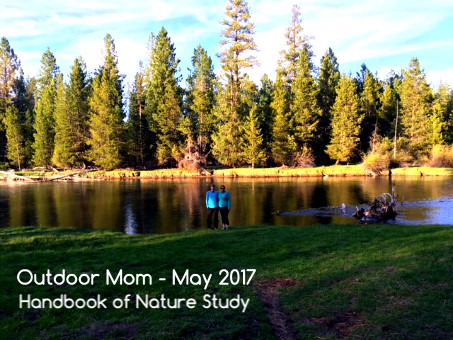 Outdoor Mom – May 2017
Are you ready for my first Outdoor Mom journal entry from our new home in Oregon? This place is amazing! We had a period of time that we had to be "homeless" as we transitioned from living in our old home until we moved into the new one so we took advantage of those few days by going camping with two of our older children. The weather was perfect and we hiked a bit and had some awesome evening campfires. It was so very relaxing after a whirlwind of packing and transporting our household 450 miles.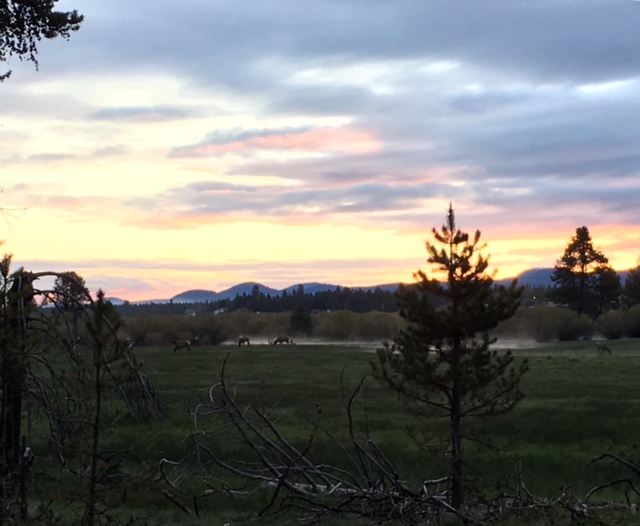 Now that we're settling into the new place, we realize how much wildlife we have living all around us. The most notable animals are the Rocky Mountain elk that graze in the land right behind ours. They make their way slowly by our fence line both at dawn and dusk. So far the largest group we observed was eight elk. Last night, one of the elk was brave enough to jump our fence and eat at the birdfeeder. What a treat to see these magnificent mammals close up!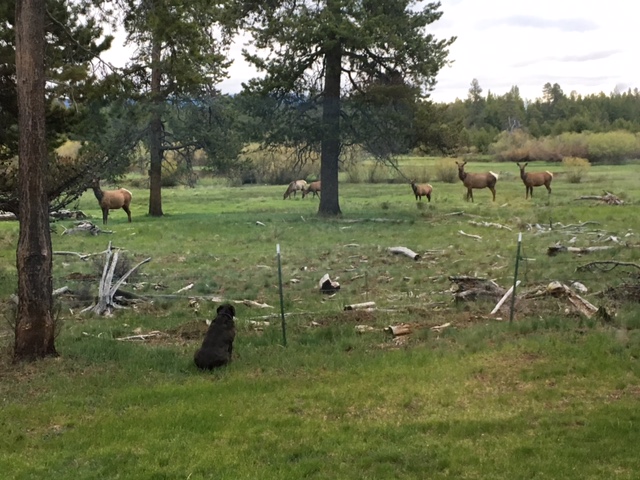 We have enjoyed the early morning birdsong and many mornings there is a swirling mist rising up over the river. I wake up now and jump out of bed to look out the window to see what there is to see. I let my dog outside early this morning and a few minutes later I spied her sitting at the fence watching a group of four elk. She just sat and watched, sniffing the air. It made me laugh….I can only imagine what the Kona dog was thinking.
I have started a bird list, adding each bird as it makes its appearance. I have a pair of binoculars at the ready near the window just in case a new bird decides to visit the yard. It's going to be a fun summer of bird watching and learning my waterfowl for this area of Oregon. I think I'm up to the challenge.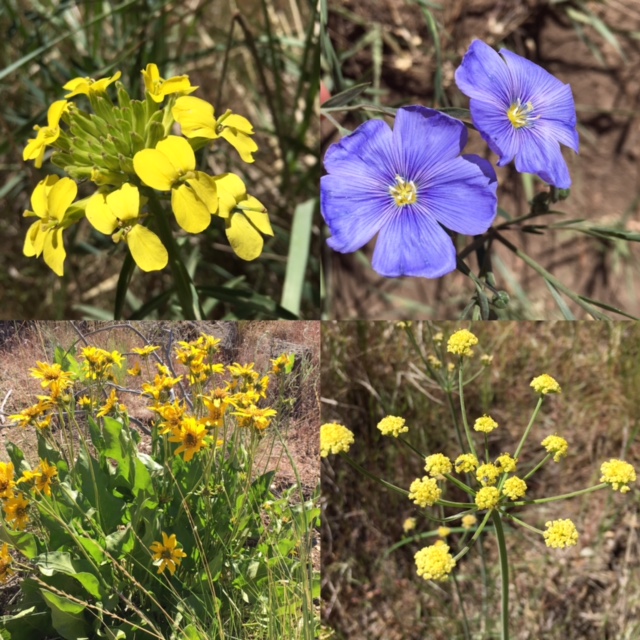 I have a really nice neighborhood for walking. It is a flat mile if I walk in a loop. As I walk, I'm making mental notes of any plant emerging that looks like it may be a wildflower. It is still very early spring here and many of the trees are just getting their leaves. I am hoping to learn my Oregon wildflowers one flower at a time, just like I did in California when I first started out with nature study with my children. I realized already that I need new field guides and a really good hiking guide book. I will be researching them on Amazon over the next month or two.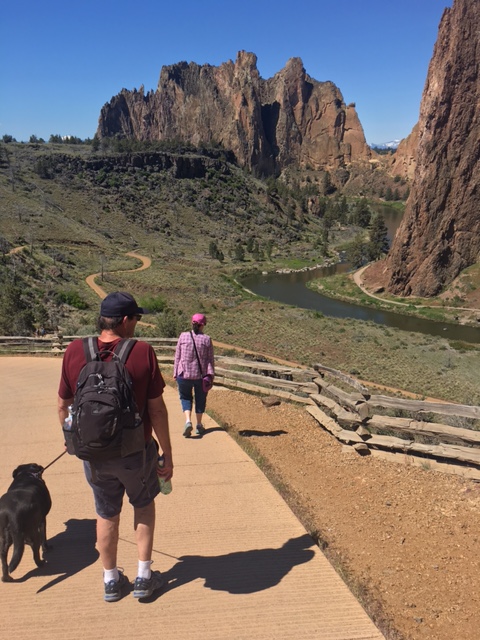 We took our first hike since moving at Smith Rock State Park. My daughter was with us which made everything more fun. I will share more about this awesome place in a future post.
Well hopefully you've had a great month of nature time as well. Share a comment or a link to your blog entry if you want me to pop over and take a look!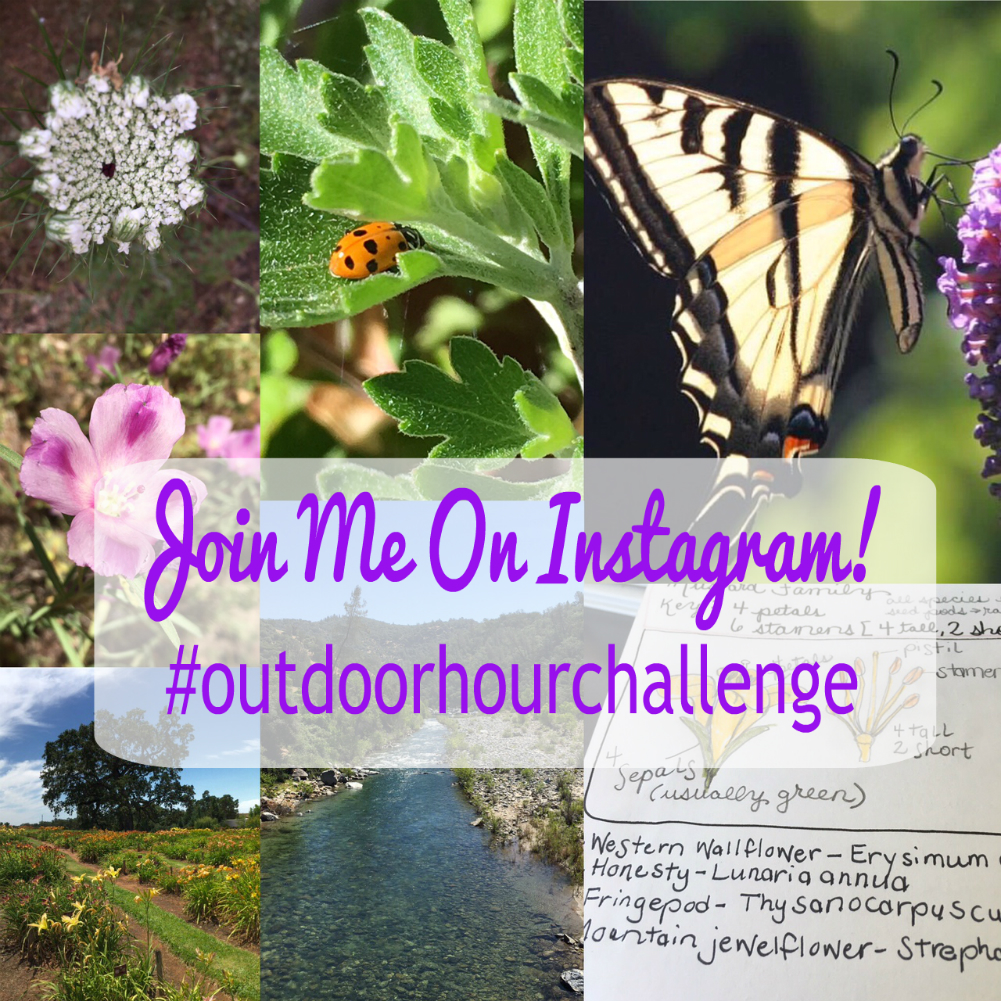 Don't forget that I am sharing a nature journal page each week on my Instagram account if you want to see the pages as they unfold. Follow me here: Instagram – outdoorhourchallenge. And, if you want to create a page and share it on your Instagram for me to see, use the hashtag #OHCnaturejournal